FSU Traditions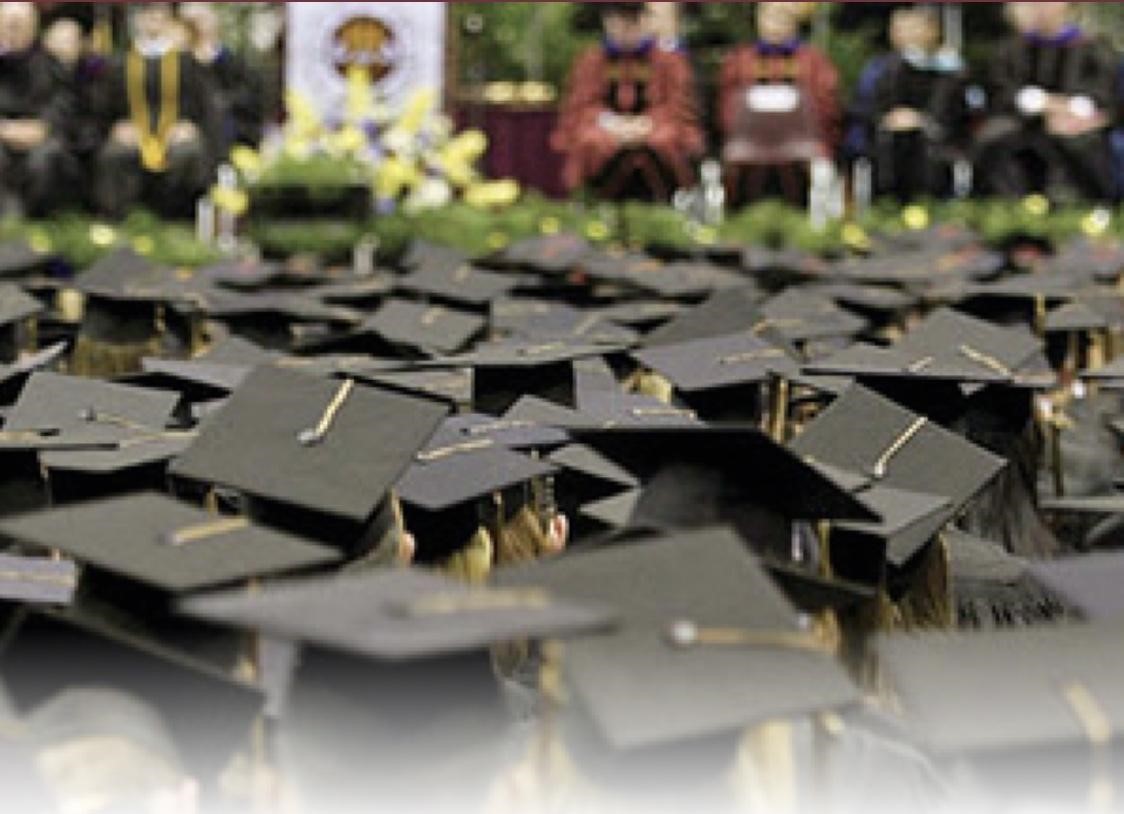 Commencement Ceremonies
Being able to walk across the stage to collect your diploma is rewarding in a way that you cannot imagine until you are there. Bask in your success. Feel the energy of the day. Don't pass up this chance, no matter how small it seems in the moment. Years later, you will look back and be glad you did (and regret it if you don't!).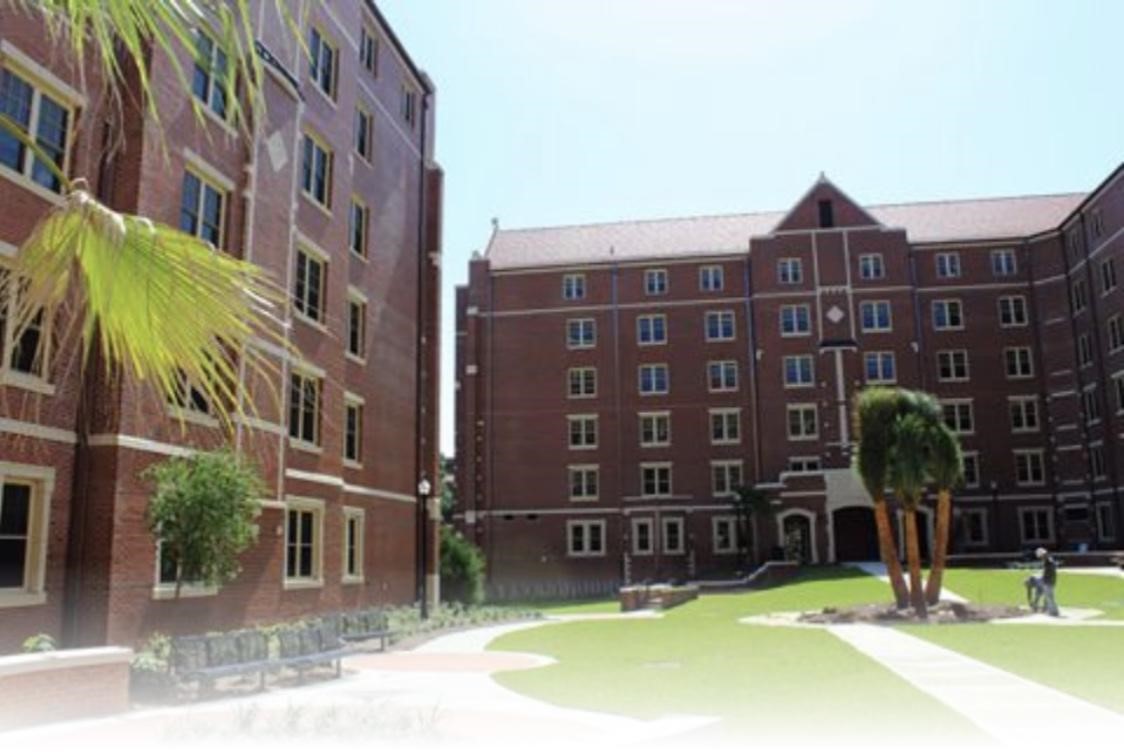 ​
Live in a Residence Hall
Living in one of the residence halls will put you in the thick of college life: dining, classes, the library, computer labs, recreational facilities, athletic events, concerts, performances and activities. You'll meet new people, many of whom will become lifelong friends.
Move-In Time
Being on your own for the first time means finding your first place to live. You might live in the residence halls, Greek housing or an off-campus establishment. Moving to your new home or room will be a memory that will last forever. Take the time to transform your room, making it into a home. Don't forget -- you need a workspace too! Maybe it is the first time leaving home. Send a picture of your handiwork to your family so they know you're doing terrific.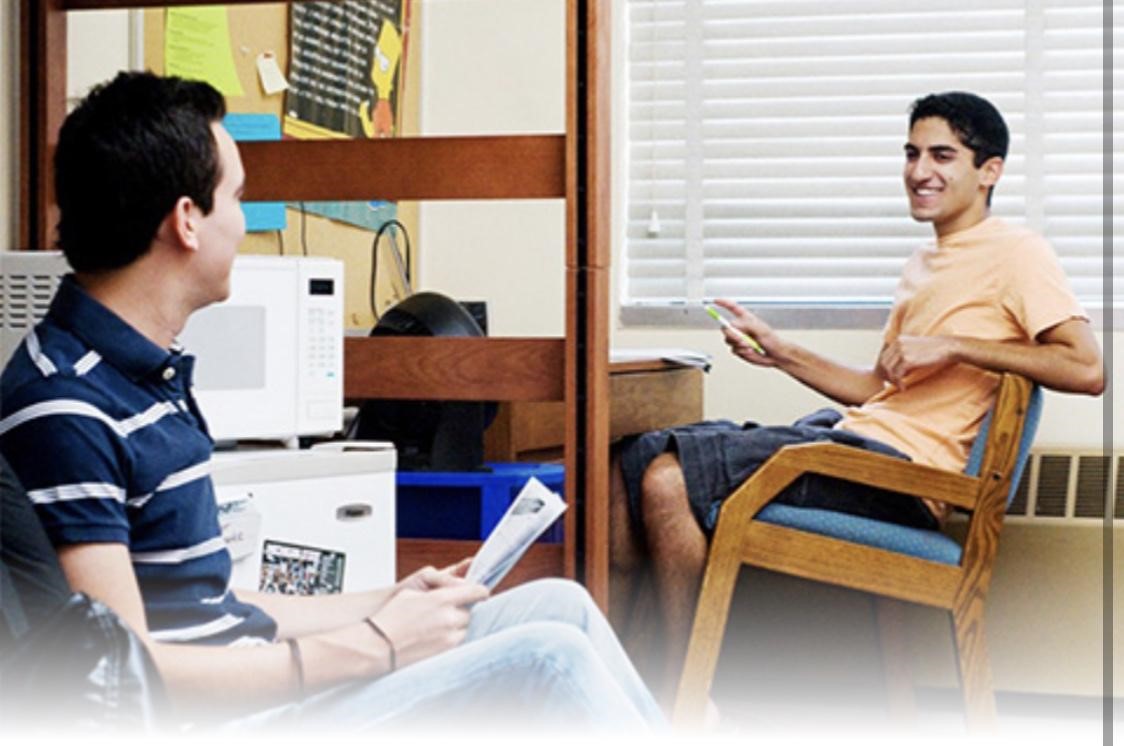 New Roommate, New Adventure
Your new roommate, whether University-assigned or self-chosen will become a big part of your life. Put in the effort to get to know them, their journey to this point, and your common interests. Get ready for some great memories created together.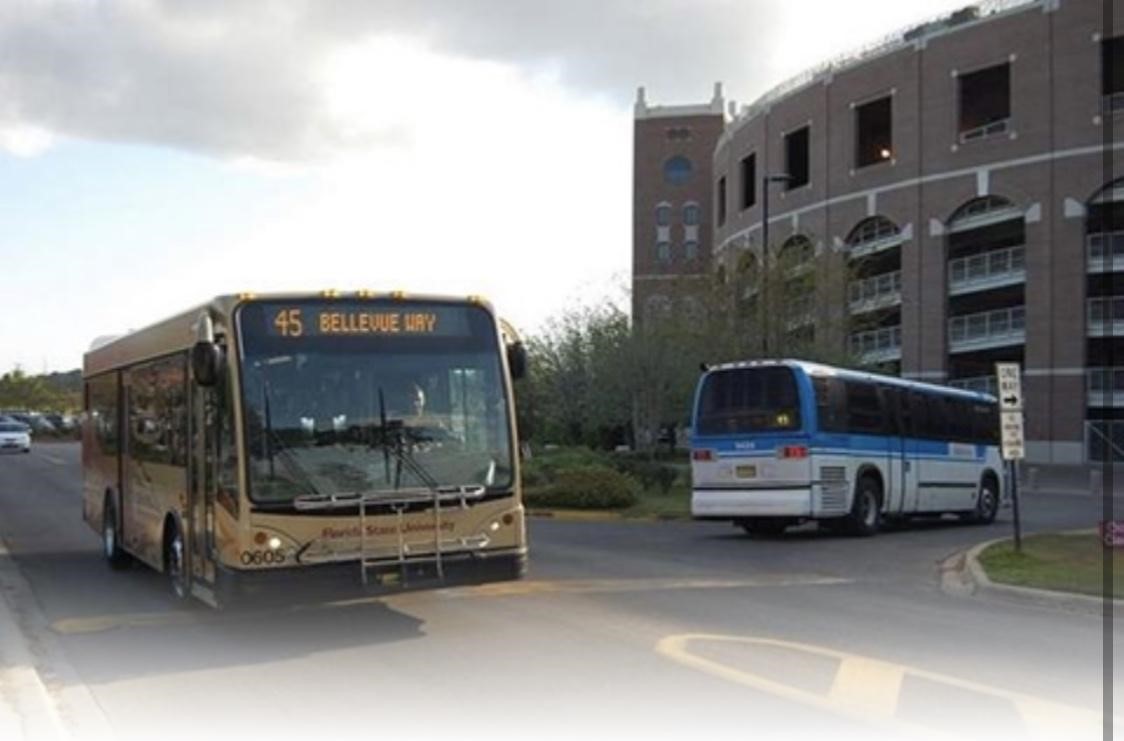 ​
Ride the Campus Shuttle
The campus shuttle simplifies your commute to and around campus -- and it's good for the environment! Save yourself time and get familiar with the shuttle routes and schedules.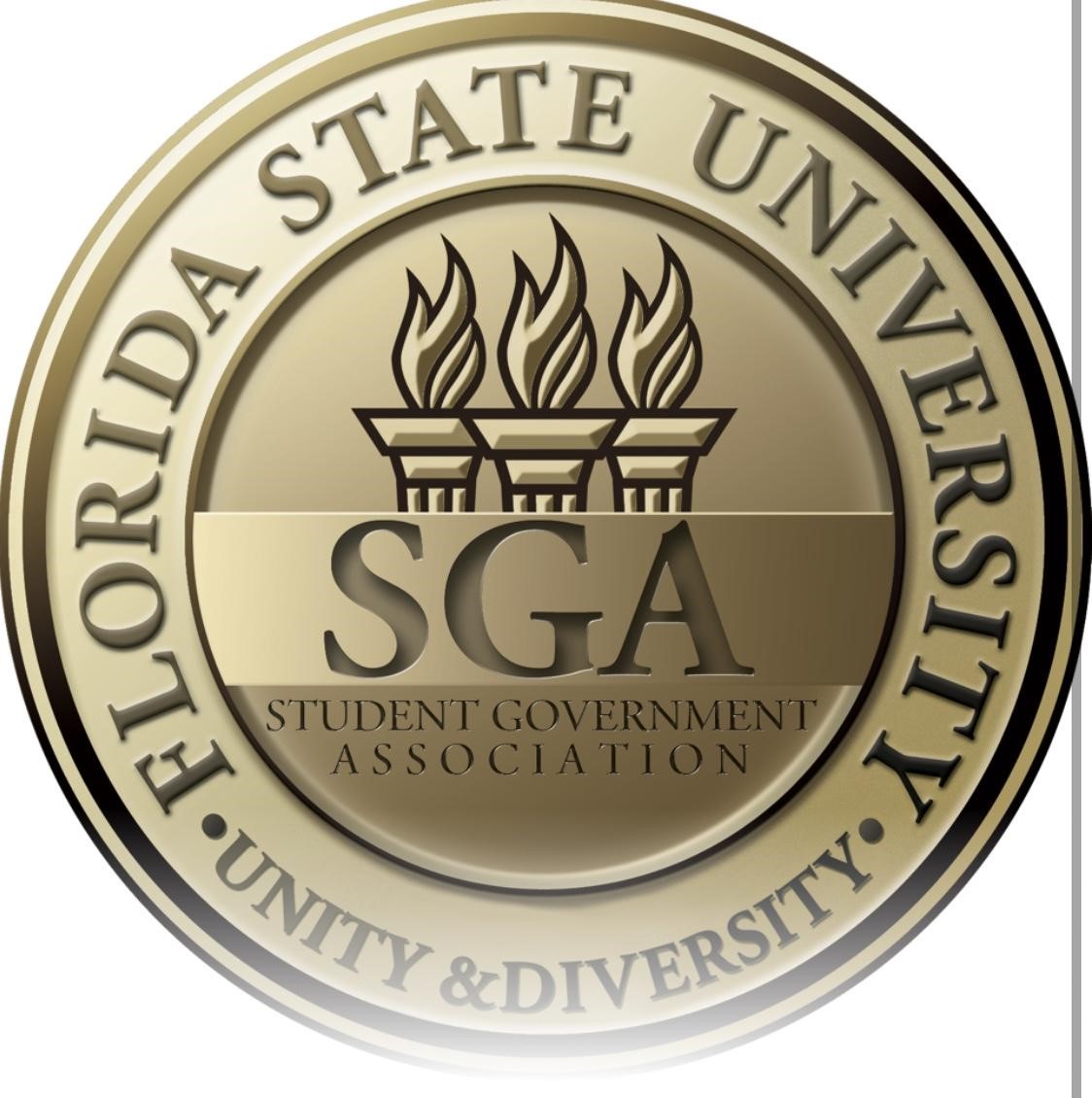 Attend an SGA Agency General Body Meeting
Stay in the know and join SGA for a General Body Meeting!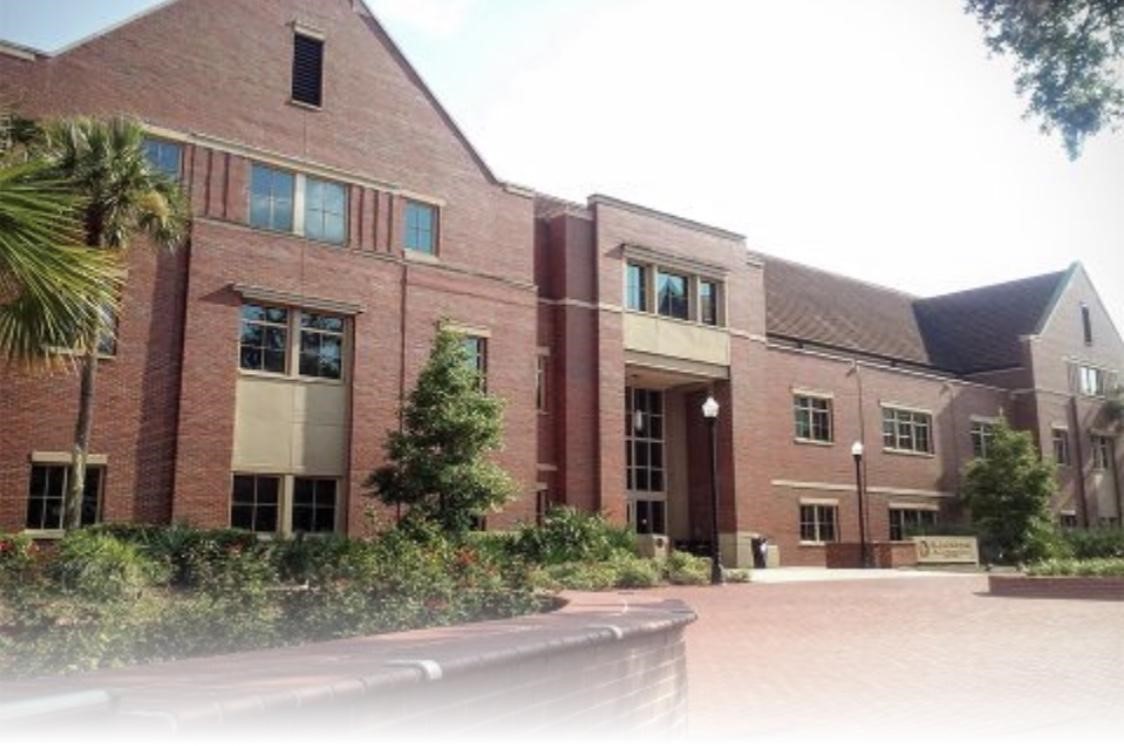 Center for Leadership and Social Change
At Florida State University, leadership, community involvement and civic responsibility are integral elements of a liberal arts education. The Center for Leadership & Social Change is your source for leadership learning, service opportunities and social justice education on campus. With over 25 different programs to choose from, The Center not only empowers students but also enables them to make positive change in our local, national and global communities.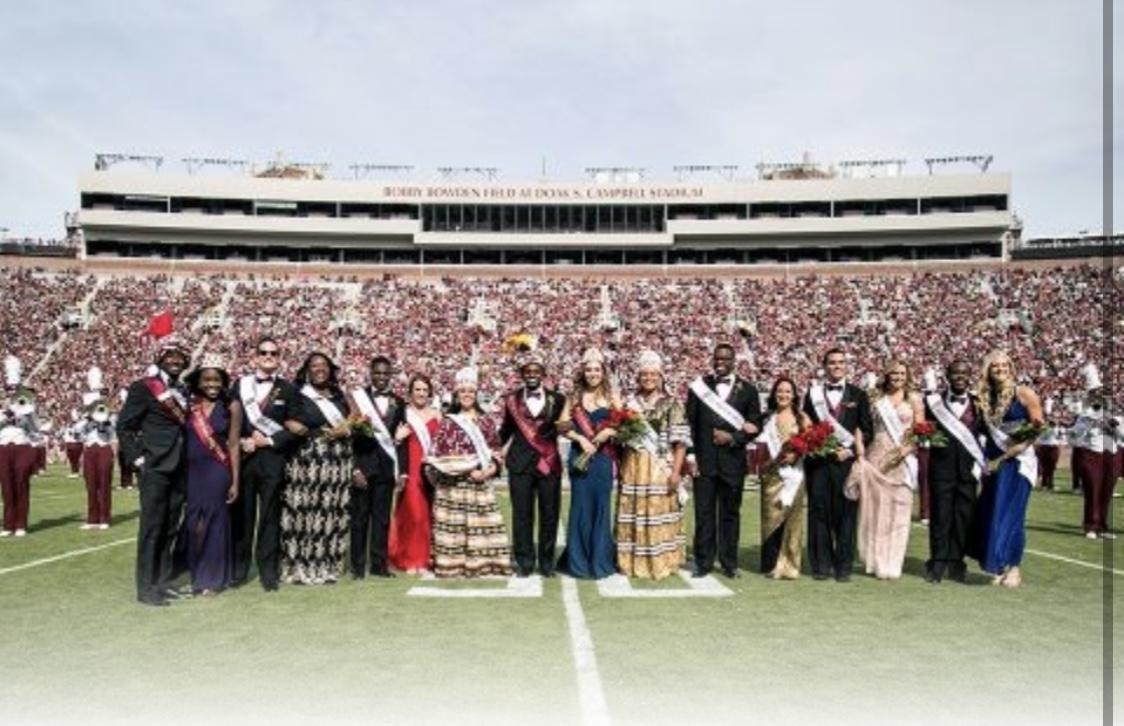 ​
Chief and Princess
The idea of Homecoming Chief and Princess dates back to the FSCW when only a Princess was chosen. Today, the Student Alumni Association administers the annual Homecoming Chief and Princess program, in which six senior women and six senior men are selected to represent their class. Interested seniors and graduate students participate in an application process and are selected based on scholarship, campus involvement and Seminole pride.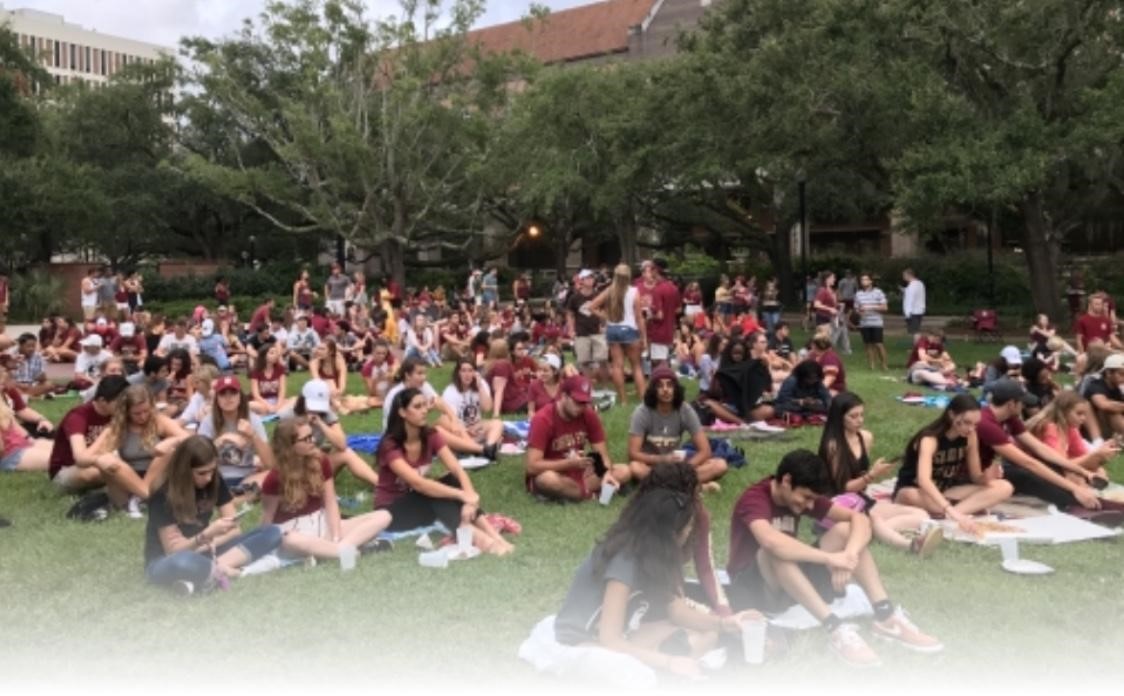 Class Councils Football Away Game Viewing
Join the Class Councils to watch an away football game on the big screen!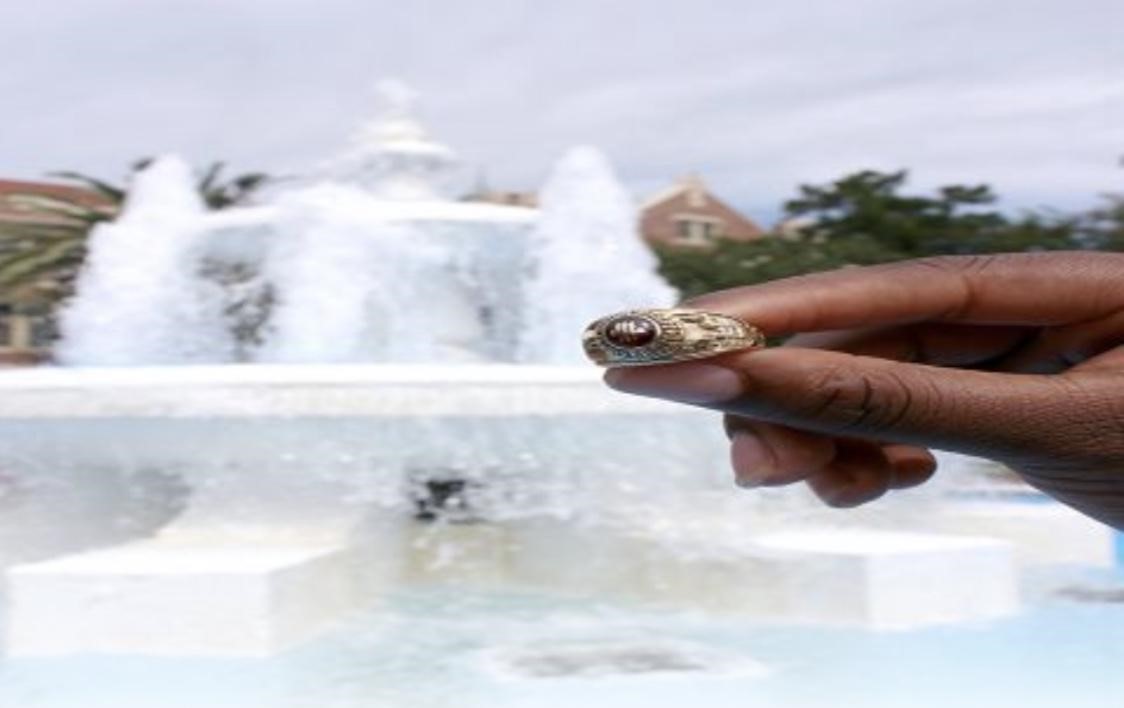 Class Ring
A class ring is a symbol of pride for all that you've experienced on campus and off. You get one shot -- don't pass it up! Students wear the ring with the school name facing them. Upon granting of degrees at Commencement, graduates turn the ring around, with the name facing outward. This symbolizes that the graduate is now ready to face the world.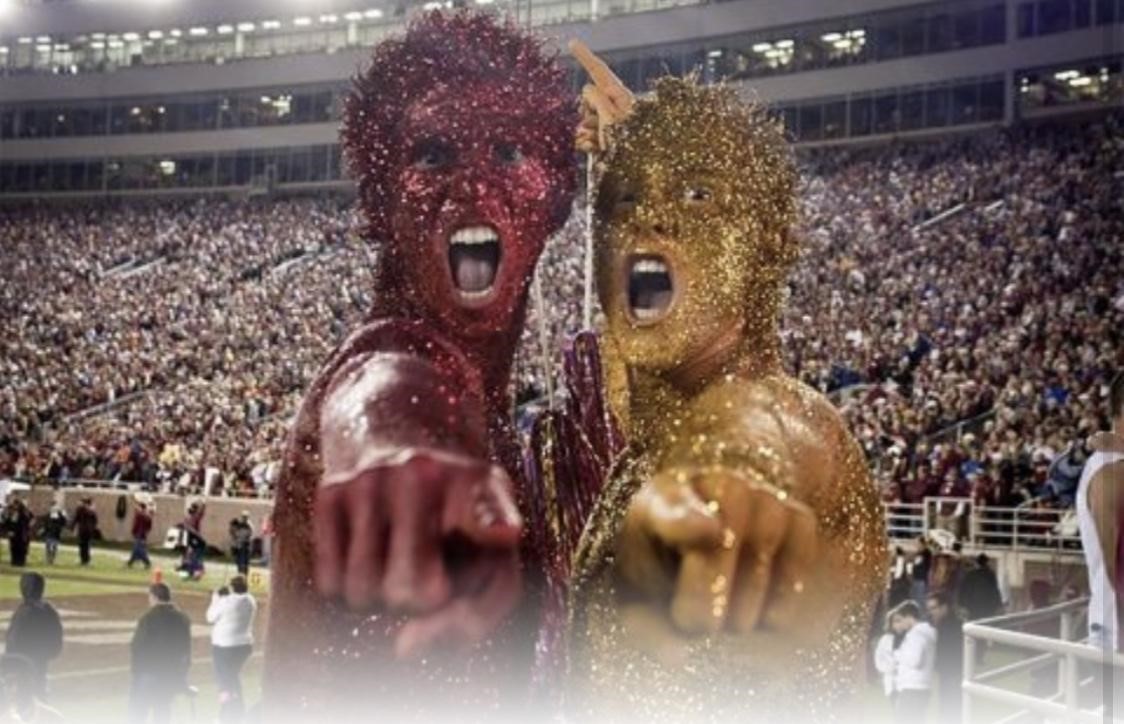 ​
Garnet and Gold Guys​
Josh White and Kevin Fulmer, two fervent Florida State fans and members of the Baptist Collegiate Ministry (BCM), wanted to find a way to show their love for Florida State football. At the 1998 home opener against Duke, they painted themselves with paint and glitter and raced around the stands encouraging fans to cheer for the team. Their impromptu display of Seminole spirit is now an essential and highly-anticipated part of each football game. The tradition continues as two new Garnet and Gold Guys are chosen from the BCM every two years. In 2010, SAA began partnering with the BCM to underwrite this colorful tradition.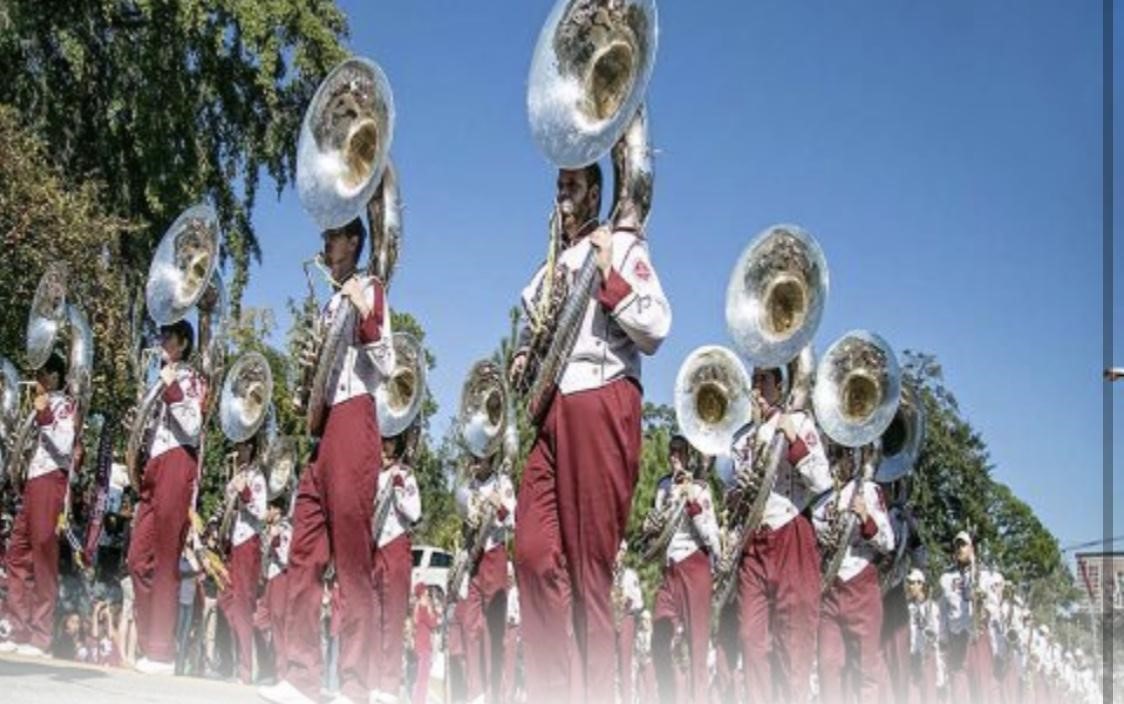 Homecoming Parade​
The annual Homecoming Parade, hosted by the Student Alumni Association, is a highly anticipated part of the week-long celebration. The parade features a colorful array of floats, participants from campus and community groups, Renegade and Osceola, the Florida State cheerleaders, members of Homecoming Court and the Marching Chiefs. With thousands of participants and spectators, College Avenue becomes the place to be for watching the parade and getting pumped for the next day's football game.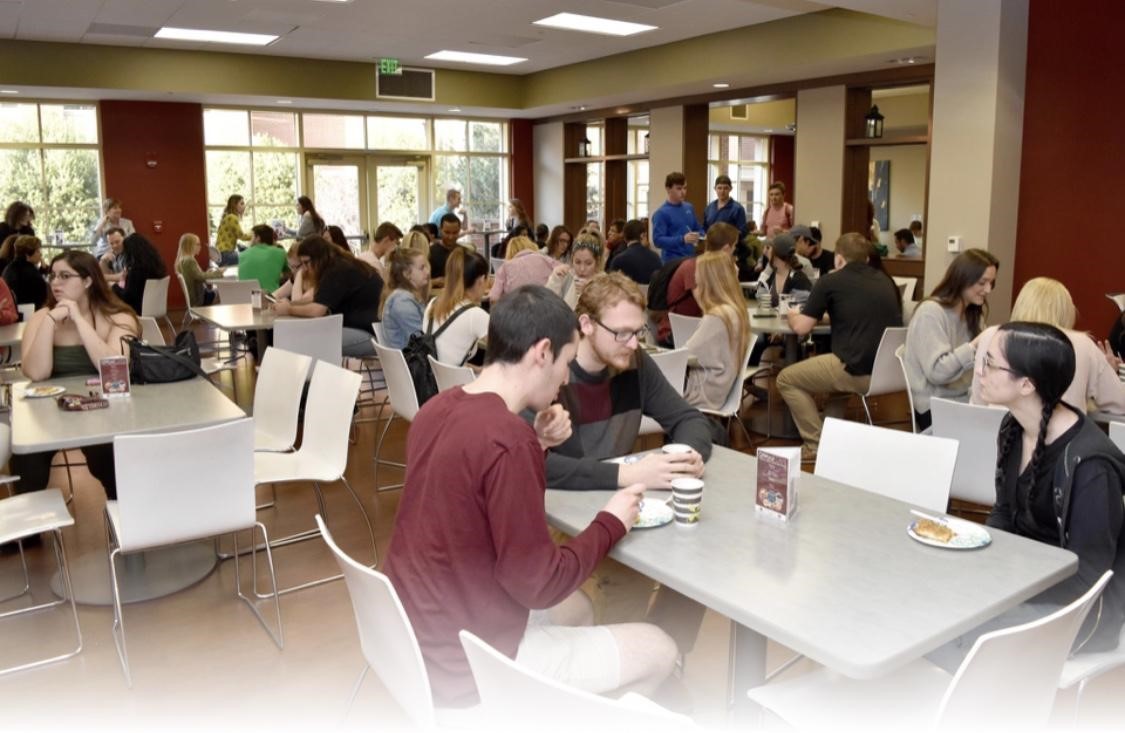 International Coffee Hour at the Globe
Meet people from around the world. Have some snacks and coffee while you make new friends!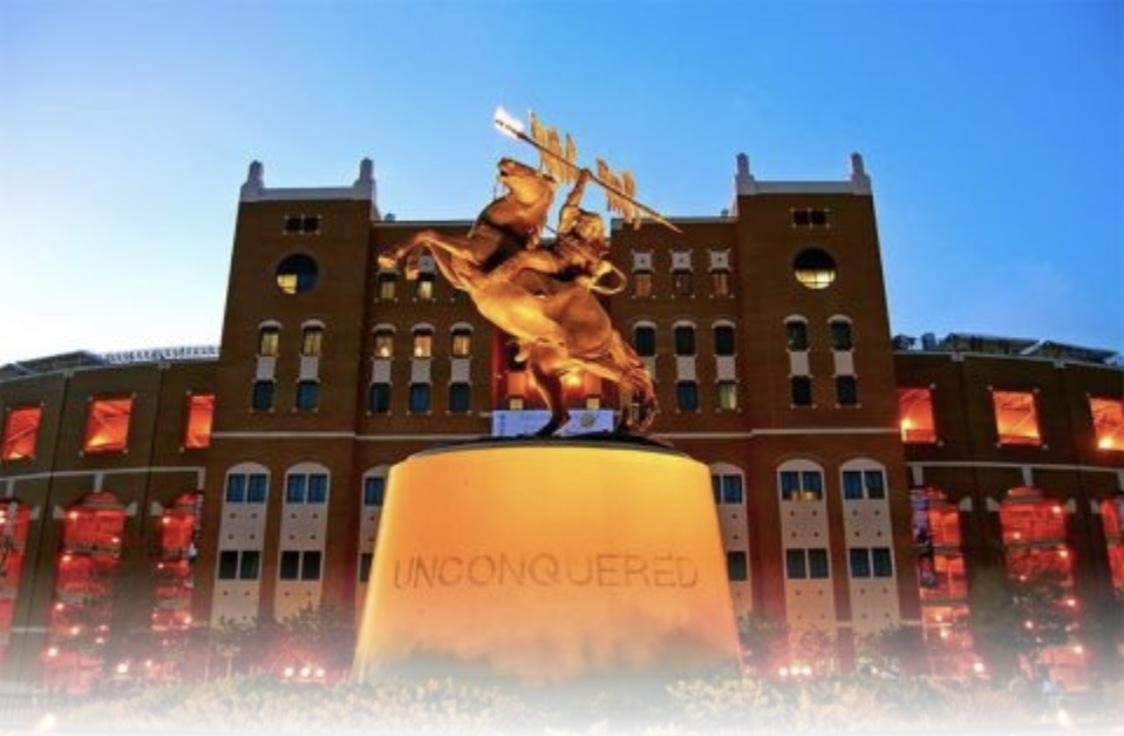 ​
Lighting the Unconquered Statue
Constructed in 2003, the Unconquered Statue was designed to capture the indomitable spirit of the Seminole people and those who have adopted that spirit as a symbol for their university. It is a striking bronze sculpture designed and crafted by Fritz White that depicts a spear-brandishing Seminole astride a rearing horse. At sunset, the night before each home game, the spear is ignited and burns until sunrise the morning after the game. Lightings also occur to commemorate other major university events.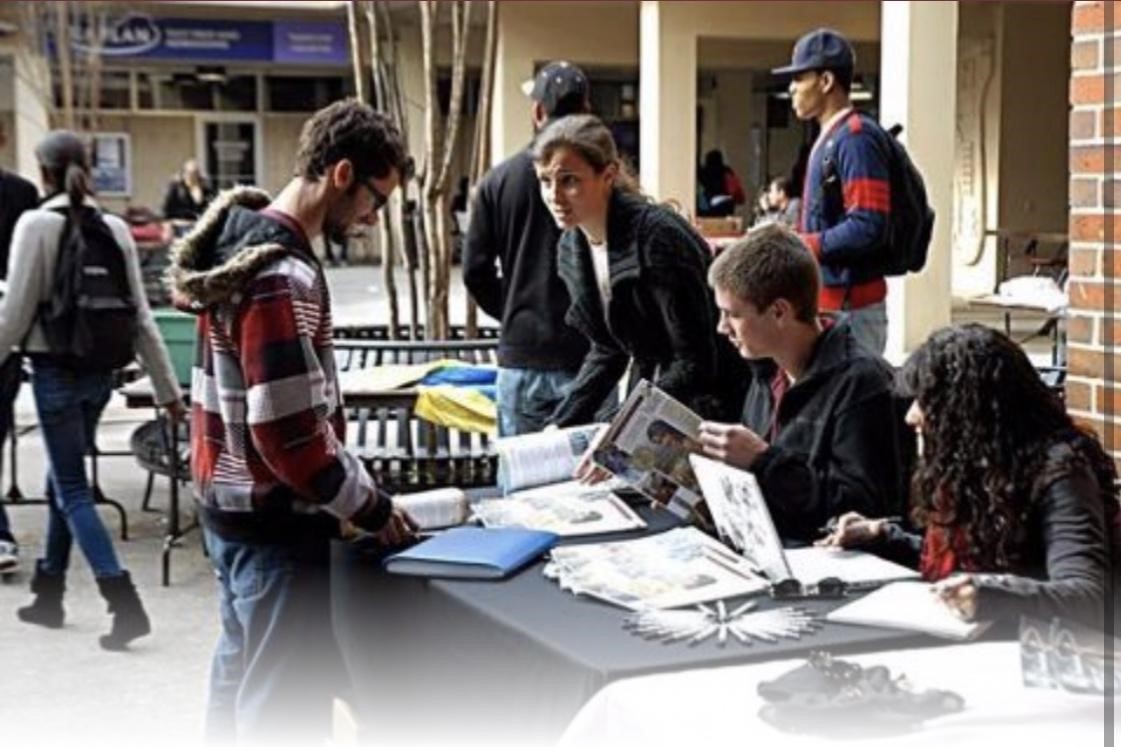 Market Wednesday​
Market Wednesday is a must-do for all students. The Union fills with dozens of vendors and registered student organizations looking to promote their cause or sell their goods to the student body. Whether you want to learn about a new organization, shop for unique jewelry or just enjoy the atmosphere, there is something fun for everyone to enjoy at Market Wednesday.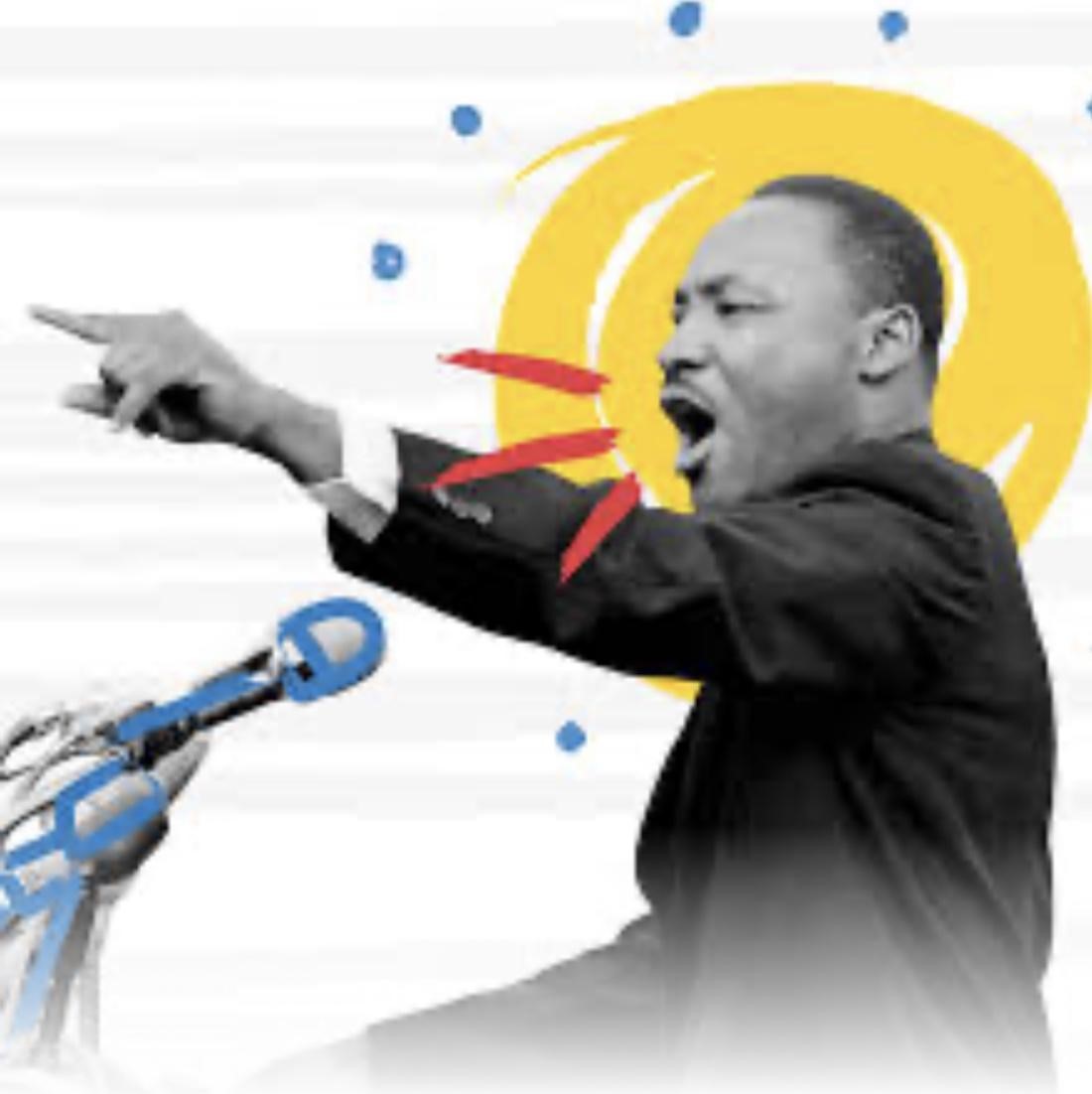 MLK Week
Take part in one (or all!) of the activities SGA has planned to celebrate the extraordinary life of Martin Luther King Jr.!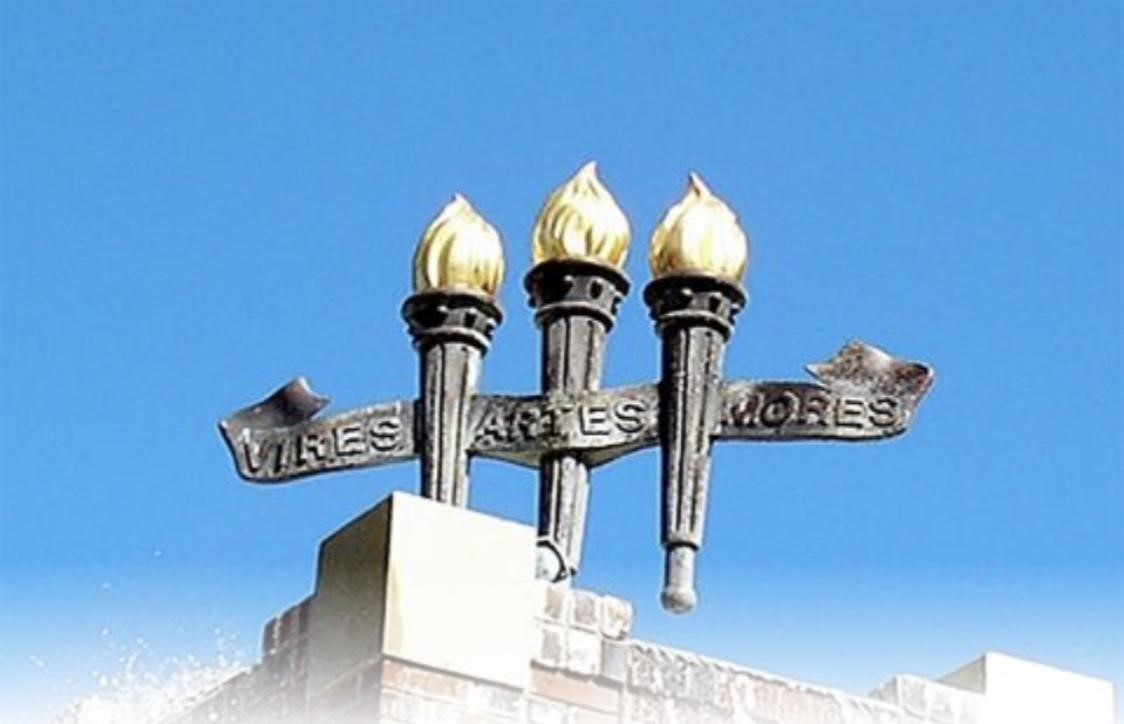 ​
New Student Convocation
Florida State University honors incoming first-year students and transfer students, and officially welcomes them during New Student Convocation. This event introduces the incoming freshman class to the university's history, traditions and pomp and circumstance. New Student Convocation features Florida State's memorable Torch Ceremony in which upper-class students pass the three torches to members of the first-year class. Convocation also includes a pinning ceremony during which students recite the Seminole Creed and receive a pin that was specially created for the event.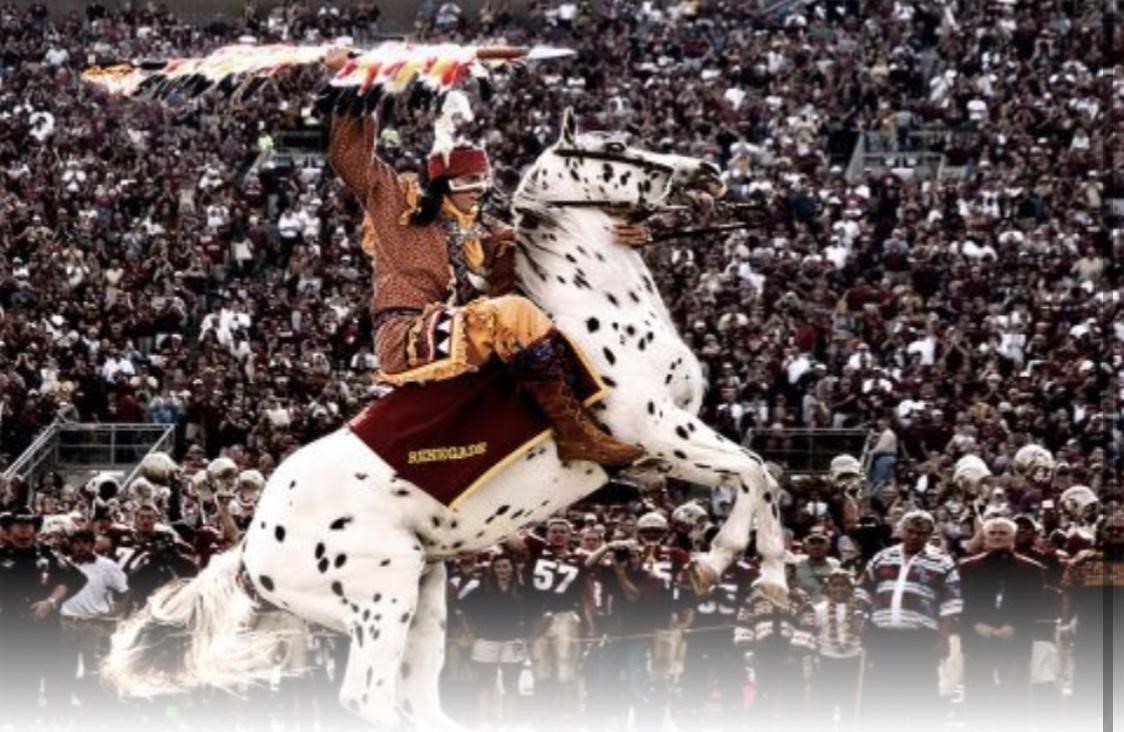 Osceola and Renegade
One of the most spectacular traditions in all of college football occurs at Doak Campbell Stadium. There, a Florida State student portraying the Native American Seminole leader Osceola, charges down the field on an Appaloosa horse named Renegade, and plants a flaming spear at midfield to begin each home game.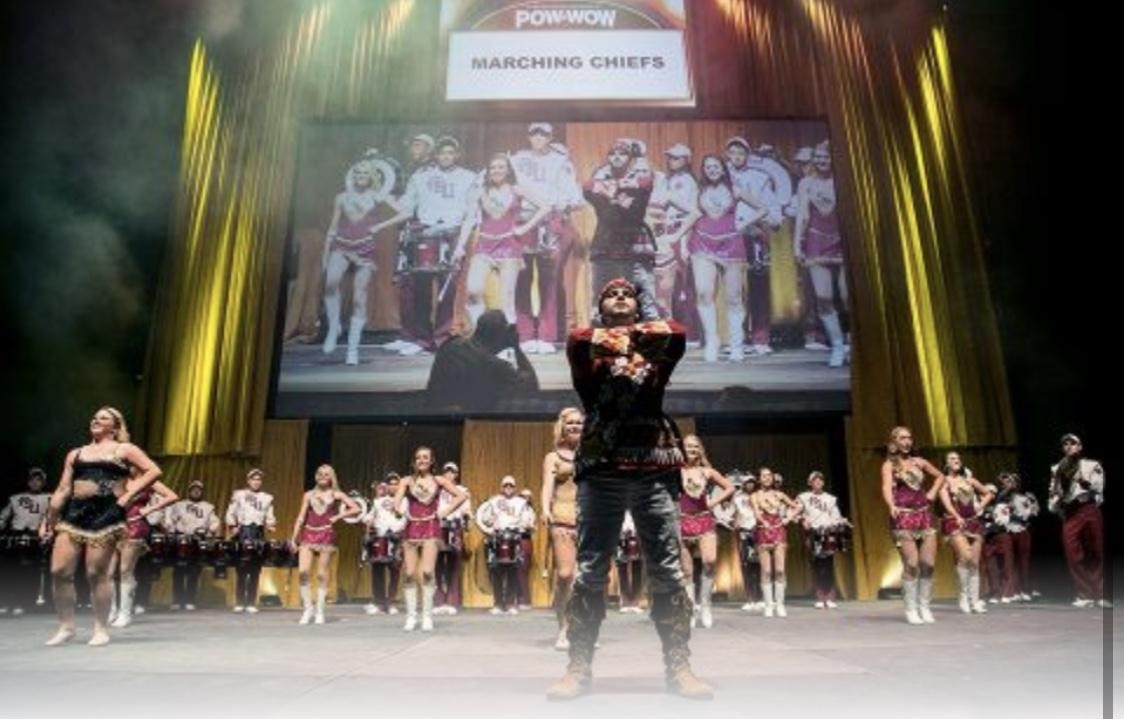 PowWow
Florida State's Homecoming Pow Wow is an annual evening of entertainment and laughter held the night before the annual Homecoming football game. Since the inaugural 1948 pep rally, Pow Wow has evolved into a full night of events, featuring performances by the cheerleaders, the Golden Girls, the Flying High Circus and various other student organizations. At the end of the performances, the Chief and Princess are announced by the Voice of the Seminoles Gene Deckerhoff and crowned by the reining Chief and Princess from the previous year. Pow Wow culminates with a headlining comedian. Past performers include Jimmy Fallon, Sarah Silverman, Stephen Colbert, Larry the Cable Guy, Nick Offerman, Cedric the Entertainer, Kathy Griffin, Dane Cook, and Amy Schumer.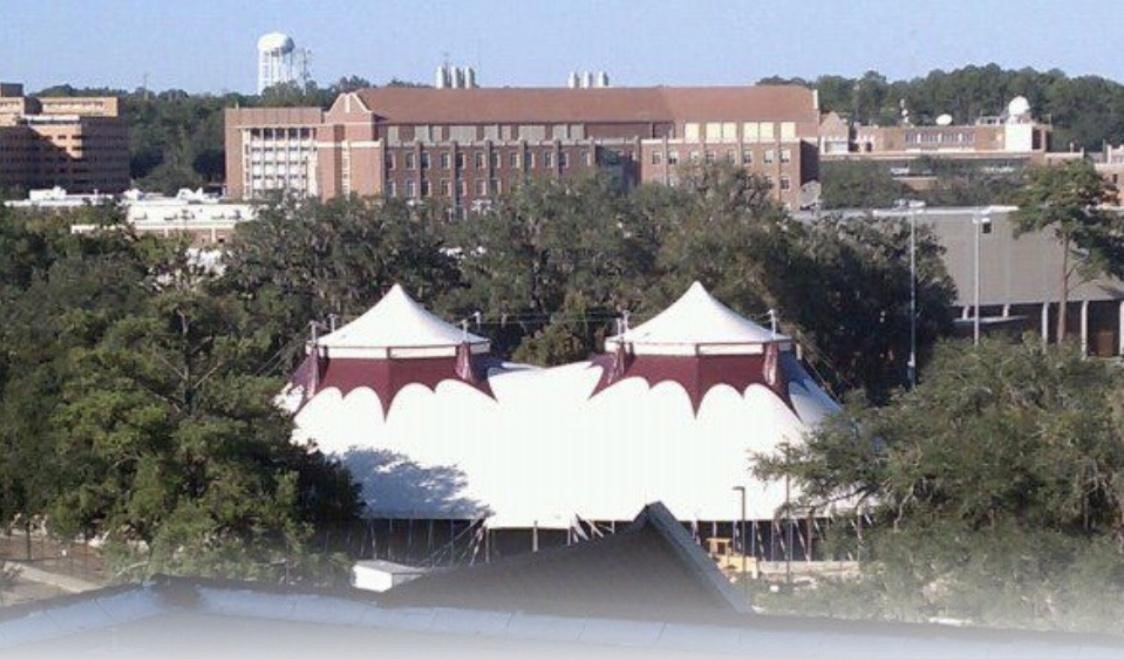 ​
See a Performance at the Circus
Florida State is one of only 2 schools in the entire United States that features a circus. Don't miss out on your unique opportunity to see your fellow students perform!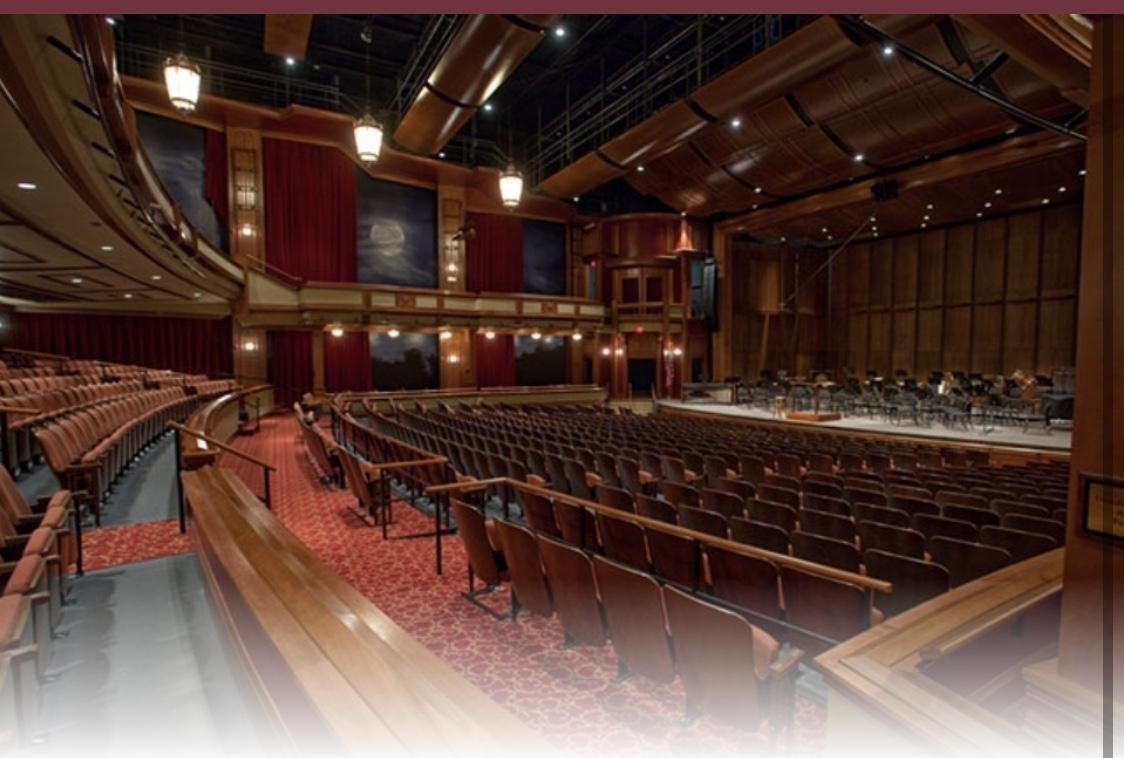 Student Veteran Film Festival
This student-led event takes place each year around Veterans Day (Nov 11) and features a current film about the experiences of military veterans and/or active-duty military personnel. Tickets are free and the film is shown in Ruby Diamond Concert Hall. After the screening of the film, its director participates in a Q&A session with the audience. Info on this year's film is at vetfilmfest.fsu.edu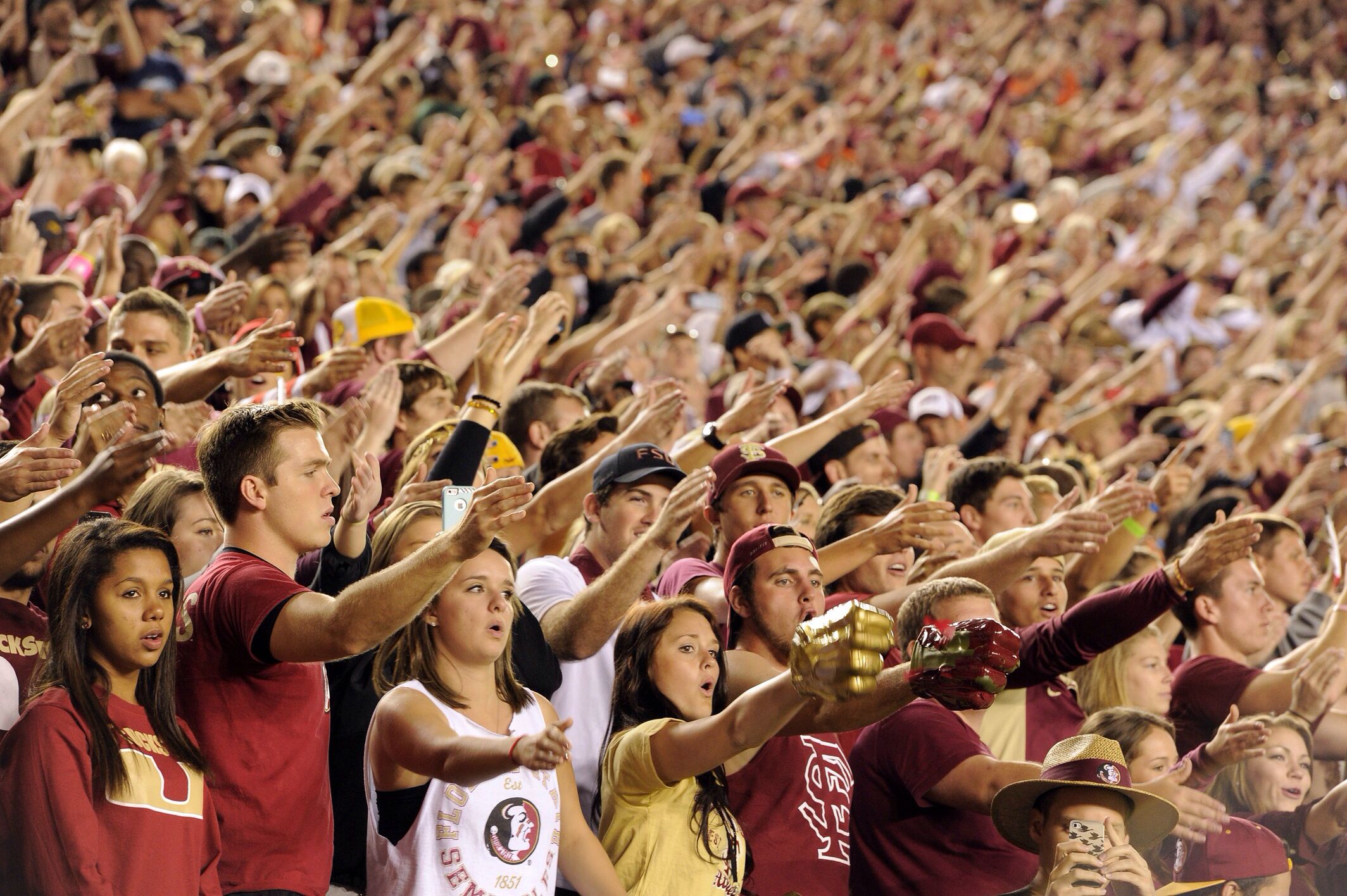 Tomahawk Chop
The gesture known as The Tomahawk Chop or simply The Chop is a motion involving a repetitious bending of the arm at the elbow, intended to symbolize a tomahawk swinging down. It is one of the most widely recognized Seminole traditions and accompanies the War Chant.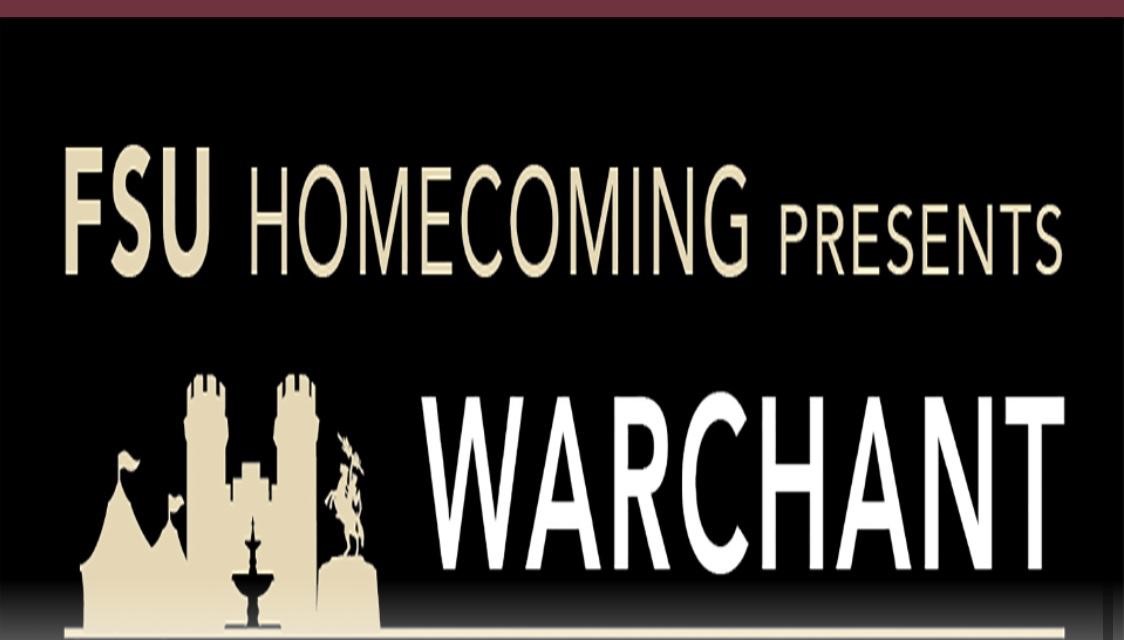 ​
Warchat
Every year the Homecoming celebration kicks off with the Warchant concert, free for FSU students. Warchant is also an opportunity to give back to the community by contributing to the canned food drive benefiting local food banks. Notable performances have included Florida Georgia Line, T.I., Ludacris, Pitbull, and the Zac Brown Band.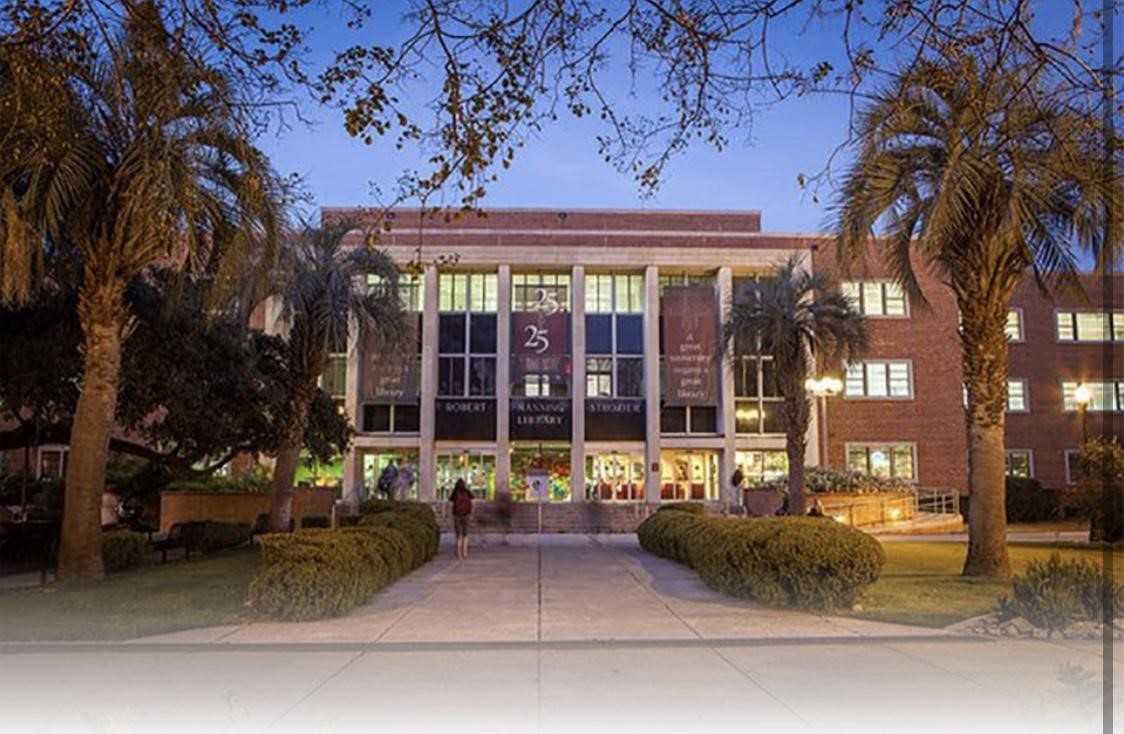 Finals Week
To help with the stress of finals week, find a fun way to relax! There are all kinds of things around campus to help you de-stress!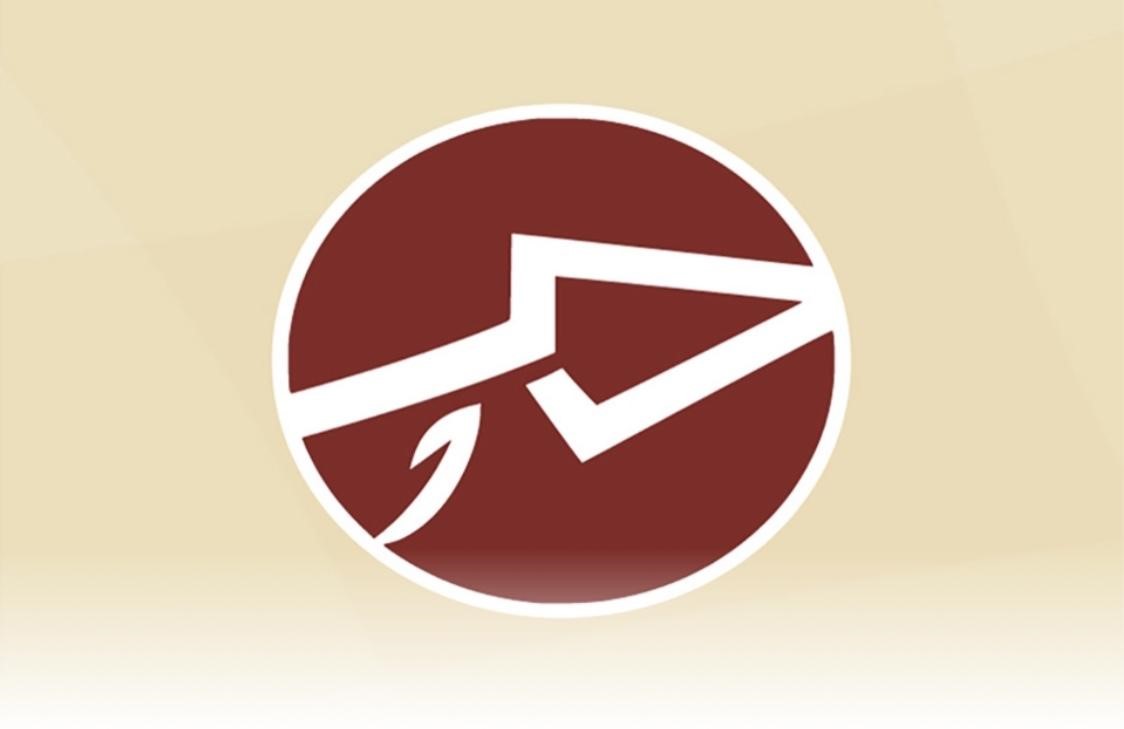 Intramural Sports
Compete with fellow students in a wide range of individual and team sports by participating in Intramural Sports. Athletic opportunities are available year-round.
Fall: Basketball, battleship, flag football, kan jam & spikeball, kickball, rec soccer, sand volleyball, softball, swimming, team bowling, tennis and volleyball.
Spring: Basketball, dodgeball, flag football, fishing, innertube water polo, mini-golf, rec soccer, sand volleyball, softball, team bowling, tennis, ultimate Frisbee and wallyball.
Summer: Basketball, flag football, innertube water polo, kickball, rec soccer, sand volleyball, softball, volleyball, wallyball and wiffleball. Learn more at campusrec.fsu.edu.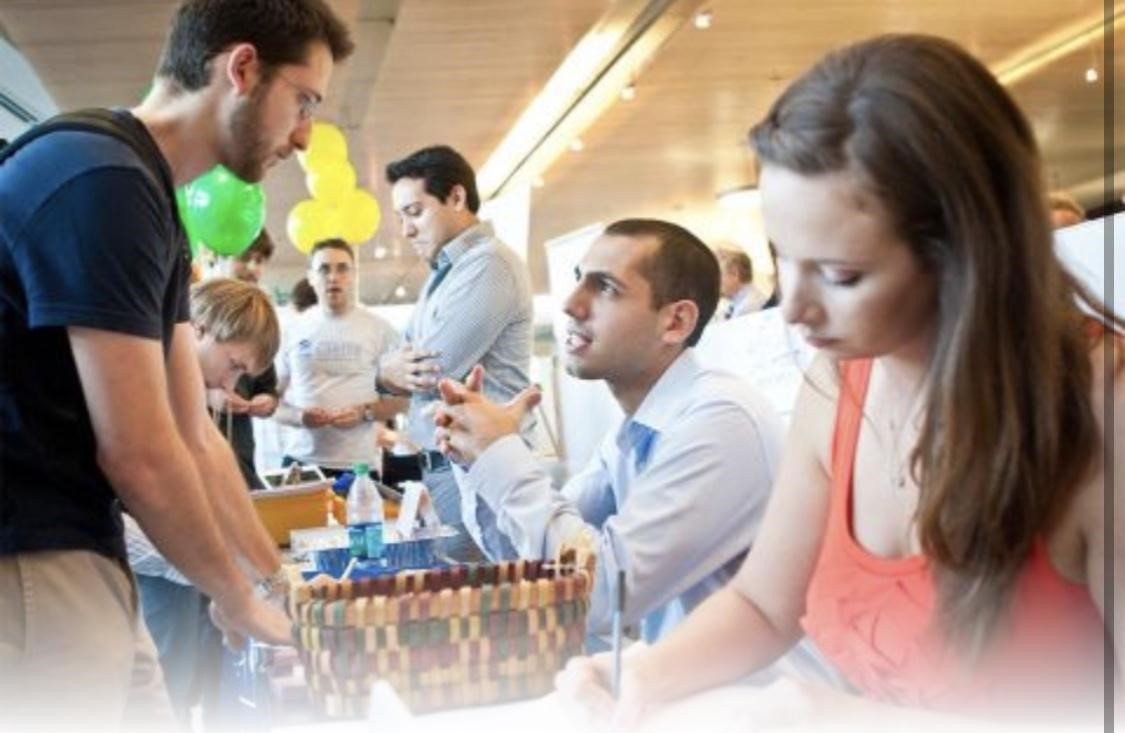 ​
Join a Student Organization
Many student organizations exist on campus to help students achieve social, professional, academic, and cultural goals, and all students are encouraged to participate in student events and organizations as their interests develop. The student organizations staff also offers leadership programs and education for organization officers, members and advisors. Currently, there are more than 750.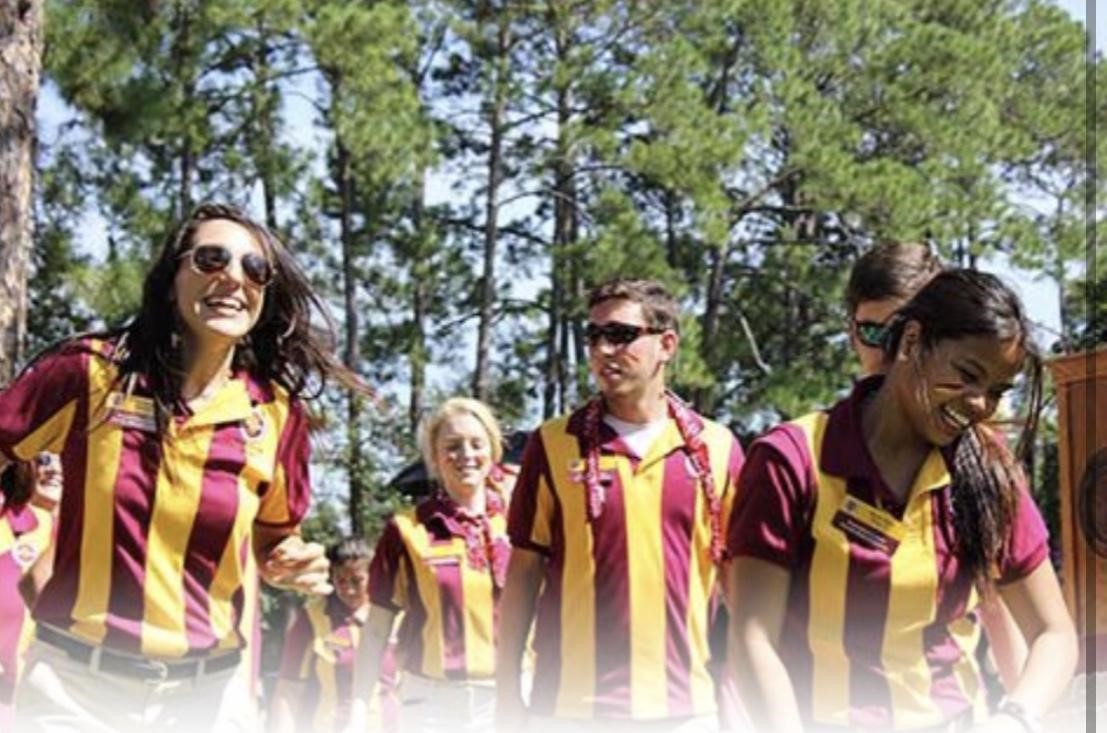 Orientation
Orientation is designed to help students transition to college and assist family members in understanding their students experience during this exciting time. Entering an academic community is an important and sometimes stressful time in ones life. At Orientation, students receive academic advising and clearance for registration, along with a concurrent family orientation to familiarize family members with the school.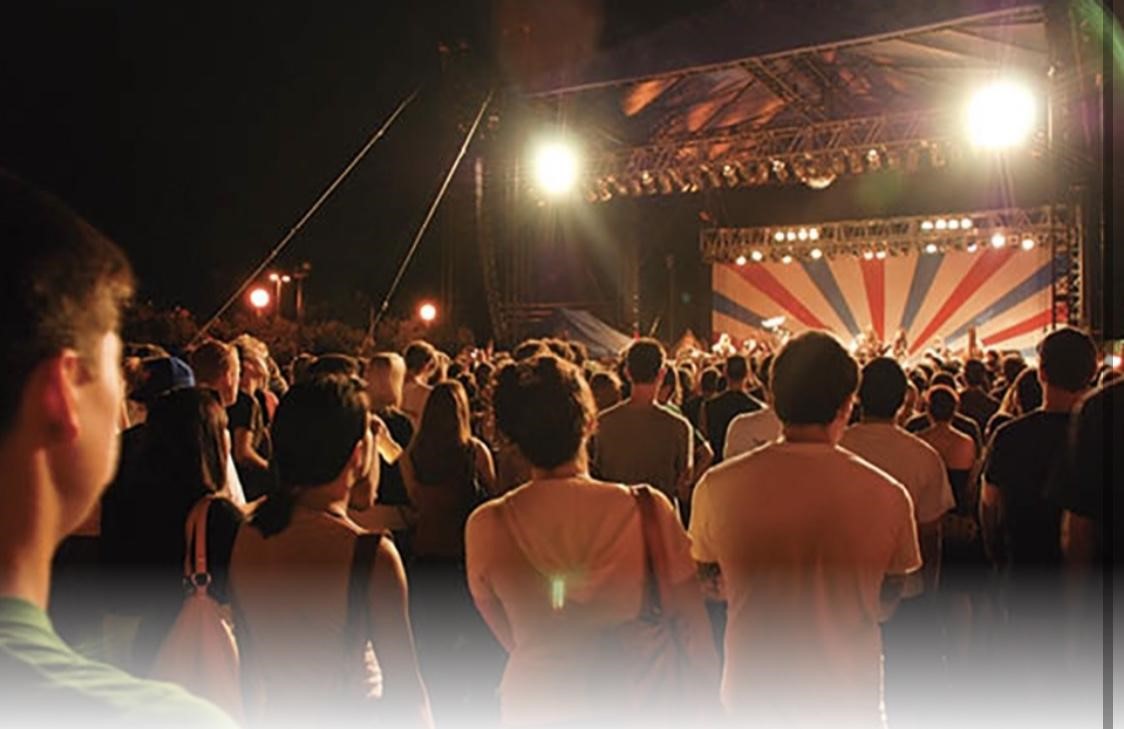 Seminole Sensation Week
Seminole Sensation Week (SSW) is a university-wide initiative designed to welcome new and returning students to campus. For the past 16 years, SSW has provided activities for freshman to meet other new students. Some of these events include new student convocation, carnivals, cosmic bowling, and a student involvement fair.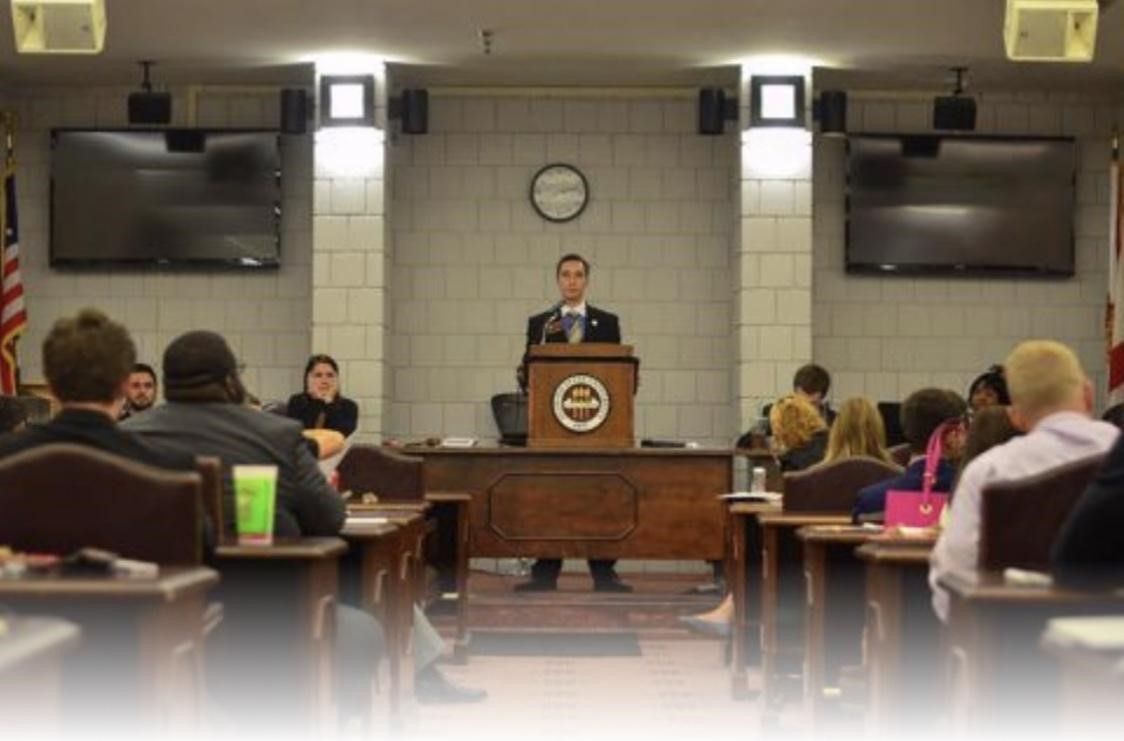 ​
Student Government Elections
Students interested in leadership roles, or politics, are often drawn to Student Government. It's a great chance to make their voices heard. Each spring, elections take place. Whether you choose to run for office, help on a campaign, or just turn out on voting day, there are many ways to get engaged. Sign up to make or hold signs, organize debates, or help get the word out. Jump in. Help out. Get the word out. Be heard. And don't forget to vote!

Alumni Center
Stop by the Alumni Center to spend a few minutes getting to know the great Alumni office team. And since you're here, become a member of the Student Alumni Association. Enjoy the benefits that Membership uprovides, including 10% off textbooks at the bookstore. Remember, with your Seminole Experience app, your Membership card is always with you and benefits are ready to be enjoyed.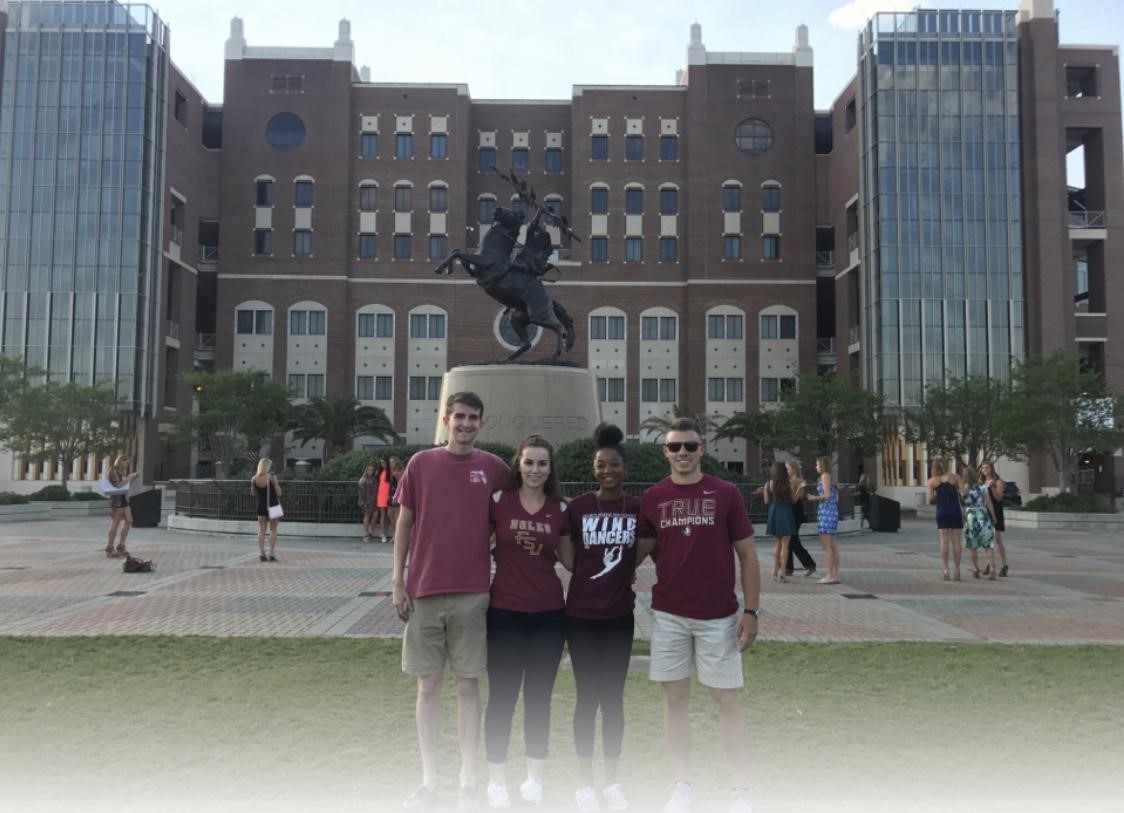 Doak Campbell Stadium
Popularly known as "Doak", this is one of the most popular and well-known places on campus. Opened in 1950, it was named Doak Campbell Stadium in honor of Doak S. Campbell, the university's president from 1941 to 1957. On November 20, 2004, the Florida Legislature added longtime head football coach Bobby Bowden to the stadium name to become Bobby Bowden Field at Doak Campbell Stadium. Grab your friends and enjoy a tailgate before heading into the game and cheering on your Noles!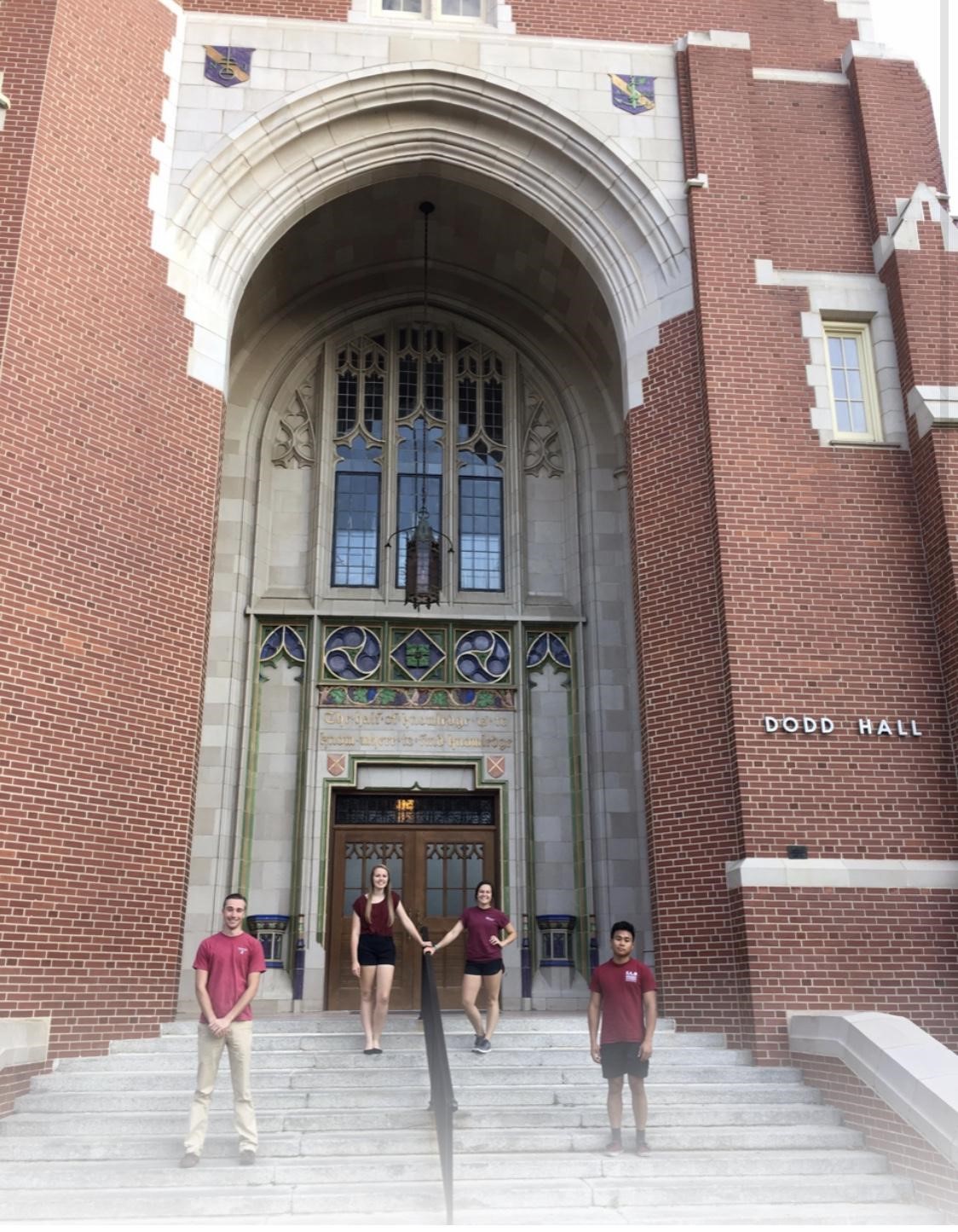 ​
Dodd Hall
Dodd Hall is the most elaborate example of Collegiate Gothic architecture on campus. The smaller west wing was built in 1925 and the larger east and south wings were constructed between 1928 and 1929, bringing the building to its current configuration. Over the main entrance, rendered in gold leaf, are the words, The half of knowledge is to know where to find knowledge."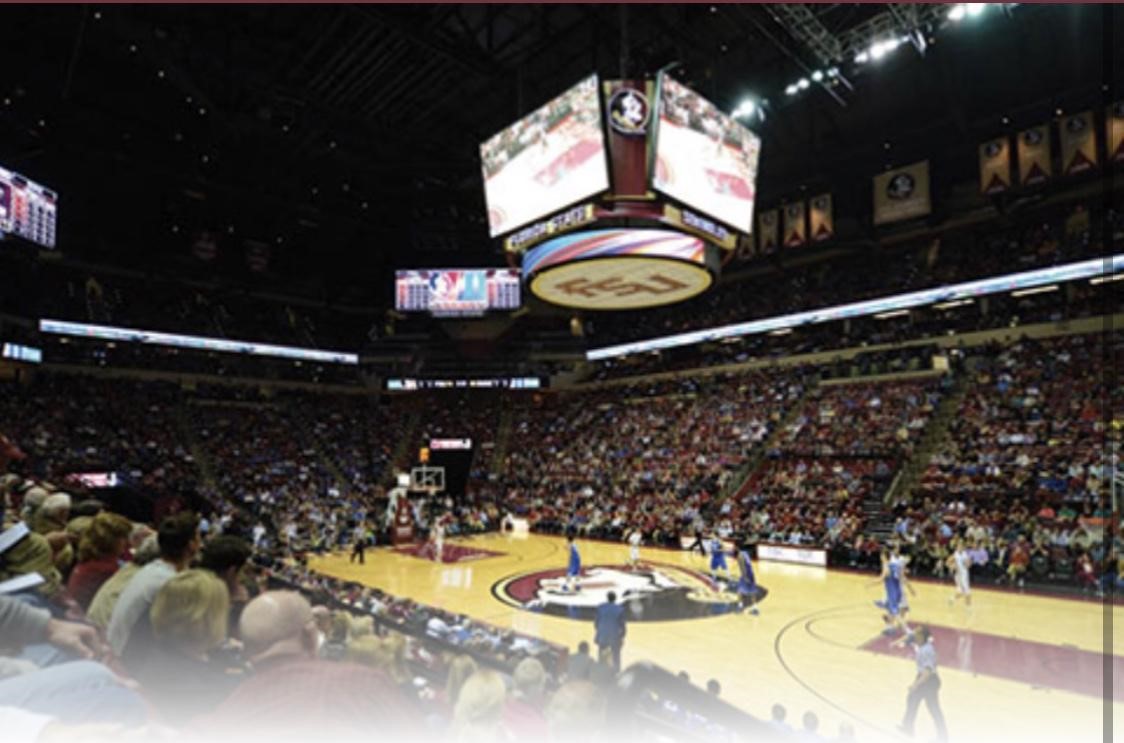 Donald L. Tucker Civic Center
The Donald L. Tucker Civic Center is a 12,500 seat multipurpose arena, located adjacent to the main campus. Florida State University assumed responsibility for Civic Center operation in July 2013. Renovations for the Civic Center include a new hotel/convention center, world-class basketball facility and Florida State academic center.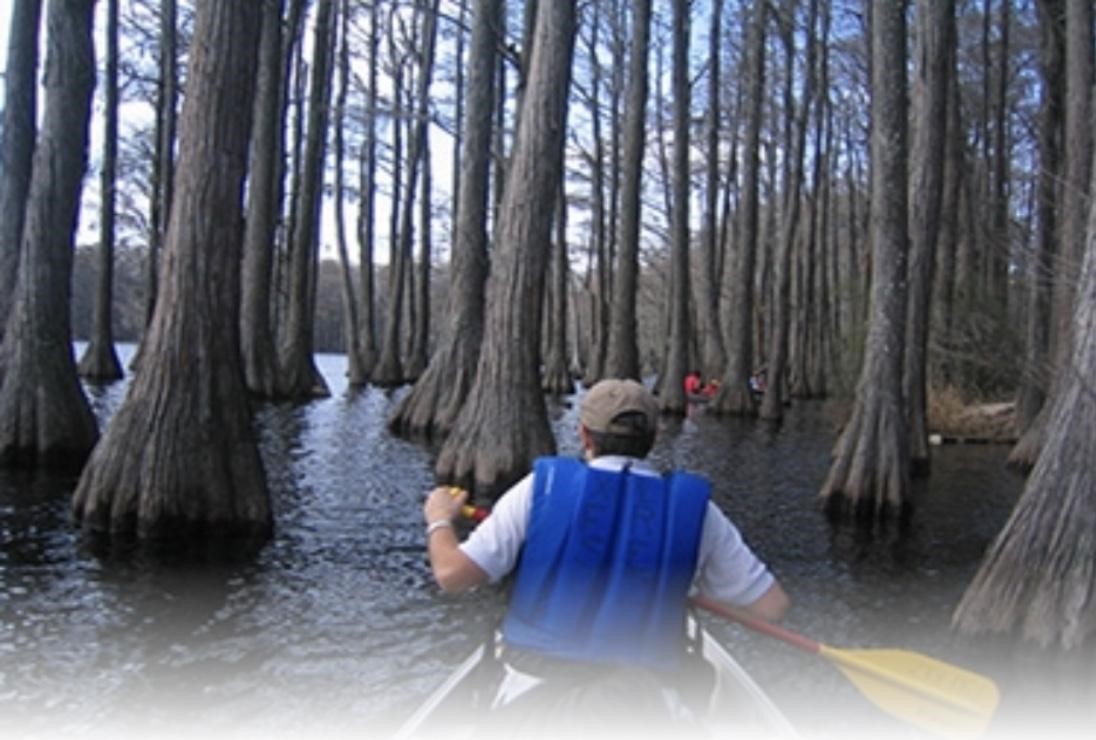 FSU Reservation
The Florida State University Reservation is a 73-acre facility located on beautiful Lake Bradford with 10 active acres. The Rez is located four miles from campus and provides a natural setting for students to enjoy canoeing, kayaking, picnicking, swimming and more. In addition to water activities and sports, the Rez has a special authentic Seminole Chickee hut for relaxing. The hut was built a few years ago by the Seminole Tribe of Florida.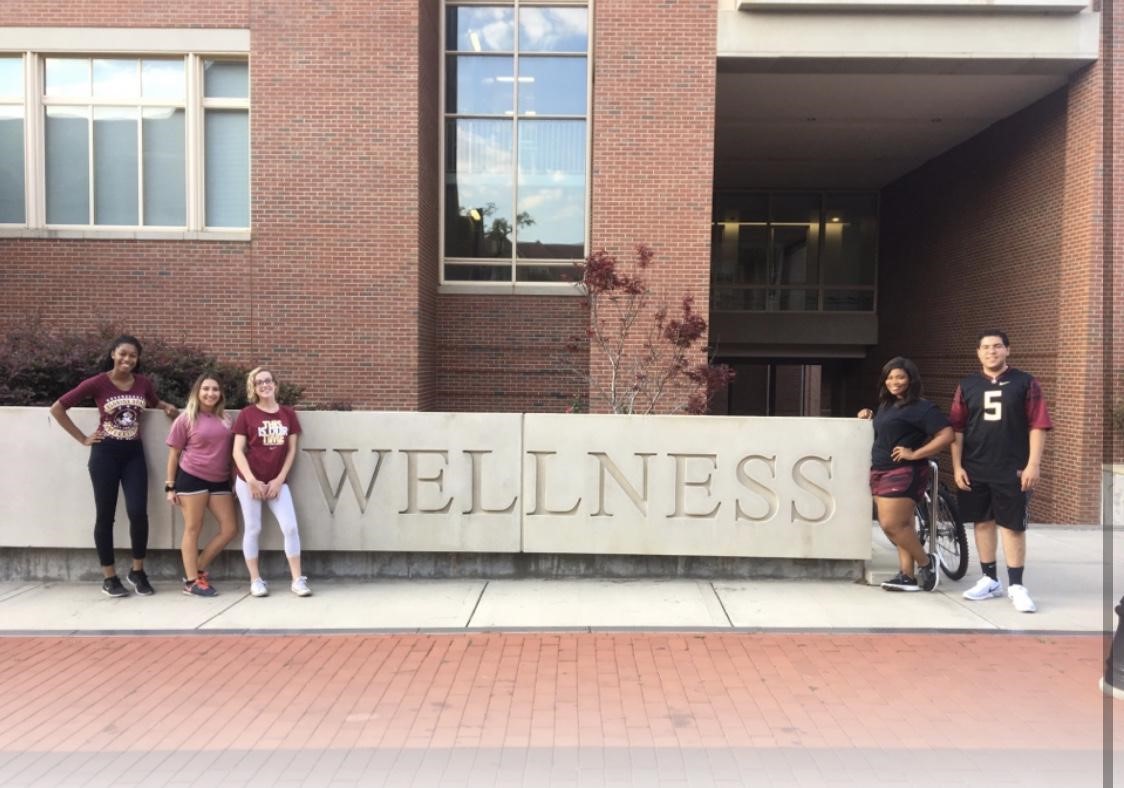 ​
Health and Wellness Center
Completed in July 2012, the new Florida State University Health & Wellness Center is a unique partnership between student affairs and academic affairs. This is the first building on campus that combines related health and wellness services from three different areas: The College of Nursing, Campus Recreation and University Health Services.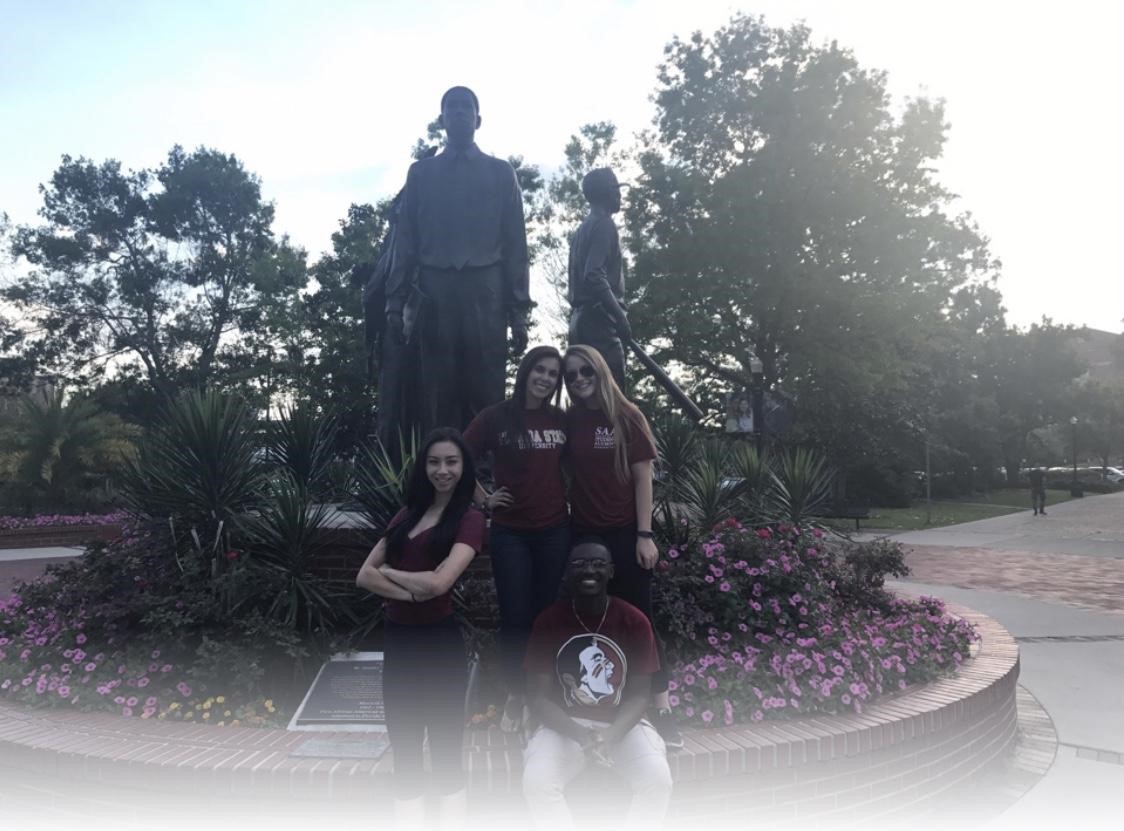 Integration Statue
This monument stands as a celebration of hardships and successes of a group of young men and women with a vision to make FSU a center of learning for all people. In 1962, FSU enrolled its first three full time African American students, two graduate students and one undergraduate. The undergraduate student, Maxwell Courtney, became the first African American graduate of FSU in 1965. Also in 1965, Fred Flowers enrolled in FSU. He became the first African American to wear an FSU athletic uniform. In 1970, FSU students elected the first African American Homecoming Queen, Doby Lee Flowers.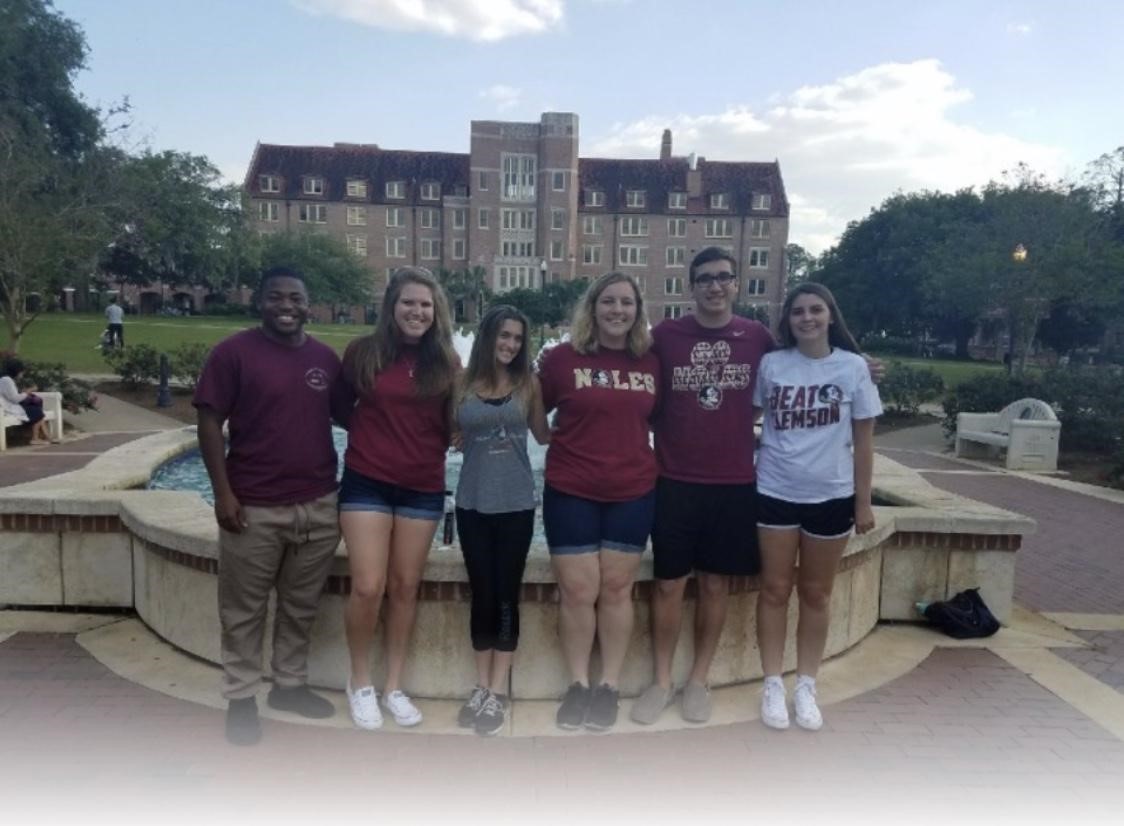 Landis Green
On the east side of campus you can find people enjoying a nice afternoon on Landis Green, which sits behind Landis Hall and in front of Strozier Library. Since 1932, students have used Landis Green for outdoor recreation, relaxation and as a favorite study spot.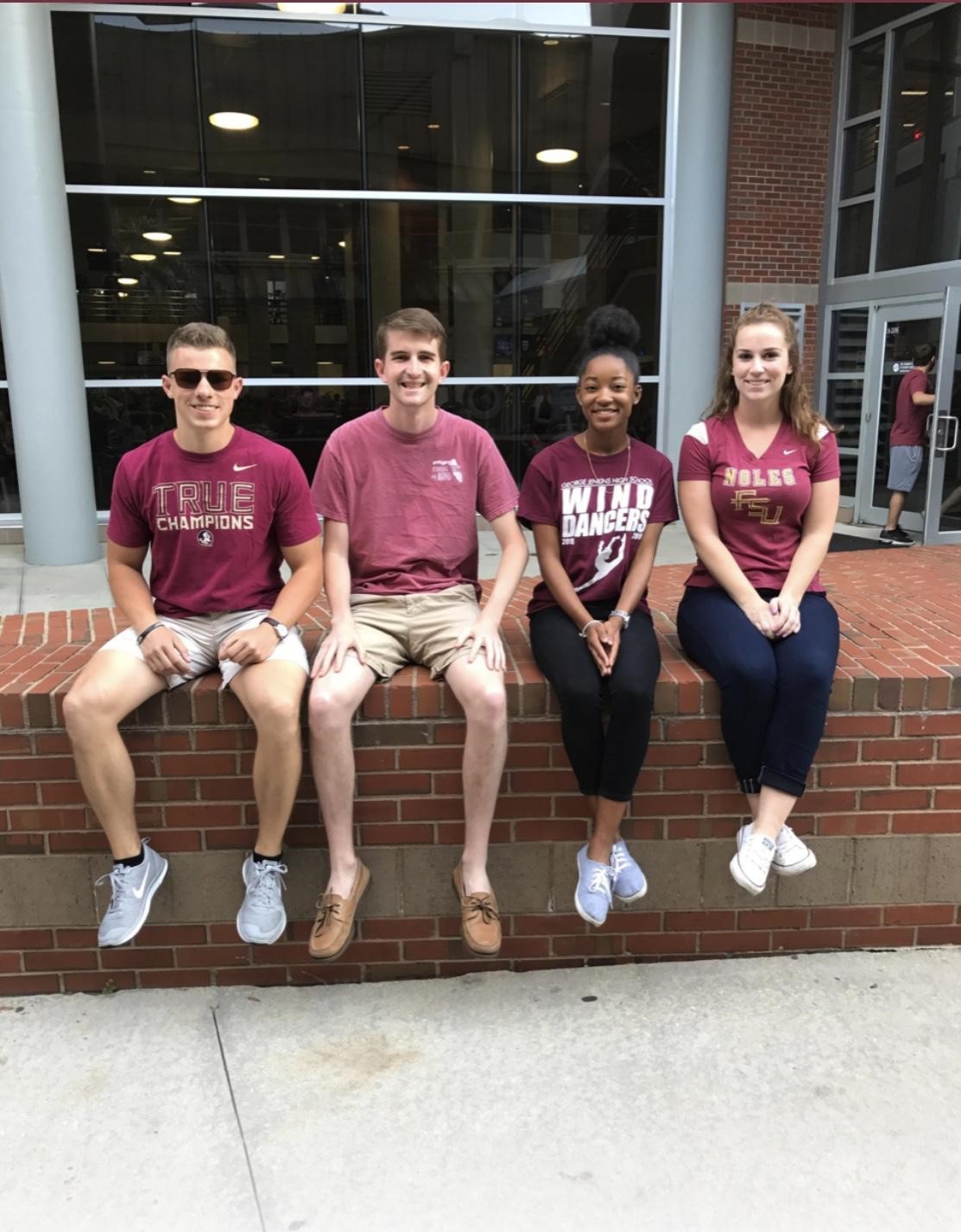 ​
Leach Center
The Bobby E. Leach Student Recreation Center is FSU's on-campus recreational facility designed to help students stay fit and well through healthy recreational activities. The Leach Center is home to the FSU Fitness program, offering group exercise classes and strength and conditioning training services.
Oglesby Union
Organized in 1946 as a community center for students attending FSCW and TBUF, the original Student Union operated as the OÌÎå Club (The Officers Club) at an abandoned air base, Dale Mabry Field. The OÌÎå Club housed the Union until the mid-1950s, when it was moved to its current location at Woodward Avenue and Tennessee Street. Extensive additions in 1964 enlarged the complex considerably and included dining rooms, game rooms, a barber/beauty shop, a ticket office, lounges, an auditorium, offices, meeting rooms and an Olympic-sized swimming pool. In August 1988, a renovation and expansion project was completed. The project added a computer lab, a video center, a Student Senate chamber, 13 new meeting rooms, an arts center, numerous retail locations, a video games arcade and 20 new offices. The Roscoe R. Oglesby Union Complex was named for Dean Ross Oglesby, who had been a Florida State Professor of Government for 19 years and served concurrently for 10 years as Dean of Students.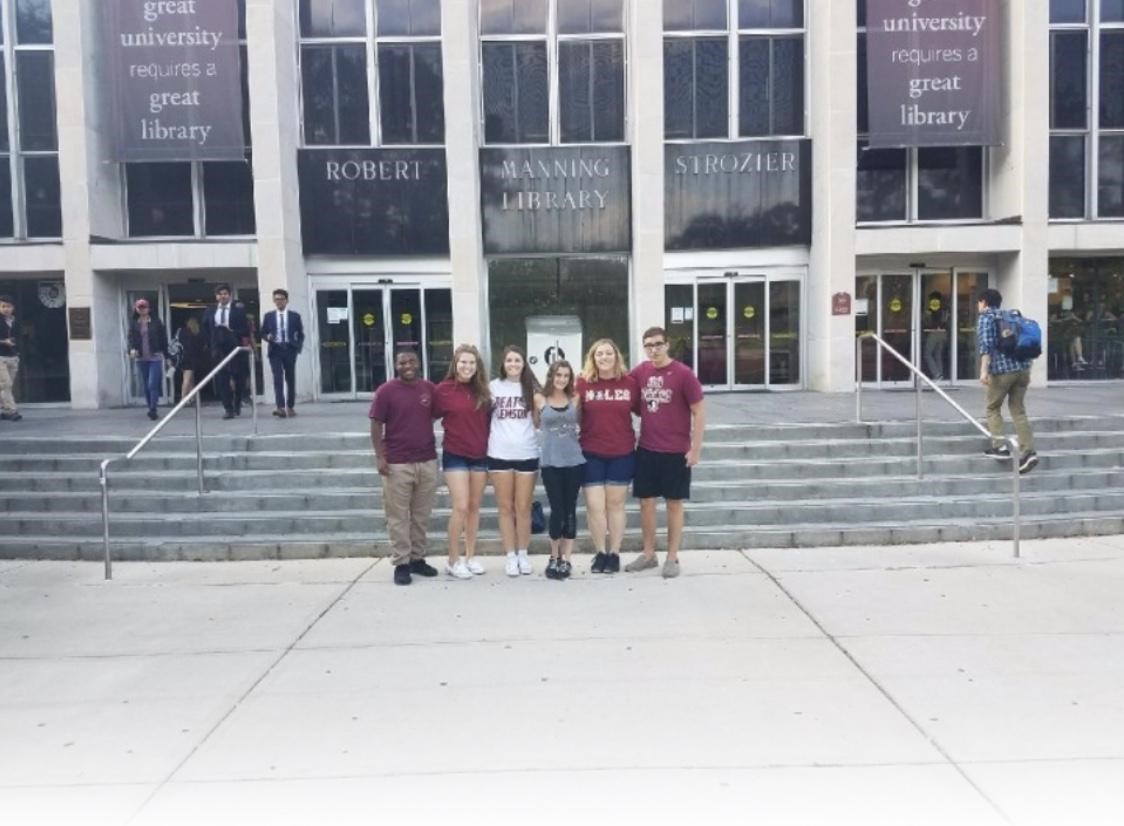 Strozier Library
Strozier Library is the main library for the university and houses the nation's first double-sided Starbucks. Stozier is the largest library facility on campus with seating for 2,620 users. It offers an extensive range of library services and has open stacks, meaning patrons are able to browse through rows of book shelves to make their own selection of materials.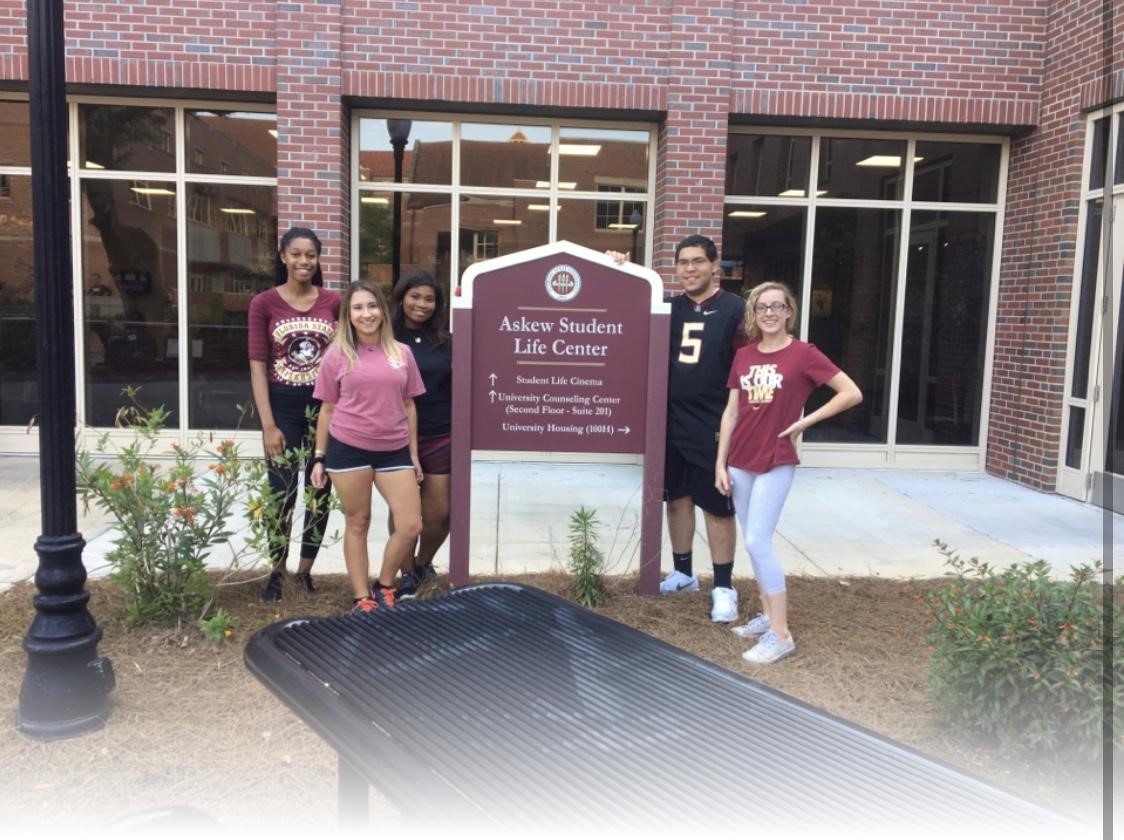 ​
Student Life Center​
The Askew Student Life Center (SLC) is located in the heart of campus and is home to a number of exciting and important student services. The most notable feature of the SLC is the Student Life Cinema. The Student Life Cinema campus film series is presented in a state-of-the-art movie theatre with Dolby Digital surround sound, 35mm and digital projection and stadium-style seating. You can visit the Grindhouse in between classes or before a movie to grab a cup of coffee and hang out with friends, study, surf the net and play games.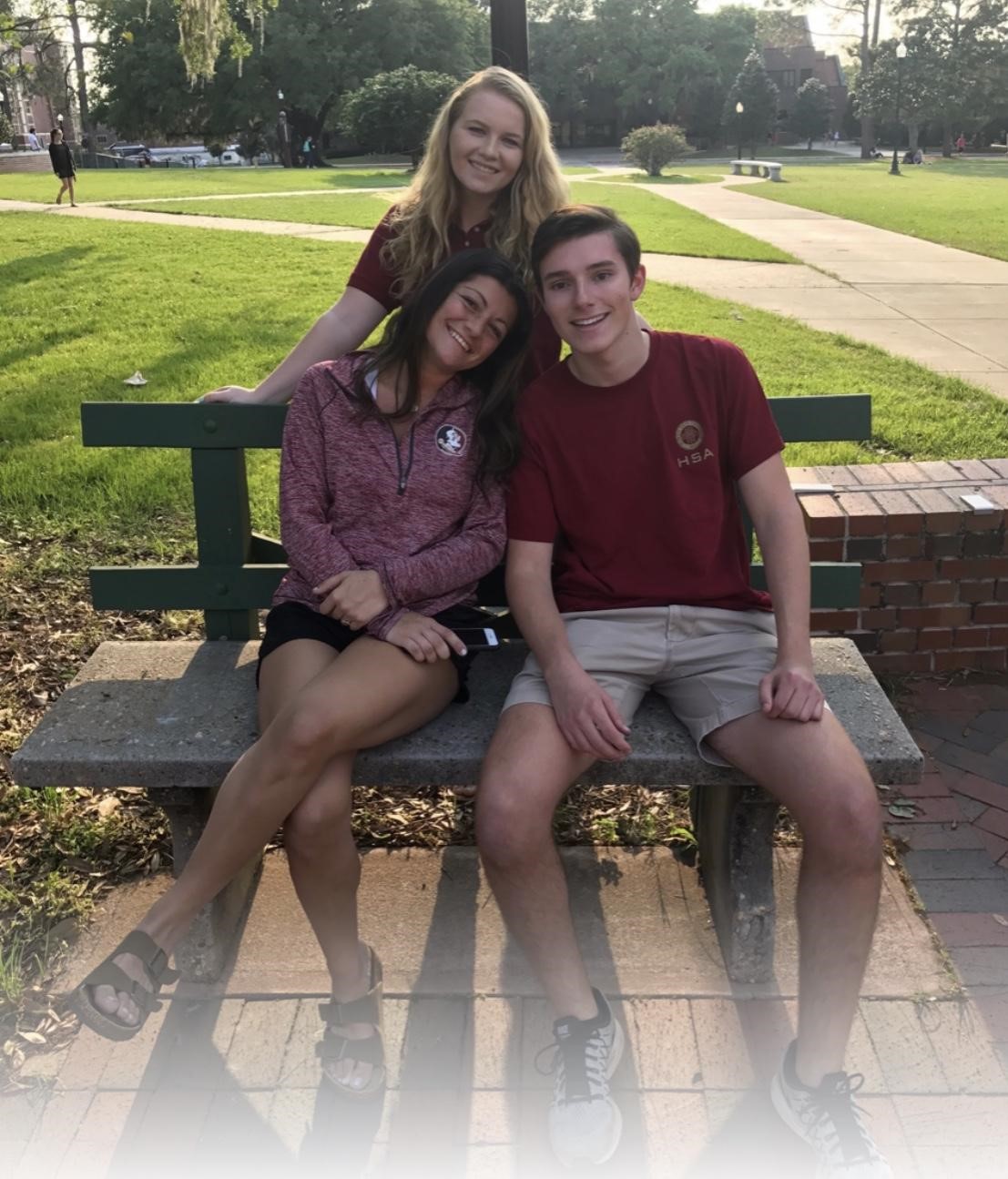 The Kissing Bench
This nondescript bench sits on the edge of Landis Green, and its story originates with a member of Florida State University administration. Supposedly, a Florida State president once sat on the bench and kissed his future wife. The marker, made by the Master Craftsman Program, reads: If this bench could talk oh the stories it would tell of kisses young and old. If you sit, beware the spell.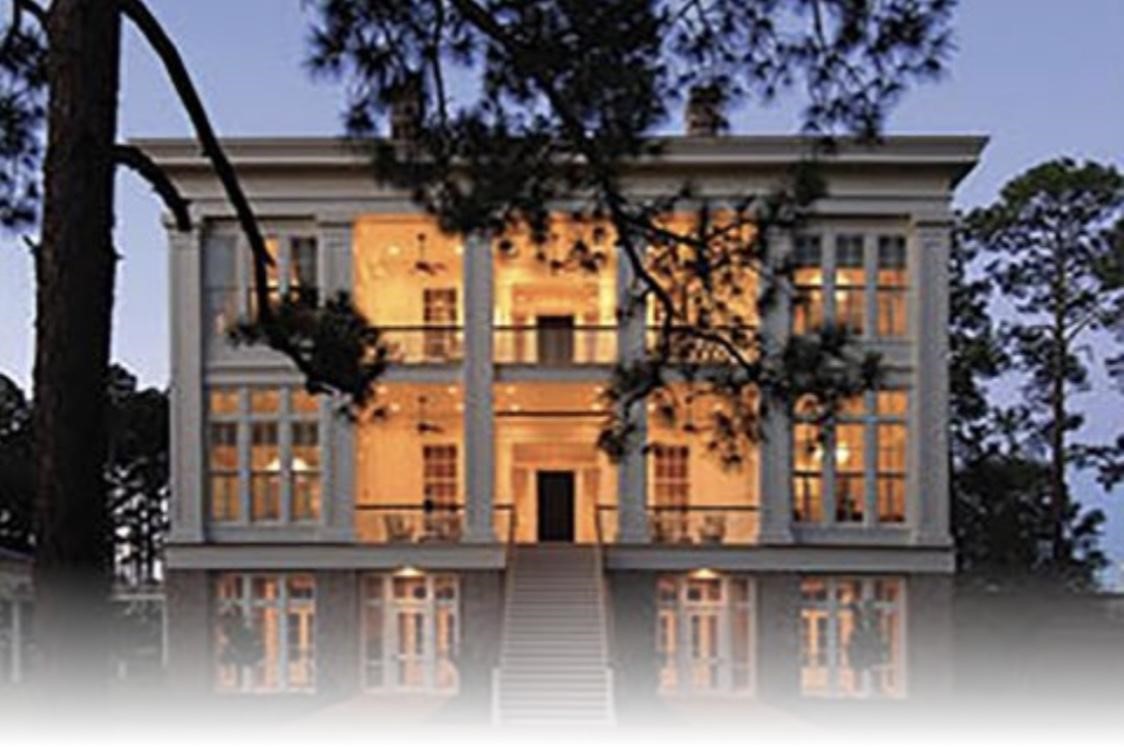 The President's House
Built next to the FSU Alumni Association complex, the President's House houses many antiques and treasures from the university's Museum of Fine Arts, John and Mable Ringling Museum of Art and the FSU Master Craftsman Program. The president opens the house for annual events such as the President's tailgates.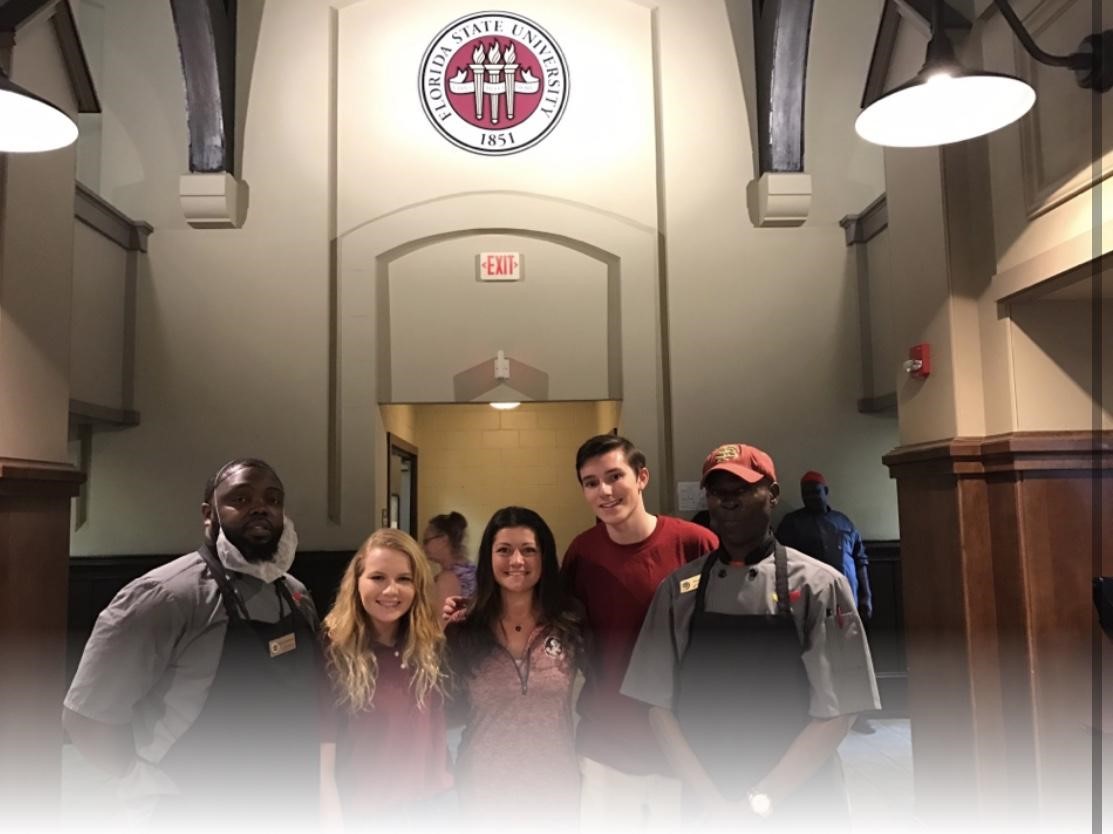 ​
The Suwannee Room
The Suwannee Room is Florida State's newly restored dining hall, located on the east side of Landis Green. Meticulously restored to its former architectural glory, the Suwannee Room recently opened for business in the 100 year old Gothic Revival structure.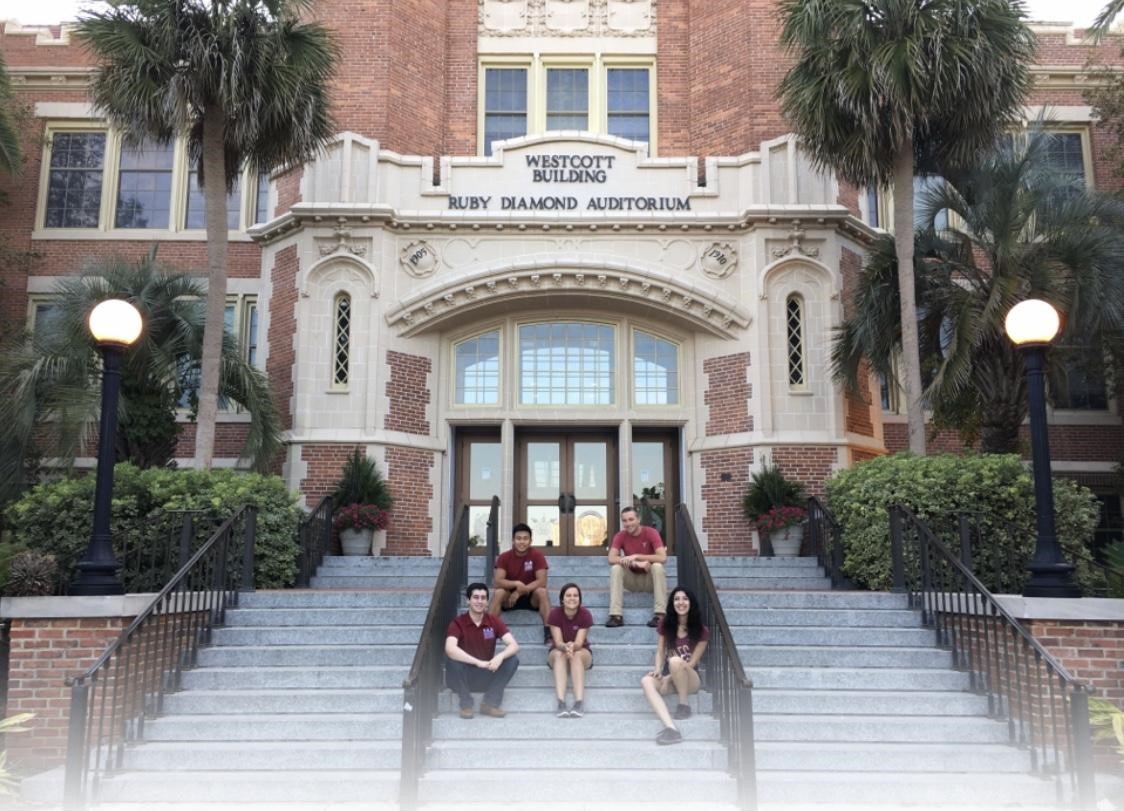 Westcott Building
Built in 1910, the Westcott Administration Building is the architectural centerpiece of the Florida State University campus. It can be seen clearly from the center of town and its view down College Avenue gives the university a strong presence in the community. The fountain on Westcott Plaza was a gift from the classes of 1915 and 1917, and the original graced the main entrance to the campus for over 70 years. Westcott Gate serves as the main entrance to Florida State. More than any other structures on campus, the Westcott Building, gate and fountain have come to symbolize Florida State University.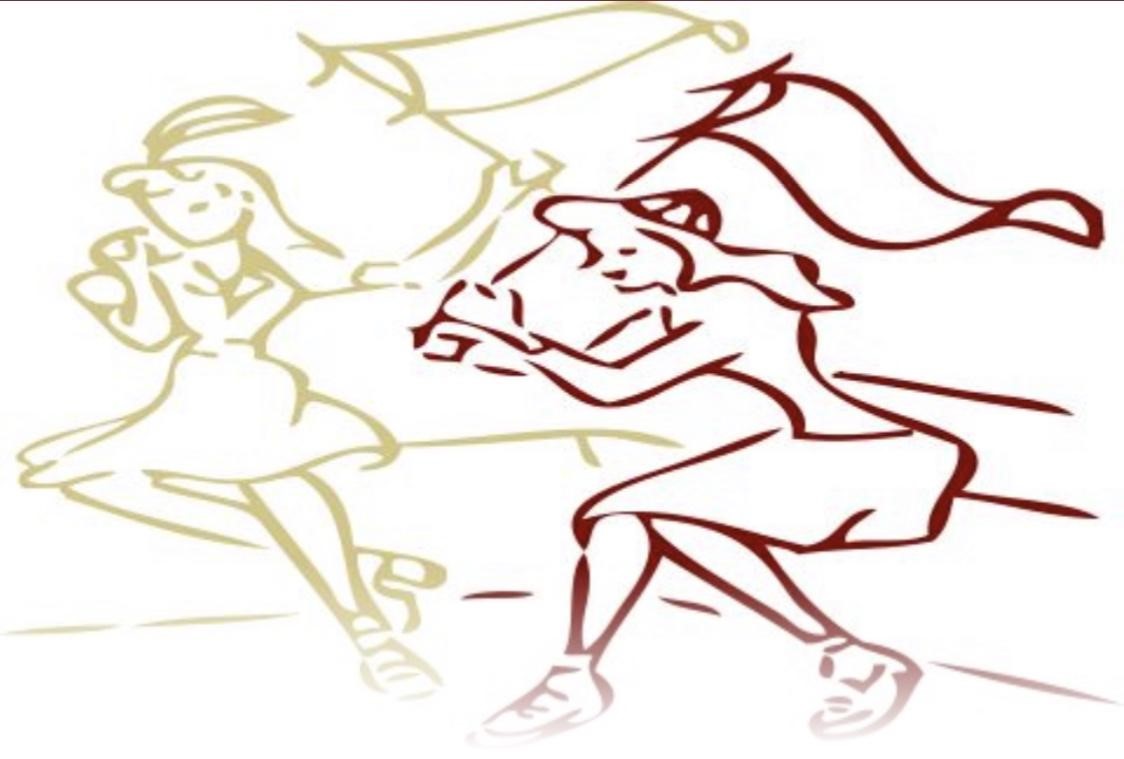 Origins of the Garnet and Gold
Florida State's tradition of garnet and gold as our colors has developed over the years. The Florida State College football championship teams of 1904 and 1905 actually wore purple and gold uniforms. Then at the Florida State College for Women, the EvensÌÎå (women from even numbered years) and the OddsÌÎå (women from odd numbered years) competed in athletic events. Each team adopted victory colors with the Odds choosing red, white and purple and the Evens choosing green and gold. Soon after, The Flambeau referred to the Odd team as garnet and the Even team as gold. After transitioning to a co-ed university in 1947, Florida State adopted the official colors of garnet and gold.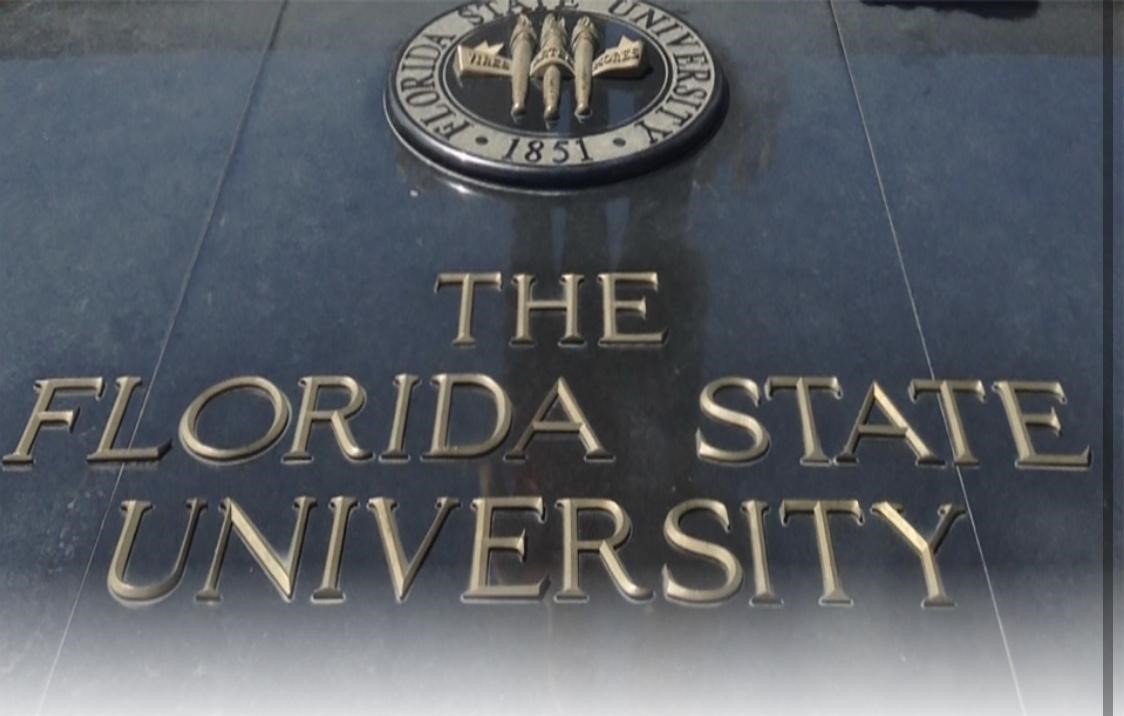 ​
The Florida State University Seal
The origins of the seal date back to the late 19th century in the days of the West Florida Seminary, the oldest predecessor to Florida State University. An owl was chosen to represent the wisdom the school would impart to its students, but as the college changed, so did the seal. In 1909, the Florida State College for Women adopted the FSCW seal, which was designed by art student Agnes Granberry. It contained three torches to symbolize Vires, Artes and Mores. With the development of the university, the seal has since been updated with a more modern appearance. Despite its modernization, its strong traditions have not been compromised.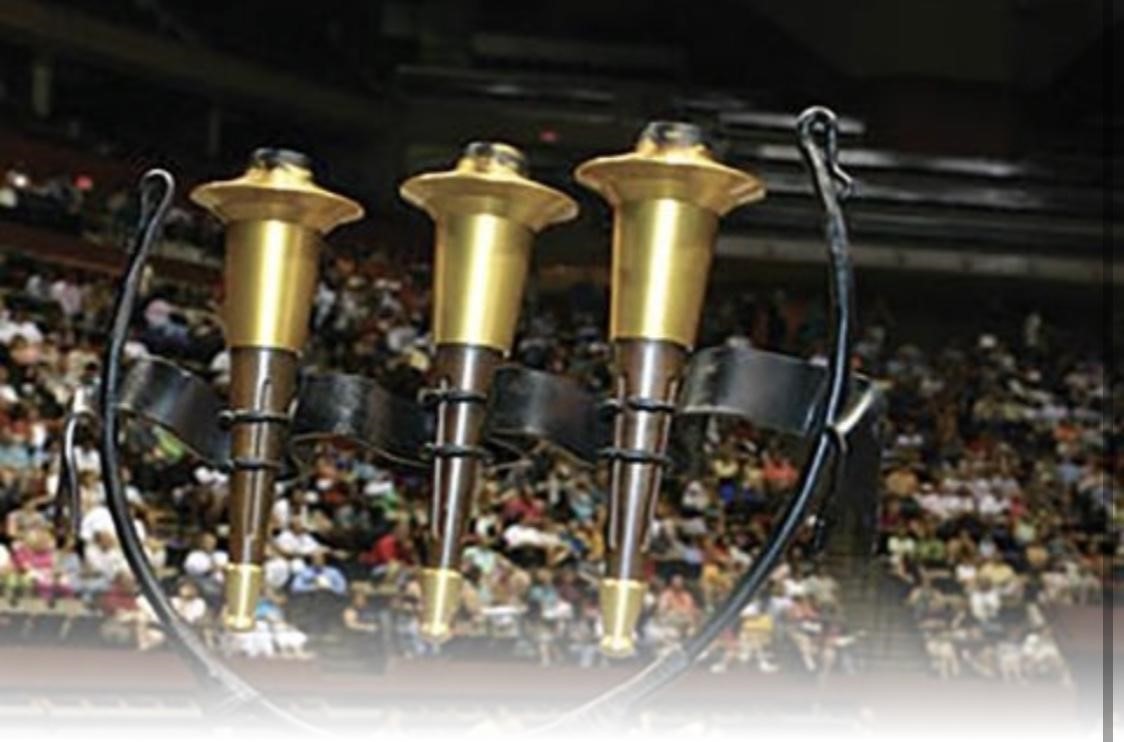 The Three Torches
The torches of the seal symbolize the fire given to man by the Greek god, Prometheus, which enabled man to elevate himself above the animals and become human. The torches of Florida State University seal symbolize the purpose of the university: to pass knowledge from generation to generation. Vires Strength: physical, moral and intellectual. Artes Skill: we acquire knowledge which transcends skills and embraces the appreciation of beauty. Mores Character: represents the binding moral character that links every trait to a level of consciousness and responsibility.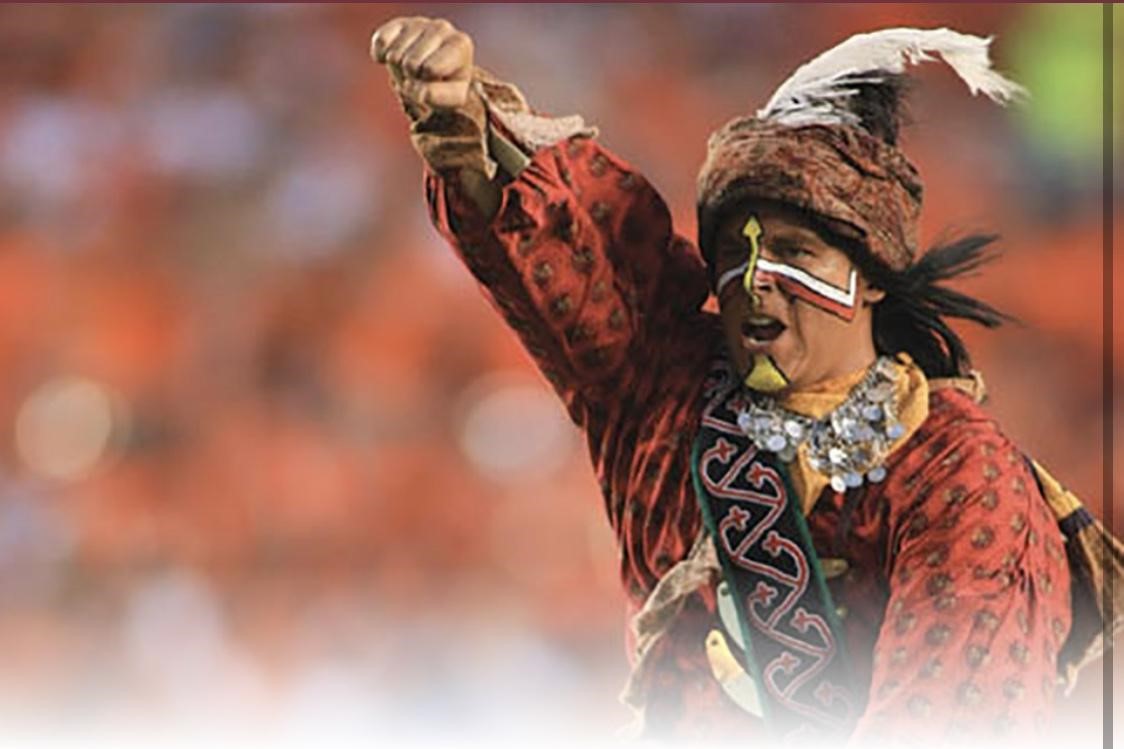 What does it mean to be a Seminole?
The name Florida State Seminoles was selected by a vote of the university's student body in 1947. The name was selected specifically to honor the unconquered spirit of the Florida Seminoles. Florida State's use of the name honors the strength and bravery of these people, who never surrendered and ultimately persevered. The university has worked diligently for more than 30 years to ensure that our representations of Seminole imagery brings only honor to the Seminole people.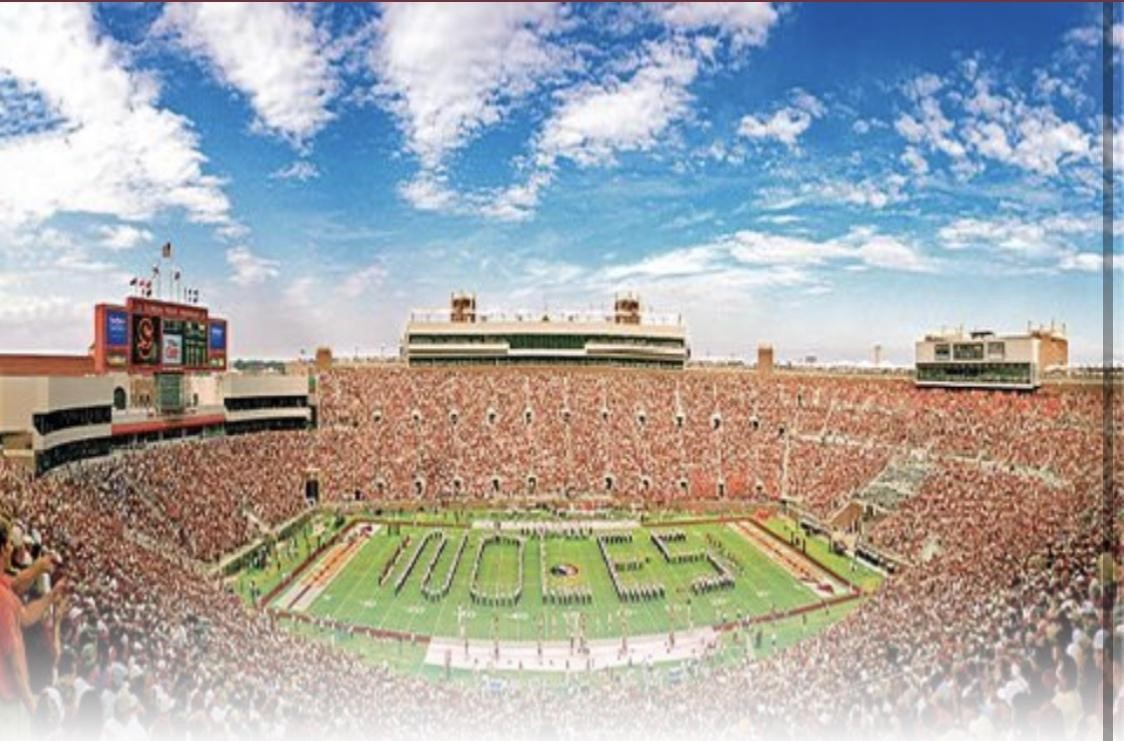 ​
Attend a Fall Sporting Event​
So many choices! FSU offers many opportunities for you to cheer on Seminole fall sports. Volleyball, Soccer and Football are a few of the options. Pick one (or several) and go!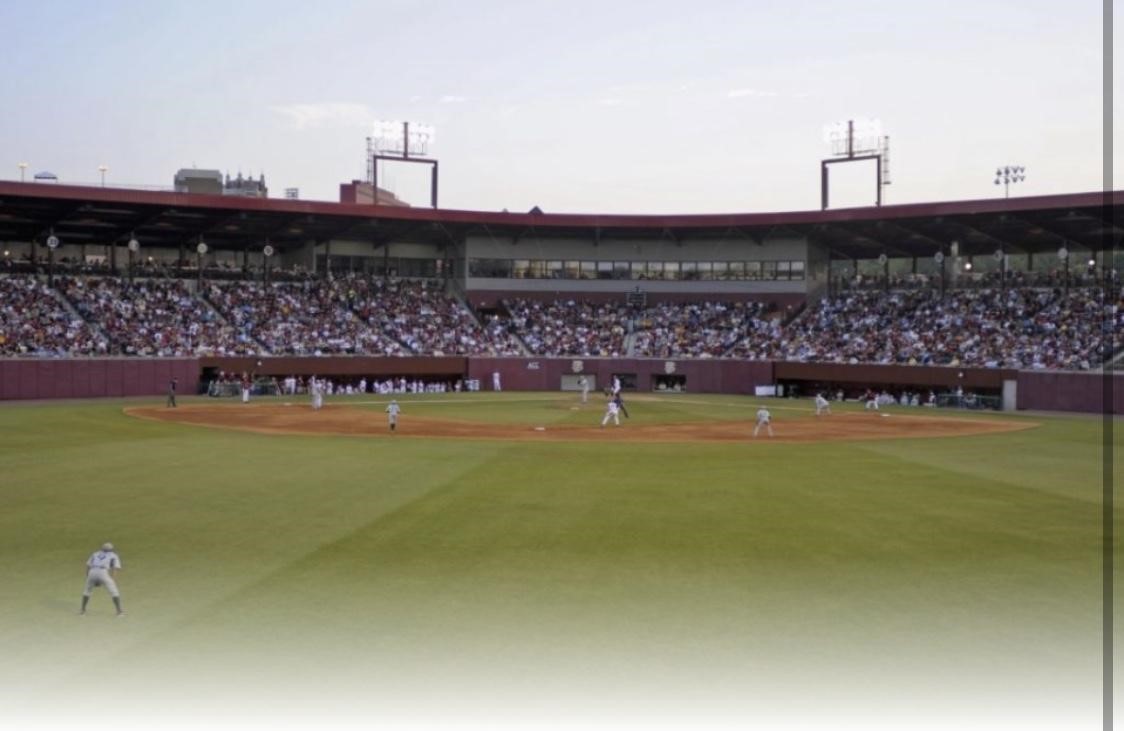 Attend a Spring Sporting Event
There are so many sports in the Spring! Basketball, Baseball, Tennis, Softball, and Track are just a few to choose from! Go support your 'Noles!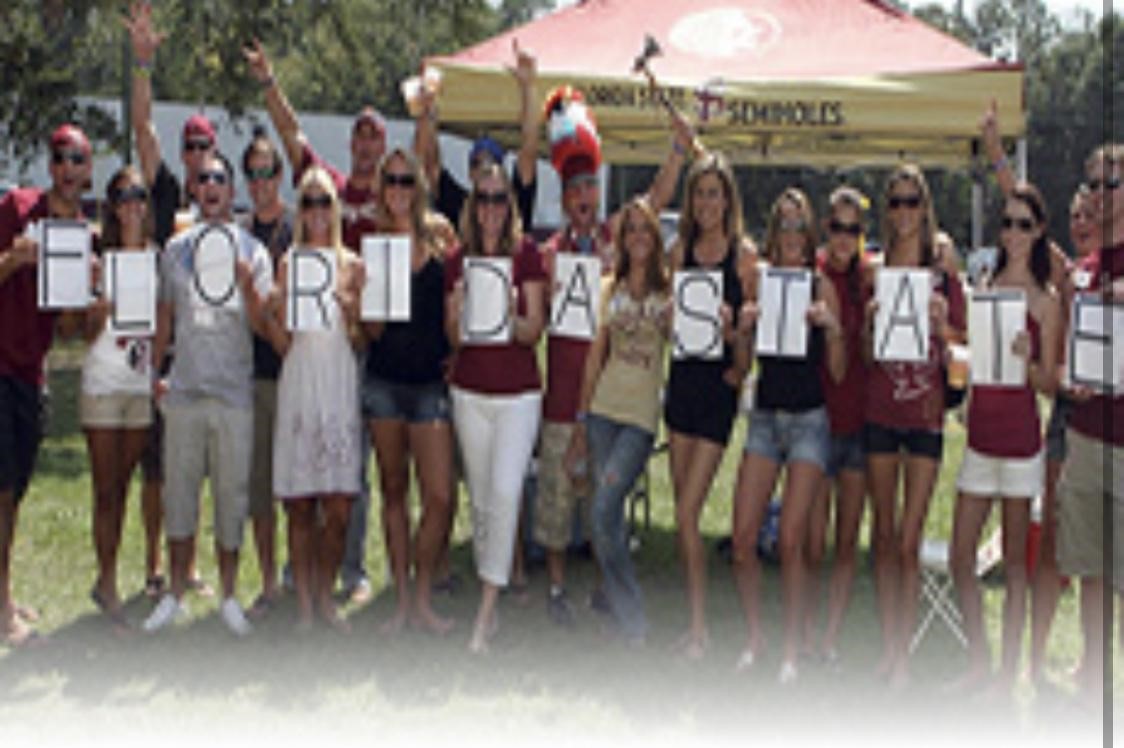 Tailgate
Tailgating is a terrific way to show your pride and unwind with friends. Come together before the big game to enjoy grilling, games, and music. Wear your best Garnet and Gold and cheer on the Seminoles.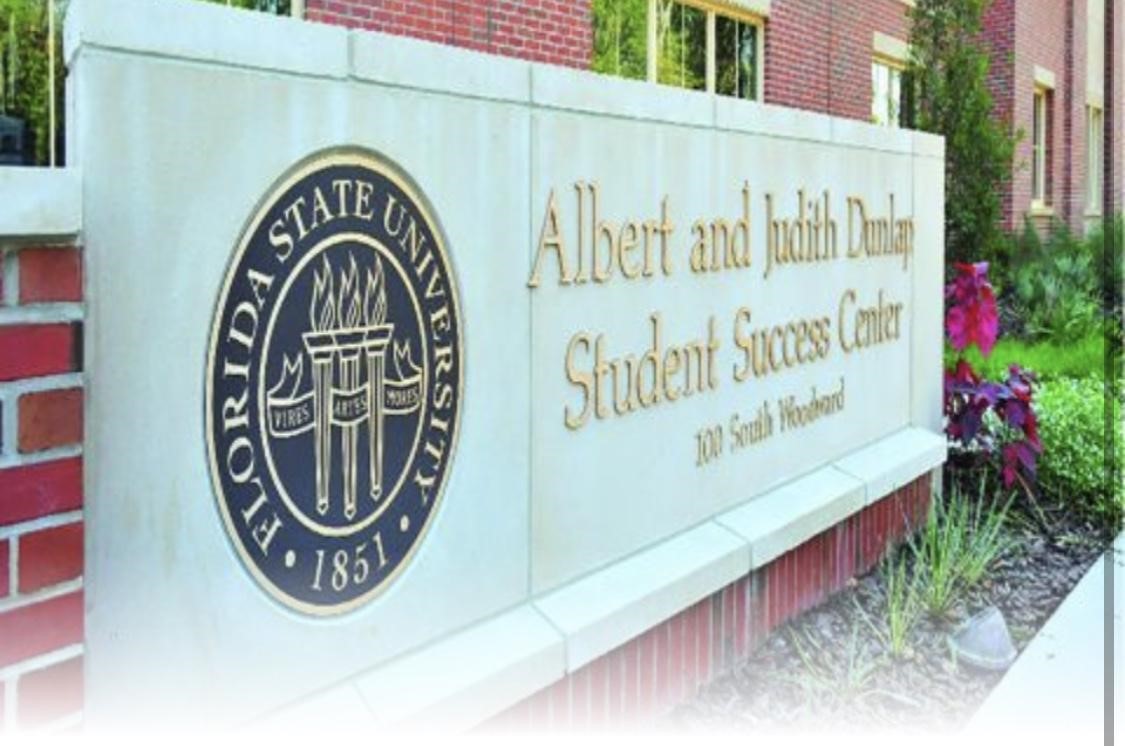 ​
Career Center​
The main reason to attend college is to create a better opportunity at a rewarding career. These days, it can take more than a degree to get a job. The Career Center can help. Located in the Dunlap Success Center, the Career Center has everything a student needs to successfully prepare for a career. Gain valuable information about attire, interviewing, portfolios, business cards, and much more. Make an appointment to practice your interview skills; post your resume on the University's job board, find events near campus and beyond. Don't wait until your last semester to take advantage of the services!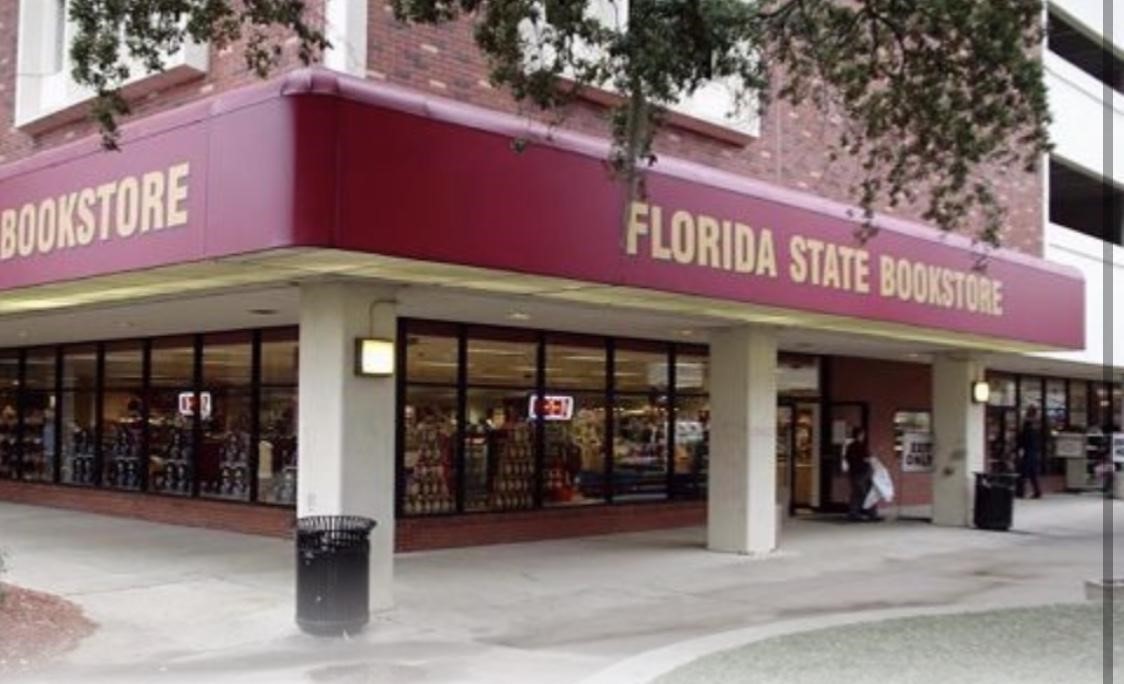 Purchase Textbooks
Though books can be expensive, nothing signals the excitement of a new school year like loading up on all the books needed for the upcoming semester. So much to learn! So much to do! Be sure to join the Student Alumni Association for a 10% discount on your textbooks each semester!