Early lessons in hard work and a knack for making things happen enable sports agent Alan Zucker to shower his celebrity clients with high-profile endorsements
By Zac Howard (B.A. '14)
The inside of Excel Sports headquarters in midtown Manhattan looks like a cross between a man cave and a newsroom. Autographed sneakers, helmets, jerseys, bats and balls help divide the cubicles and fill each individual office. Pictures of athletes, framed magazine covers and flat-screen televisions decorate the walls. Just outside the glass entry doors, construction is underway. The agency is expanding.
It's a quiet Friday afternoon in August, a slow time for most sports. As with many businesses in New York City during the summertime, Excel employees are allowed to leave earlier on Fridays. Alan Zucker (B.S. '89) peers out his window on the 29th floor, admiring a stunning view of Central Park and Columbus Circle. He won't be leaving early today; too much work still needs to be done.
After all, Zucker is a busy man. For sports agents, there is no offseason. Representing high-profile clients, such as Peyton and Eli Manning, Joe Montana, Danica Patrick, Jim Nantz and Taylor Swift, is no ordinary workload. The Florida State alumnus considers himself more of a manager than an agent, handling off-the-field responsibilities like endorsements and marketing. He negotiated the contracts behind the Mannings' DirecTV spots, Patrick's GoDaddy commercials and Swift's elegant Diet Coke advertisements.
Midway through his third year as a partner at the blossoming company, after nearly two decades with IMG, Zucker is quick to count his blessings. He admits those blessings come at a cost, though.
"This is not a 9-to-5 job," Zucker says. "Anything worth doing, you're going to have to work hard at." Work, it seems, is something Zucker has been accustomed to since adolescence.
Growing up in Dade County, he never had specific aspirations for a career as an astronaut, fireman or star quarterback, but he did play sports year-round. Zucker's father was a textile engineer and his mother owned a dancewear store. When he wasn't in school or tossing the ball, he was usually working at his mom's store, selling leotards, tights and legwarmers. It was there he says he learned the mundane elements of running a business, like markup, tax, advertising and retailing.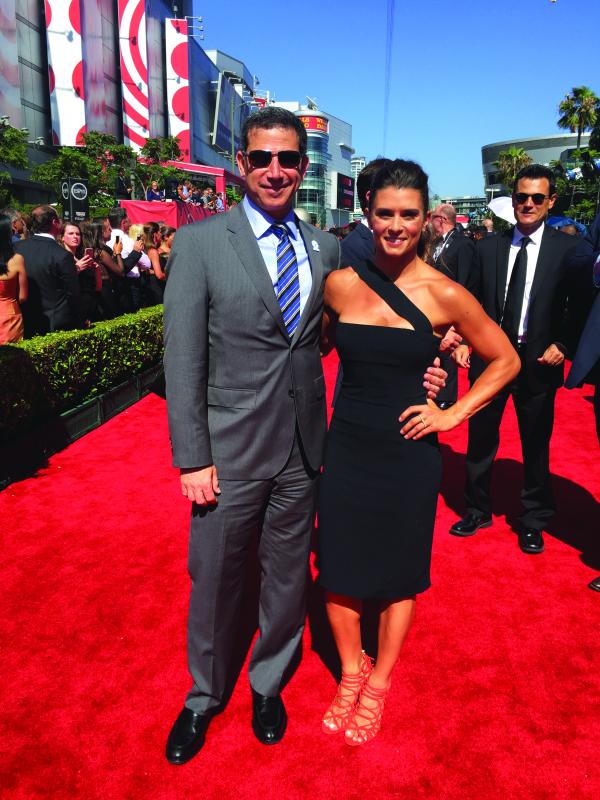 In addition to the nuts and bolts of sales, Zucker learned something more important from his parents' entrepreneurial lifestyle. "My mom and dad both really taught me hard work and how to get things accomplished," he says. "Their work ethic was second to none. They just worked really hard and taught us to do things the right way."
The result was an ambitious 18-year-old heading 400 miles north for college, with an interest in business and a passion for sports. "I really didn't know what I wanted to do in business. I just knew that it was exciting and something I was interested in," Zucker says. "And something I thought I would eventually be good at."
Zucker's first day on campus was his first day of orientation. He had seen pictures and heard good things about Florida State, but his bed in Landis Hall was a long way from home. It was in Landis that he approached a friend across the hall, an equipment manager for the football team, asking if there were any openings. "You should drop by the equipment room," the friend told him.
So in January 1986, Zucker knocked on the door asking for an opportunity. The supervisor's response was short and to the point: "You're the luckiest freshman on campus. Someone just quit. There's the truck. Start unloading the equipment from the Gator Bowl."
More than 30 years later, Zucker's eyes still widen when he remembers the excitement of being part of the football team. "I truly loved it," he says. "The camaraderie, big-time college football, the excitement around the team at that time, to be a part of that was second to none." Zucker calls it the "aha moment" when he realized working with athletes could make for an enjoyable career. Yet, even living out that dream today, he calls his days as an equipment manager the most fun job he's ever had.
Furthermore, being around future Seminole legends like Chip Ferguson (B.S. '89), Casey Weldon (B.S. '91), Brad Johnson (B.S. '92) and fellow freshman Deion Sanders allowed Zucker to experience being part of a great team, feel the pressure that accompanies high expectations and witness the mindset of world-class athletes. He was also able to witness the birth of a powerhouse, led by one of college football's greatest coaches. "You could feel it. Coach (Bobby) Bowden had the power to teach. He was a great motivator. He was a great mind, but he was a great delegator. I think that's the sign of a great leader."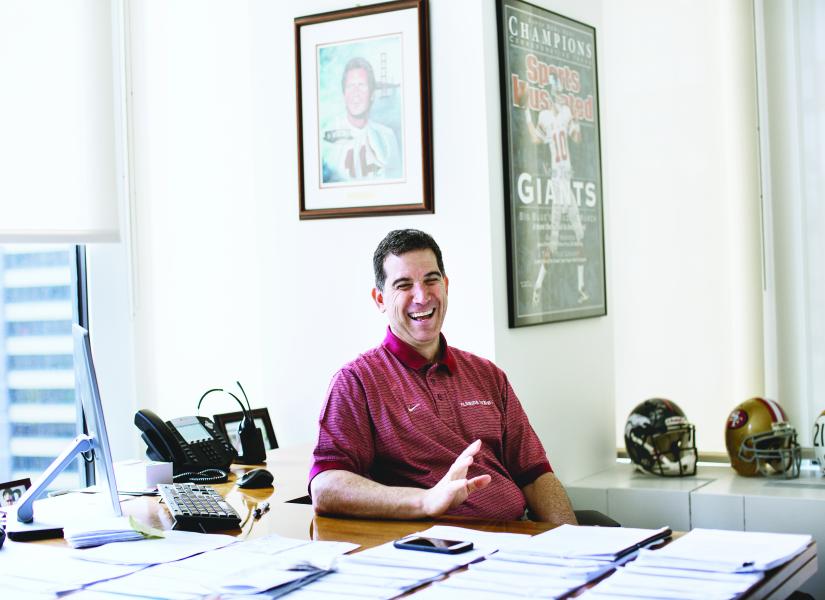 Despite all the glamour, being an equipment manager was still a full-time job. As a full-time student, Zucker didn't have the free time often associated with the undergraduate experience. Balancing studies, work and life required tremendous discipline. He considers that discipline the most valuable lesson he learned in college, but also speaks highly of the business school. Zucker cites ethics, integrity and respect as core tenets he absorbed from his classes, as well as the ability to work in groups. Marketing in particular caught his eye. "I've always felt like being able to present properly all started when I was in college," he says.
It was at a career fair during his senior year that Zucker interviewed with Shaw Industries, which resulted in a job offer. He still gleams with appreciation for the company that gave him his first chance to prove himself. Following a three-month training program in Lancaster, Pennsylvania, which he calls "College 2.0," Zucker shipped off to Orange County, California, to begin his career in sales. The gig: carpet salesman. He ultimately realized, "If I can sell carpet, I can sell anything."
So at 21, Zucker left the Sunshine State to start a life of making cold calls and new friends. One of those friends has been particularly influential: his wife, Tempe. "I saw her across the room and I told my friend, 'That's a girl I'd really like to get to know,'" he recalls. "I said, 'She'd never talk to me.'" Following a cordial conversation, Zucker assumed they wouldn't see each other again, but six weeks later they crossed paths while hanging out with mutual friends. As it turned out, she's been talking to him ever since. The two have been married for 20 years.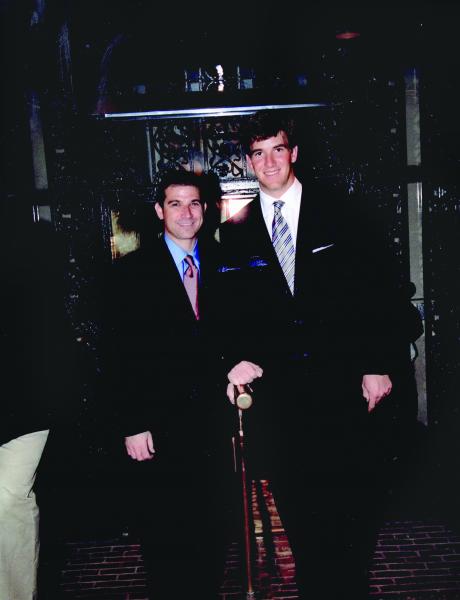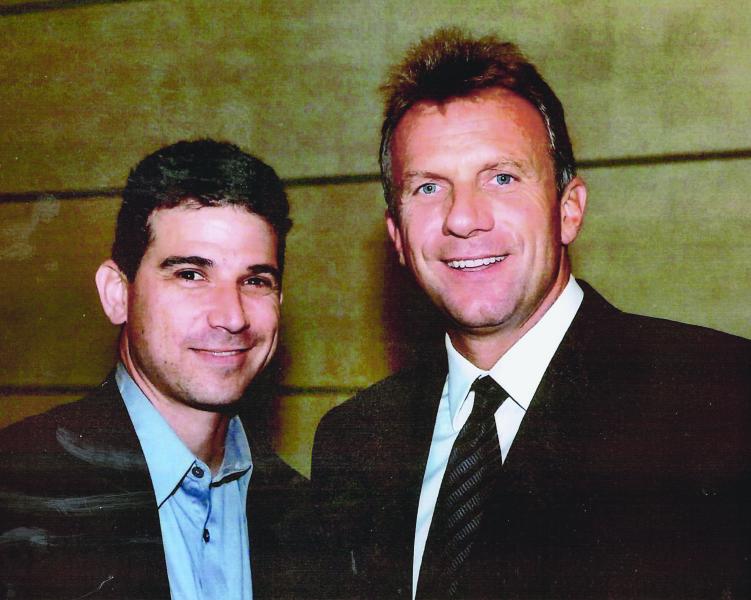 After three years in Southern California, Zucker moved to Chicago for a promotion: He was going from selling carpet to selling rugs. What may sound pallid to the layperson was an opportunity for Zucker to transition from selling to mom-and-pop stores to the likes of Wal-Mart, Target and Home Depot. Moreover, it was another chance for him to prove himself and a different challenge in a new city.
The Windy City was kind to the young couple, and Zucker is effusive in his praise of Shaw Industries, but ultimately he got what he calls "the seven-year itch." He and Tempe were about to get married, and Zucker felt the time was right for a transition into the sports industry, his dream.
The application process in effect served as a second job. After coming home from work each day, Zucker would send out applications to Nike, Adidas, Reebok and every sports team he knew. "Sometimes when you hustle or you put enough effort into it, you just get lucky," he says. "I just flat-out got lucky." IMG, one of the largest companies in the sports and entertainment industry, had an entry-level position available. The job demanded selling sponsorships for women's tennis in Chicago.
At the time, women's sports didn't carry the national recognition it does today. "It wasn't like selling Wimbledon. It was a different time. There weren't as many stars," Zucker says. Still, his extensive success marketing a far less glamorous product proved a bulwark against failure. "It was a little bit of a tougher sell, but it was a challenge that I loved," he says. "It was similar to my career in the carpeting business, where I really didn't know any better."
While the initial opportunity was less than spectacular, Zucker knew it was an important first step that could lead to bigger things. "Sports are like a fraternity. Once you cut your teeth in there, once you build roots and you grow, you build a reputation," he says. Zucker's big break came after meeting Billie Jean King, who allowed him to represent her with some endorsement sales. From there, he took over IMG's primary representation of former Chicago Bears players Curtis Conway and Erik Kramer.
"I call it stacking," Zucker says. "Once you get a couple of players and you prove yourself, you branch off." In 1999, he began working with Peyton Manning, who was just beginning to carve out success as a young quarterback in the NFL. Joe Montana followed soon after, and in a relatively short time Zucker had obtained a handful of high-profile clients, while still maintaining responsibility for events and sports sponsorships. "I really enjoyed it," he says. "It was a great opportunity to get diverse at a very young age."
Now, with an extensive list of household names to his credit and an influential position at a new company, Zucker summarizes his job with three objectives: drive his clients' revenue, build their personal brands and help them give back. What sounds like a tall order certainly is, but Zucker is quick to deflect praise. "There are so many people behind me that actually make all of these programs work," he says. "That's gone all the way through college to the profession I'm at now. It takes a team to do it."
It's been exactly 20 years since Zucker first got his shot in the sports world, and exactly 30 since he was hired as an equipment manager for the football team. Plenty of lucrative contracts have been signed, commercials filmed and charities funded during that span, yet one deal holds a unique place in his heart.
Three years ago, Zucker worked on behalf of Coach Bowden, in conjunction with the Boosters, to set up Bobby Bowden Day on Oct. 26, 2013. "To start off as student manager, and be a cog in the wheel, and then 25 years later having the ability to work with him on his behalf to bring him back within the university was a great honor and kind of a full circle," he says. "That was really special."
Zucker's three children are all big Seminole fans. His oldest son, Zach, is a junior in high school and beginning to consider many of the same things his father did back in his days at Miami Sunset High School. While Zucker abstains from pushing his children toward a particular school or profession, he does admit Florida State is certainly under consideration. Whether or not his children attend his alma mater, seeing them grow up and go to college would reflect his favorite part about his job.
As he puts it, "There's a real sense of completion when you start something off from scratch and you bring it to fruition."