Nationally renowned artist Ed Jonas combines movement, context and attention to details to bring his portraits and sculptures to life.
Amid the arresting jumble of a garage workshop, Ed Jonas (B.F.A. '71) stands, the tiny replica of a human head gently pinched between his fingers, held before his eyes as if he were Hamlet beholding a miniature Yorick.
Part exposed skull, part full-featured flesh, the waxy scale model is at once an essential facet of the painter and sculptor's creative process, and a fascinating curio all on its own.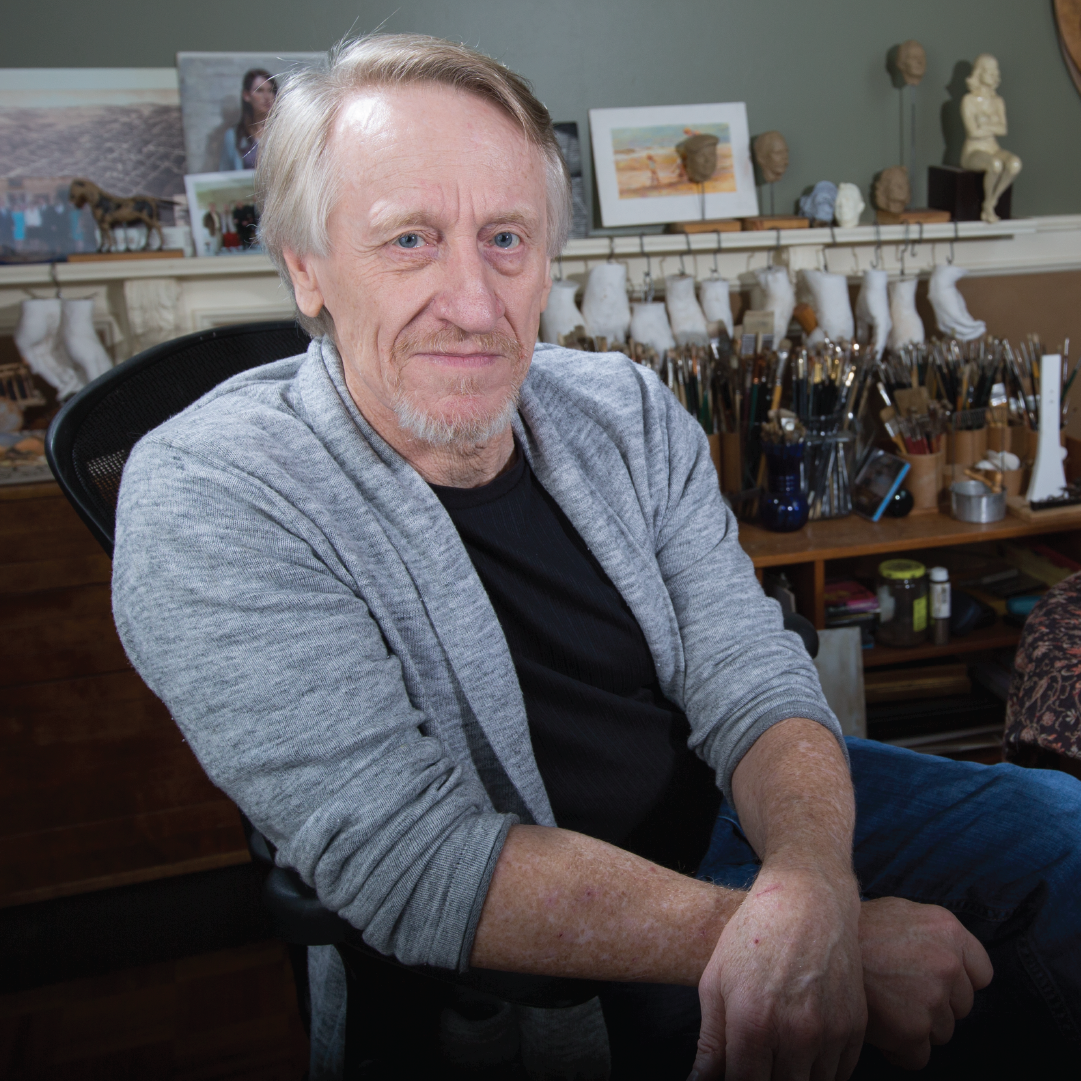 It is only one of perhaps hundreds of pieces that fill the Jonas home, an extensively renovated World War II army barracks in Tallahassee's woodsy Indianhead Acres neighborhood. The high walls of the artist's studio are filled with portraits, while any random glance lands on something unusual or compelling, like a row of sculpted hands that dangle, disembodied, hooked to a mantel above thick clusters of paint brushes. If a visitor picks up on a bit of a "CSI: Crime Scene Investigation" vibe, that's not entirely off-base. The artist refers to his sculptural work as born from a kind of forensic process, stripping everything back to the essence. "Bone structure is so important for sculptors and even painters to understand what's beneath the skin," says the artist, who is so thorough in his anatomical process that he fashions foam skulls of his subjects before he begins to paint their portraits.
When recreating the human form, he begins with the very bones that undergird everything, and builds from there.
As he says, "Movement projects from the bone outwards."
All of this is, to be certain, evidence. The abundant proof of a five-decade professional career that has made Jonas, 69, if not a household name, an indelible part of the landscape of Tallahassee and Florida State University, as well as a leader among American portrait artists – and the founder of the Tallahassee-based Portrait Society of America.
His campus monuments include "Sportsmanship," a 15-foot-high bronze sculpture that stands in Strum Plaza at Doak Campbell Stadium, and the Legacy Fountain on Landis Green – richly humanist works that radiate compassion and joy. Before he began sculpting professionally, Jonas already was a prolific portrait artist. His subjects include three former FSU presidents – T.K. Wetherell (B.S. '67, M.S. '68, Ph.D. '74), Talbot "Sandy" D'Alemberte and Eric Barron (B.S. '73) – as well as golf champs Fuzzy Zoeller and Greg Norman, among numerous other sports and institutional figures. His latest high-profile job is the official portrait of outgoing Florida Gov.
Rick Scott.
"I tried to retire several times," says Jonas, at ease on a recent afternoon in his spacious studio, as light filters through the dripping Spanish moss visible beyond a 20-foot-high picture window. "But I can't seem to get away from these commissions."
Jonas wasn't always certain he could make a career living in Tallahassee. "The art community here is rather thin and it's certainly not well-heeled," he says, "because we have no industry except state workers." After graduating from FSU with a degree in studio art, he left town for a year to teach art at his old high school in Cocoa. "I wondered: Is this the right town to be in? It's kind of isolated. Do I need to go to Jacksonville? Do I need to go to Washington?" Nonetheless, he came back to Tallahassee, and took a brief stint as a construction worker before he landed at the then-new Museum of Florida History as a staff artist. Ten years later, he had done as much as he could with his post. He met his wife, Christine, and set up shop in a trailer on her property west of the city. Seasoned by his decade with the museum, Jonas has never stopped working since.
Portraiture, he believes, doesn't always get the respect it deserves. "A lot of artists have looked down their nose at it," Jonas says. "They're jealous because they can't get into the business or they think it's a cliché. It's a misunderstanding about portraiture. If you do that, you're not being truthful about what you're doing. If you're not trying to put everything into it that you can sense, then you're not doing your job."
Jonas' perspective was shaped, early in his college career, by an art professor named Fred Holshul, one of several German artists who came to the university in the 1930s, as Hitler took power. "Fred was so good," Jonas recalls. "I just kept taking him semester after semester. He just tore me apart and rebuilt me."
There were a lot of bad habits to unlearn. Jonas began doing portraits when he was about 14 years old, and soon set himself up in a Belk Lindsey department store off U.S. 1 in Cocoa, where he grew up and attended community college. The young Jonas immortalized customers for $30 a head. "It was quite intoxicating to get a likeness," he says. "But I was very tight, and that's what happens with self-taught people. There's no freedom. You're scared to make a mistake. And that's not the right way to go about it."
What Holshul instilled in Jonas became the foundation of his artistic approach. "His point was that you can do detail or you can do movement, and when you do movement and it's gestural and it has a strength and a power, then it has a sense of [something] living," he says. On the other hand, heaps of detail are useless on their own. "It's still going to look like a mannequin if you don't have good movement."
When he accepts a commission to do one of the 10 or so portraits he completes each year, Jonas relies on photographs he makes of his subjects, who don't always have a lot of time to devote to a series of extended sittings. But the artist also is wary of the medium.
"No one would think that an artist that had only one eye would be that good at depth," he says. "That's what a camera is. It's very contrasty and it distorts perspective. There's a lot of things that a camera brings that, unless you're very experienced in painting from life, you'll fall into those problems."
One method he uses to work around such obstacles is to "paint as I see without my glasses," he says. "Everything's a little soft."
What's also important is context. When he met the professional golfer Fuzzy Zoeller, for instance, the PGA great wasn't concerned with lionizing his prowess on the links. Jonas was taken by the beauty of the golfer's farm, atop a mountain in New Albany, Indiana. The pasture became the backdrop in a portrait of Zoeller with his two dogs, whose dappled fur shares a certain textural relationship to the grassy landscape. The portrait conveys a sense of downhome contentment and vitality without the bucolic cliches of those canvases glimpsed in every hunting lodge.
Liberating Zoeller from his 7-iron also illustrates one of Jonas' goals. Portraits shouldn't act as resumes, the artist insists. "You're not trying to sell yourself. You're trying to reveal whether you're a decent person or not. There's a lot of people you come across that are very wealthy and very successful and they're just terrible people and they're very hard to get along with. You don't want to do portraits of these people. You best just back away, because if you understand that, then it's going to come through in the portrait, I'm afraid."
Capturing the spirit of a subject in politics comes with certain expectations, reflective of institutional gravitas. Gubernatorial portraits have to "bow to tradition … you are painting the position as much as the man," Jonas says. But even with a public figure as controversial as Gov. Scott, there's room for surprise.
"He's been very easy to work with," says Jonas, who conscientiously pulls such subjects away from their reputation. "When you deal with them on an individual basis, they kind of open up and you find a totally different person. That's who you want to get."
Jonas embraces a professional objectivity. "I have to leave politics at the door, because I'm a very liberal person," Jonas explains. "I have to think of myself like a heart surgeon. If [someone like Scott] came in and had a heart attack, would I say, 'No, I can't because he's a Republican'? If so, I don't need to be in medicine."
Nonetheless, the thoughtful and even-keeled artist finds himself, or, at least, one of his works, at the center of controversy. A 2002 Jonas sculpture of Francis W. Eppes, a 19th-century Tallahassee plantation owner who helped to found what later became FSU, has been the focus of student activist efforts to remove the piece from its spot near the Westcott building. The students argue that Eppes was a slave owner and supporter of the Confederacy. A university panel on namings and recognitions has recommended the removal of the statue, pending President John Thrasher's ruling.
Jonas takes great pleasure in his historical work, applying himself to extensive study with each new project. "The amount of research I have on Eppes is this thick," he says, miming a hefty file. The artist defends the sculpture, which he contends is different in context from the monuments honoring Confederate heroes, many of which have been removed after protests around the country. "Eppes never served in the military," he says. "I grant you he did own slaves, but he also did a tremendous thing, which was to bring Jeffersonian ideals about education into Florida."
The artist elaborates on his viewpoint, which extends to his work as a whole. "You can't take a narrow view of somebody and approve or condemn them based on that," he says. "I'm not here to judge. I'm here to record and that's the way I see it. That's my job."
Jonas was D'Alemberte's "first and only choice" to do his presidential portrait, having first commissioned the artist to do the Eppes monument. "He cares a lot about the details," D'Alemberte says. "The Eppes sculpture is now the subject of some controversy, but not because of Ed's artistry."
More universally embraced, the artist's other major campus monuments set a high standard for everything in their wake. "Sportsmanship" launched Jonas' career as a sculptor in 1999, when he began work on the formidable project, a commission funded by a donor who was FSU's first cheerleader, Margaret Strum Allesee (B.A. '49). The piece depicts a standing football player offering a hand to a fallen competitor. "They wanted it big enough not to be dwarfed by the size of that stadium and, well, there's not much that's not dwarfed by the size of that stadium!" Jonas says, recalling the heft of his challenge as akin to "jumping into the deep end of the ocean."
If "Sportsmanship" is imposing in scale, the artist's work on the Landis Green Legacy Fountain is purposefully designed to be on a human level. The water feature juxtaposes three female students, representing the university's origins as the Florida State College for Women, with three contemporary students, all romping and splashing amid the actual fountain. Jonas designed it to be interactive. "You're not going to keep students out," says the artist, who proudly notes that the work once ranked seventh among water features at the nation's colleges. "I was pretty happy with that."
As the fountain arouses the senses with its refreshing spray, it's worthwhile to pause and appreciate the details. "I think it's the cap of a serviceman on the edge of the pool," D'Alemberte says, noting how a simple element reflects on the school's inclusion of male students after World War II. The coeds depicted from the pre-1940s era also reward closer study. "Look at those costumes the sculptures are wearing. There's several different decades. The bathing attire becomes a little bit less modest as time goes on."
Although he speaks hopefully of soon attending to personal projects, Jonas maintains a full slate of activity. He knows he is an exceptional case within a difficult arena. "The amount of people who come out of art schools to make a living in the field is a percentage of 1 percent, it's very, very low," he says. "Every kid who picks up a football thinks he can make the NFL."
These days, Jonas finds that his reputation echoes across generations. "I'm doing [the portraits of] children of children I first did when I started my career," he says. "There's no secrets. People assume that there's secrets. There's not. It's just hard work."