Twenty-five years after his infamous missed kick, Gerry Thomas is scoring big in the game of life
In the quarter-century since he missed what would have been a game-winning 34-yard field goal by about 6 inches — the first in an infamous series of five last-minute kicks (four Wide Rights and a Wide Left) that resulted in legacy-denting losses to the University of Miami — various stories have painted Gerry Thomas (B.S. '93, J.D. '99) as some sort of traumatized recluse. Year after year, during the week of the Hurricanes game, some reporter or pundit inevitably mentions that Thomas refuses to talk to the media; the truth, he says, is that it's been a good 10 years since anybody asked.
Yes, he left the limelight after that season, never to return. But you wouldn't have had to go very far to find him.
You could have seen him in the stands at Doak Campbell Stadium, where he's been a season-ticket holder for years, or just outside the stadium, where before nearly every game, he's tailgating along with his parents, his wife, Heather, and their two kids.
Or you could have run into him a couple miles from there, in the downtown Tallahassee law office where he's worked the past 10 years.
Or maybe you recognized him — a boyishly handsome dad-next-door — working in his yard in Waverly Hills, a leafy neighborhood a mere five miles from where he disappeared into the stadium tunnel after that 1991 loss to Miami and never played another home game.
You might say that he's been hiding in plain sight, but that's not quite accurate, either. In truth, Gerry Thomas may not have gone far, and he definitely moved on, but he never hid at all.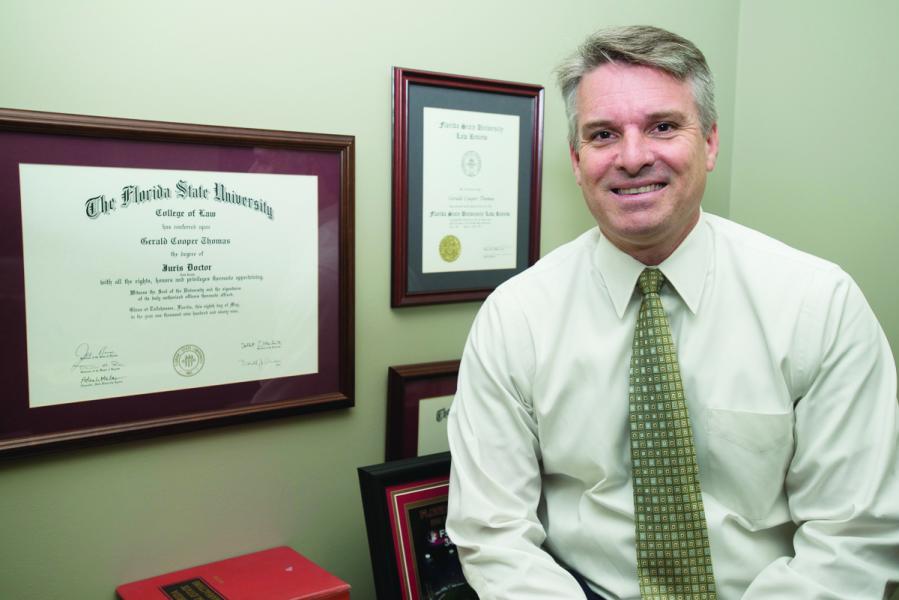 In 1991, Gerry Thomas was a quiet, straitlaced, 20-year-old redshirt sophomore from Niceville, Florida, who wasn't listed in the preseason media guide, who'd never gotten a dime of athletic scholarship money, who couldn't eat a meal in the team dining hall unless he paid for it himself, who'd never even stepped onto the field in a game until a month before that so-called "Game of the Century," which pitted the undefeated, No. 1 Seminoles (who'd never won a national championship) against their nemesis, the undefeated, No. 2 Hurricanes (who, after that narrow escape in Tallahassee, would breeze to their fourth).
He'd had actual scholarship offers. In high school, he'd starred in both soccer and football (where he also played defensive back and wide receiver). Senior year, the football team — packed with half a dozen other guys who'd go on to play Division I, a couple who'd go pro — won the Class 4A state championship. Thomas made first-team all-state. His mother, a schoolteacher, wanted Gerry, a good student, to go to Davidson College, but that offer was rescinded when the school decided to move to Division III and did away with sports scholarships.
Thomas' remaining suitors were all small schools, none of which were on par academically with Davidson — or FSU, which was his first choice all along. In pursuit of a couple of his Niceville blue-chip teammates — quarterback Kenny Felder and linebacker Kevin Knox (B.S. '93) — FSU saw enough potential in Thomas to make him an offer to be a "recruited walk-on," which meant a spot on the team with a chance (however quixotic) to compete for playing time and maybe, someday, a scholarship. But a scholarship wasn't what drove Gerry Thomas. "I came to FSU," he says, looking back, "because I wanted to try to play for a national championship."
Nobody really expected him to do any actual playing — except maybe Thomas himself. He never complained and never stopped hoping for a shot. For two years, he almost never dressed for games and never went on a road trip. His third year promised to be the same story. Maybe worse, since the starting kicker, freshman Dan Mowrey (B.S. '94), was a year behind Thomas and on scholarship; he seemed to have the job sewn up for the rest of Thomas' time at FSU.
When Mowrey missed an extra point in the opening game, Thomas didn't think much of it. It happens. Mowrey was perfect the week after that. Then came another miss.
"That's the sort of thing that'll drive a coach crazy," says Bobby Bowden, who was head football coach then. "You cannot afford to miss extra points."
The coaches made noises about giving Thomas a crack at the job, but that's what walk-ons are for — to pose (mostly idle) threats to the starters.
And then came the Michigan game.
In Ann Arbor, against the third-ranked Wolverines, Mowrey made his first PAT. But his next one was blocked. The one after that banged off the crossbar. And the one after that wasn't even close.
"Better get ready, son."
They were the words Gerry Thomas had been waiting almost three years to hear. Unfortunately, it wasn't Bowden speaking. It was Gerry's father, John, sitting beside him on the couch in Niceville, where they were watching the game on TV.
"We'll see," Gerry said.
At halftime, FSU's backup punter took a crash course in kicking extra points. He got two chances. He made them both.
It must have been hard for Thomas not to wonder if his opportunity was gone before it even started, but he believed he'd get his shot and he was confident he'd deliver.
For the next two weeks, there was a supposedly open competition for the extra-point job (Mowrey still hadn't missed a field goal, yet). Nothing changed. Mowrey missed one kick against Syracuse, two against Virginia Tech, and Thomas never saw the field.
Finally, in the seventh game of the season, Bowden gave the job to Thomas.
He never missed an extra point.
Not then, in his four chances against Middle Tennessee. Not ever.
When Mowrey started missing short field goals, Thomas won that job, too, and made five of his six pre-Miami kicks.
"Florida State's Achilles heel," said the New York Times, "was its kicking toe." But now, going into the biggest game ever played in Tallahassee, it seemed that what was then probably the best team FSU ever fielded had finally been made whole by an unsung walk-on.
It seemed like that in the game, too. For a while.
In the first quarter, when the 'Noles stalled on first-and-goal — including an underthrown pass by Casey Weldon (B.S. '91), the starting quarterback and 1991 Heisman Trophy runner-up, that would have been a sure touchdown — it was Gerry Thomas who salvaged the drive with a field goal.
In the third, Weldon threw a perfect pass in the end zone to Shannon Baker (B.S. '99). Who dropped it. In the fourth, FSU again made it inside the five and failed to score a touchdown. Both times, Thomas banged field goals through the uprights. He had an extra point to boot and was the game's leading scorer — 10 of the team's 16 points.
With 25 seconds left in the game, FSU down by one, yet another drive stalled. Once more, the 'Noles called on Thomas, this time with a national championship in the balance.
"The thing about that last kick?" says Brad Johnson (B.S. '92), Thomas' holder (and the backup quarterback). "It was the best of the day. The most solid thump on the ball. He did everything right. His form was perfect. It was just the littlest bit off."
"It had the potential to be a fairy tale, a storybook ending," says Weldon. "It was in our grasp. Of all years, to come down to something like that, y'know? And of all guys, having Gerry be the one … ."
Weldon's voice trails off.
"If there's one position I would not allow my son to play," he finally says, "it's kicker."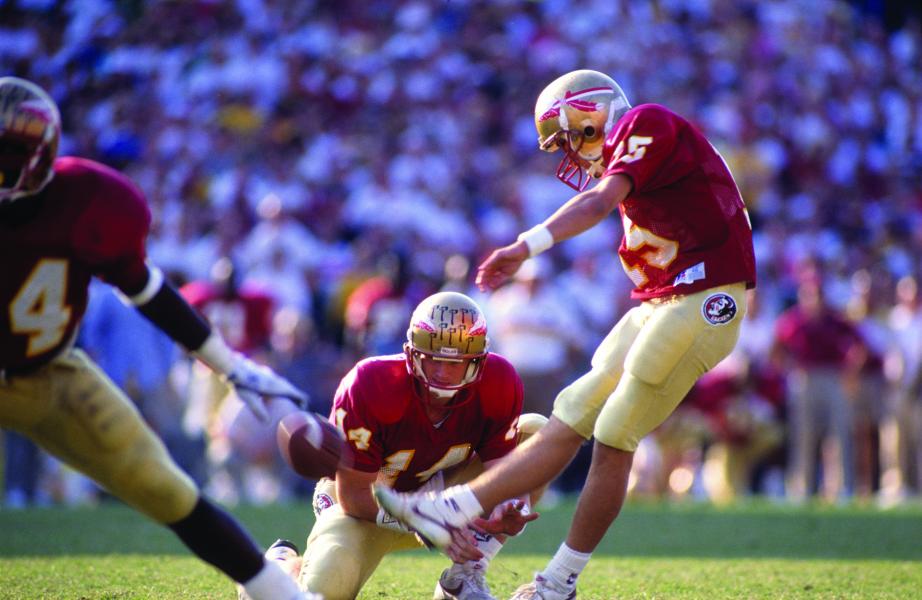 Instead of camping out in the steam of the showers and waiting for the media to leave, the shy, unheralded walk-on kicker stood at his locker and faced a battalion of cameras and microphones, accepting responsibility and making no excuses.
Yes, Thomas grudgingly admitted, his teammates had taken him aside and told him the kick was just one play, one of many that could have changed the outcome of the game. But he shrugged that off. "People won't remember much about this game," he predicted, "but they'll remember that I missed."
He woke up the next day and played tennis with his roommates, same as he would have if the team had won. He went about his business, which was studying and practicing. And he remained — for no reason that makes sense now — just as available to the media as he'd been after the Miami game.
Today, even a backwater junior college would insulate him, meting out access in one or two closely monitored sessions and then shutting it down. But that was a different era, the dawn of the 24-hour sports-news cycle. Quaintly, Bowden had an open-door media policy and let his players decide if they wanted to be interviewed. Thomas, by nature, was a spotlight-shunning introvert, but for the rest of the season, he was too polite to say no.
"I really didn't mind," he says. "I felt like I owed it to the program."
The absurdity reached its zenith when, one day at practice, the Detroit Free Press' Mitch Albom strode onto the field at Doak Campbell Stadium, carrying a football, then knelt in the grass at the left hashmark, 34 yards from the goalpost, and asked Thomas if he thought he could make the kick now.
It didn't occur to Thomas to be insulted. He was a competitor, confident in his abilities.
So Albom held and Thomas kicked. Not once, not twice, but nine times, all of them good, all pretty much right down the middle.
"What have you learned," Albom asked, insufferably, "about the difference between a hero and a goat?"
The moment still riles Thomas' real holder, who was off taking snaps at QB. "Nobody who knows a screen pass from a screen door," says Brad Johnson now, "would call Gerry Thomas the goat of that game." To his coaches and teammates, Thomas was the guy who'd emerged halfway through the season to save the team's kicking game and, almost, the season itself. He was not the reason they lost that dadgum football game.
But Thomas suffered Albom gladly. Or gladly enough, anyway, to give him the answer he wanted.
"It's inches," the kid said. "Inches."
Inches. He did not point out that, in 1991, the NCAA narrowed the distance between goalposts by almost 5 feet. Any previous season, the kick wouldn't have been wide at all; it would have been good. But Thomas tried not to think about that.
Instead, he went on to tell Albom what he did think about, just as he'd told the reporters who'd come before, just as he'd tell the ones who followed: that he knows it's not the end of the world to lose a football game, that he has more things in his life than just making a kick.
No one seemed to be particularly interested in what those things were.
In their stories, they'd leave it vague, which made the sentiment ring hollow, allowing it to fit perfectly within their prefab goat-story narrative. Naïf from the made-up-sounding town of Niceville finds himself on the biggest stage in college sports, fails and is haunted for the rest of his days. If the kid didn't seem haunted enough, no problem! They seemed only too happy to keep haunting him.
Had they asked, he might have told them how much he looked up to his mother and father (career Air Force; Vietnam vet; winner of a Purple Heart) and how deeply he wanted to live up to their example: strong values, strong marriage, meaningful careers, utterly involved in their kids' lives, raising them to have broad horizons. He wanted to be part of a community, inspired by the kind of supportive, close-knit and (because of the presence of so many military families) diverse experience he'd had in Niceville (where they'd put up a big billboard honoring him — after he missed that kick). He wanted to honor the kindness of the hundreds of strangers who'd written letters telling him about the disastrous setbacks in their lives that ended up being the best things that ever happened to them.
None of the post-Wide Right stories mentioned any of this.
Going into spring practice, Gerry Thomas was the most accurate kicker in FSU history. But Bowden told him there'd be another open competition for the job.
Thomas understood. That's football.
"What about a scholarship?"
"Win the job," Bowden said, "and we'll see."
He won the job, but Bowden told him it was still close and that, right then, there were no scholarships to spare. Keep up the good work, though, and there should be one available in the fall.
"I'd already decided to give him one," Bowden says, looking back, "but I didn't want to do it in the spring. I regret it now, but at the time I thought it would look bad, like people would say he missed that kick and I was rewarding him."
A few weeks before fall practice started, Gerry Thomas was told there'd be another open competition. As for the scholarship? "Be patient," Bowden said.
"I'm a rational person," Thomas says now. "I knew I wasn't good enough to play in the NFL. I started looking around at my priorities, what I should be doing with my life."
He decided it was time to get serious about school (he was a management information systems major with a 3.0 GPA he knew he could bring up) and get real-world experience in his field (which he did, scoring a part-time IT job at the Florida Department of Transportation).
"When two-a-days started," he says, "I informed the coaches I wasn't coming back. I'm not letting my team down, because they had Dan, and I'm still not on scholarship. In my mind, I'd already moved on."
Not long after that, FSU called with a scholarship.
"I appreciated it," Thomas says, clearly not bitter, "but I'd already made my decision."
No regrets? "None." He laughs. "Not about that, anyway."
In the week leading up to that fall's Miami game, the spotlight again found Gerry Thomas. "I was doing all these interviews again," he says, "and I wasn't even on the team anymore. It was kind of ridiculous."
What made it worse was watching interviews get edited into melodramatic stories with funereal music and hushed narration. "You start to realize," he says, "that you're becoming a story that you're not."
The game was played in Miami; Thomas watched it with friends in Mobile.
When, with seconds to go, Mowrey lined up for a game-winning kick, Thomas was happy for him.
When it, too, sailed Wide Right, Thomas covered his face with his hands. He felt like he'd seen a ghost.
Soon, reporters tracked him down, and that's just what he told them.
After a while, though, he started saying he'd rather not be interviewed. He'd said all he had to say and then some. He was afraid it looked like he was seeking attention — when the opposite was true.
Somehow, declining interviews made at least one reporter from South Florida think Thomas was covering something up. He started ambushing him outside his classes, shouting questions. What do you have to hide? Are you depressed? Suicidal?
Friends started escorting Thomas to class to help ward off this creep, who, for days, remained undeterred.
Eventually, he left, cobbling together a story in which Thomas was unrecognizable to himself. The same went for his mother, who'd chastised the reporter on the phone only to have him "totally twist our conversation around," she says.
Any sense that FSU in general and its kicking game in particular were somehow cursed was eased the very next year in the Orange Bowl, when, down by two with 21 seconds to play, Seminoles kicker Scott Bentley (B.S. '98) made a 22-yard field goal to win the national championship.
Thomas was there to see it. Just as a fan. By sheer coincidence, he happened to book a room at the team hotel, but out of respect for the task at hand, he kept his distance.
After the game, though, he couldn't help himself. He wanted to shake Bentley's hand. Thomas made his way to the locker room, caught the attention of one of his old coaches, who waved him in.
He found Bentley and introduced himself.
"Great game," Thomas said.
"Looks like we got the monkey off our back," Bentley said.
"Thanks, man," said Thomas.
"My pleasure," Bentley said.
Everyone you talk to from those early-'90s teams will tell you: Wide Right never quite goes away.
"It comes up all the time with my buddies on the fairway," Casey Weldon says. "'Hey, FSU guy — Wide Right!' They don't realize it's too soon."
He's kidding. Mostly.
"You're always going to hear it every [year] during Miami/Florida State week," says Scott Player (B.S. '93), the punter on that '91 team. "I don't even hang out with many people who know I played in that game and it still comes up."
To this day, total strangers come up to Mowrey and call him Wide Right as if it's his name.
Thomas hears it, too, but rarely. People really don't know who he is, he says. He's an ordinary guy with a common name who only played half a season. Even hardcore fans can't picture him.
He did indeed raise that GPA. He got a systems job with the Tampa office of a big accounting firm, enjoyed it but decided to go back to school and get a law degree. FSU was the only place he applied. He met his future wife — a native Tallahasseean — while he was clerking at Ausley McMullen. After a stint in Tampa, they returned to Tallahassee 10 years ago, where, again at Ausley McMullen, he gravitated to real estate law. It is, Thomas says, a perfect fit for him: quiet, behind-the-scenes, largely nonconfrontational, helping people do what they wanted to do anyway.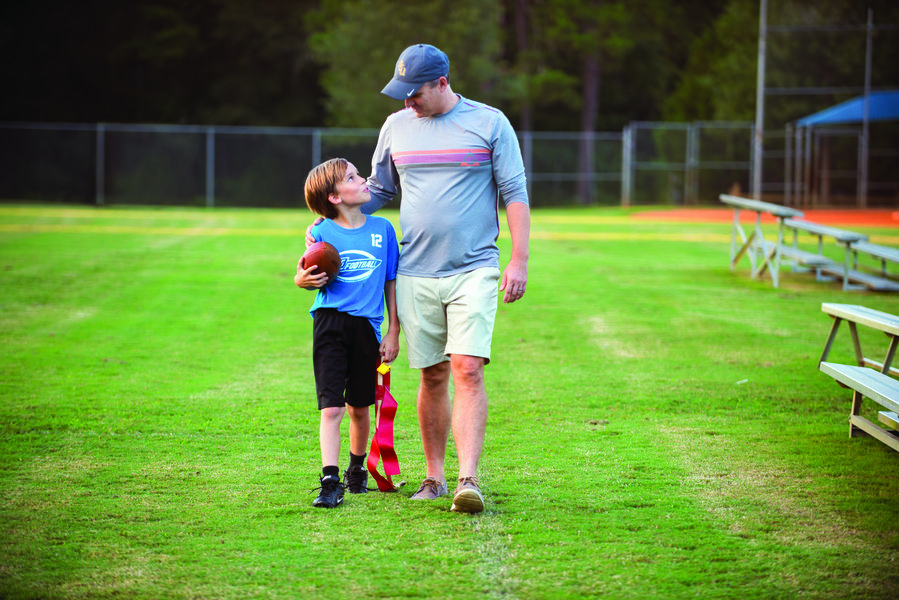 It may seem mysterious why, when any number of professional athletes who suffered high-profile heartbreaks like Thomas' have kept suffering — descending into depression, substance abuse and other dark places — some college kid like Thomas moves on with perfect grace. Except that there's no mystery here. Nothing to hide.
"I think if you make sports your life and you fail at sports, then you think you've failed at life," he says.
"My parents always gave me good perspective about things. Football, while it was very important to me, it wasn't my life."
Gerry Thomas is a solid guy from a solid background who's raising a solid family. The life he's living is solid, right down the middle and perfectly happy.
He's never needed anyone to call him a hero.
Mark Winegardner, a nationally known writer of fiction and nonfiction, is a professor of English at FSU.