By Jeffery Seay (B.A. '91)
From the cockpit of a fighter jet to epic success in business, James Barlow (B.S. '95) keeps on climbing.
Imagine yourself in military combat, standing in the end zone of Doak Campbell Stadium. You're engaged in a gunfight with someone on the 30-yard line. Despite your short distance from the enemy, you need a fighter jet to swoop in and use its guns or drop a bomb. And because your life depends on it, you need the person calling in the air strike to be trained at the highest level.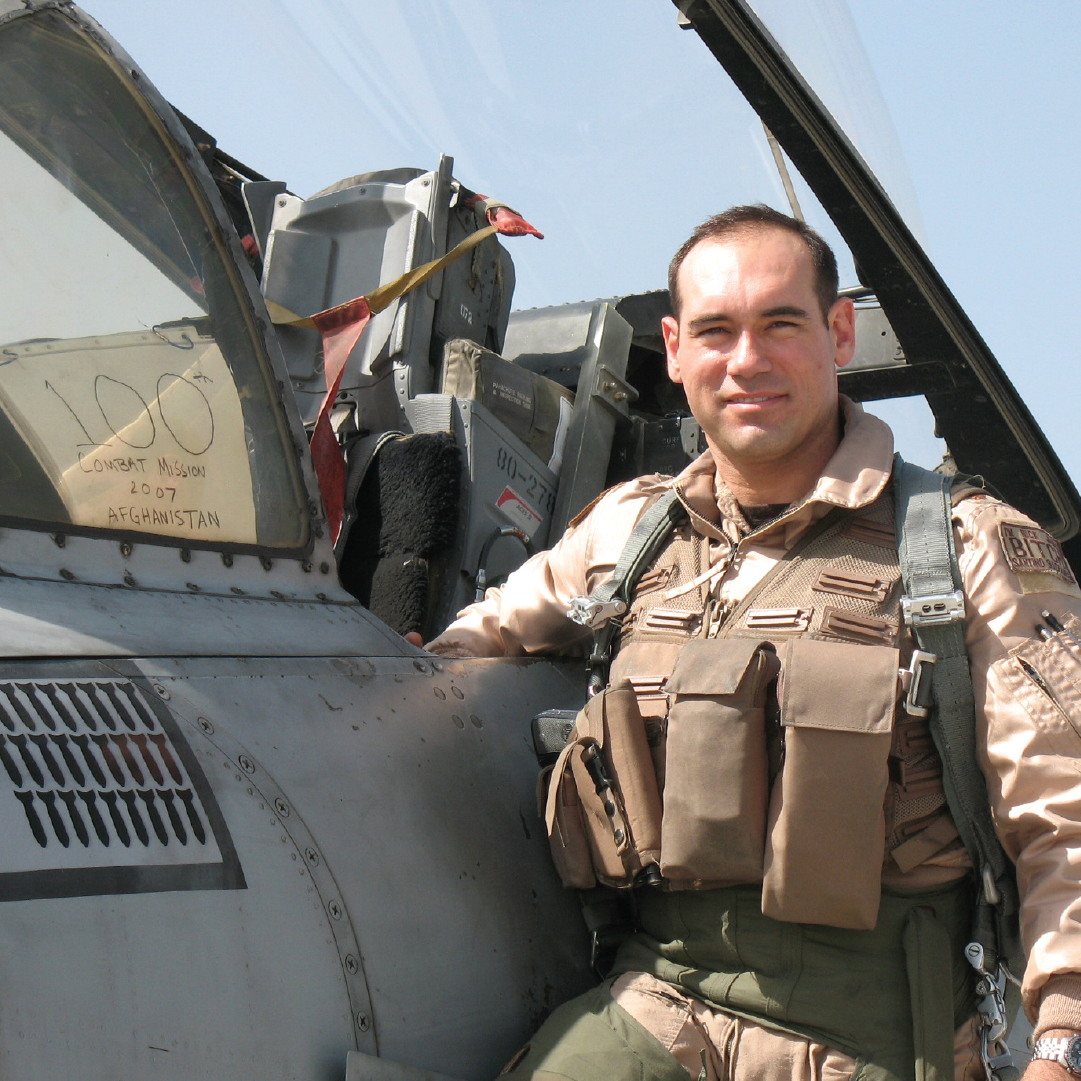 Welcome to the world of the joint terminal attack controller, or JTAC. He's the guy who gets on the radio to call in that air strike and save the day. For the past seven years, James "Chef" Barlow (B.S. '95), a retired Air Force fighter pilot, has been revolutionizing JTAC training through his company, Blue Air Training.
Using reserve and retired military pilots, the company – a privately owned air force – provides contract close air support to the U.S. military to give JTAC trainees a realistic battle experience before going to war. This spring, Blue Air Training was named No. 1 on the inaugural Seminole 100, a list of the nation's fastest-growing businesses owned by FSU alumni. The company also was named to the Inc. 5000.
From a young age, Barlow had an independent spirit and an entrepreneurial drive. Growing up in Tampa, he started a lawn-mowing business at age 11 and did other odd jobs. He moved out on his own as a junior in high school. To make ends meet, he worked weekends as a carpenter's helper and, later, as a framing carpenter. But by 14, he knew that he wanted to be a fighter pilot, so he made a call to the local Air Force recruiting office to find out how. "The recruiter laughed and told me that before I'd be able to pick out a fighter, I'd have to get all A's in school. And play sports, then go to college and do well and join ROTC, and then go to flight school," Barlow says. "I said, 'OK,' and that's what I did."
Barlow started FSU at 18 as a Florida Academic Scholar. He joined Alpha Tau Omega and entered the Air Force ROTC. Then, a family emergency struck. "I gave all the money I had saved since I was 11 to help my family," he says. "I was a new student at FSU with $48. Thank God I had an academic scholarship."
Long before his fellow airmen dubbed him "Chef" – because as a lieutenant, he supposedly always had something cooking – Barlow was known as "Scraps" among the ATOs. "I lived at the fraternity house because it was cheap. I worked as a server at the Pi Beta Phi sorority house on weekdays, which meant I could eat there. It was good for my budget and played into my subsistence requirements. They called me Scraps because I would save food from all the meals to eat over the weekends when I had nothing else to eat."
After earning a bachelor's in business marketing from FSU and his commission from the Air Force, Barlow finally stepped into his destiny piloting a fighter – the A-10 Thunderbolt. Despite his years in a cockpit, Barlow says the experience of flying never loses its thrill. "It is incredibly surreal. You have a sense that gravity and the laws of physics don't really apply to you. If you want to go up, you go up. If you want to go down, you go down. After you've been doing it awhile, it's like being a bird in that you don't think about it. So, if you need to be at a specific point in space doing a specific speed, upside down, sideways or whatever, you're just there. It's truly flying."
Barlow's 20-year career in the Air Force is distinguished by a special milestone. He is the first fighter pilot since Vietnam to fly 100 combat missions in a single combat tour. Actually, 101. "My grandfather flew 25 combat missions in a B-29 in World War II and my foster dad flew 100 combat missions in Vietnam. I wanted to reach that milestone as well," he says. Even while fighting a war in Afghanistan, airmen have a routine. They fly, go to the gym and eat, then do it all over again the next day. There also is time to watch movies. "I saw 'Mr. 3000' about a retired baseball star who didn't actually get the 3,000 hits he was famous for, so he came out of retirement to make those hits. I was on schedule to fly 100 combat missions, but just in case I counted wrong, I flew 101 before I reported that I got my 100."
Barlow had 56 gunfights in 2007, and in most of those air strikes, he strike-controlled himself. As a qualified forward air controller, or FAC, the senior A-10 pilot was acting as his own JTAC. "It's like riding a unicycle and juggling a chainsaw and a baby at the same time," he says. FACs use their airborne perspective to monitor maneuvers on the ground so they can share that information with other jet fighters and get ordnance on the ground as quickly as possible.
In spite of the rush and satisfaction of controlling his own strikes, Barlow also contemplated the challenges of the practice in his master's thesis, researching why there weren't more air-strike controllers on the job. His resulting discovery was a bottleneck in training, so the following year, he proposed a radical idea to the Air Force: train JTACs by hiring a civilian company to fly its own training fleet. "The Air Force was resistant because it didn't want to lose even a single flight-hour of funding," he says.
In 2009, Barlow took command of Green Flag, the Department of Defense's premier close air support training exercise. Despite a $3 million price tag for every two weeks of training, his assessment was that the training process still wasn't sufficiently effective. So, in 2011, he made the decision to create his own training company, and Blue Air Training was born.
Creating a product that solves a problem for the consumer is the hallmark of every successful entrepreneur – the very thing that Barlow accomplished with extraordinary insight, according to retired Air Force fighter pilot Matty "Pratt" Whitney, Blue Air's vice president for operations. "What he has created is incredible. It fills a void that we watched grow for nearly 20 years. We watched JTACs fail to get the training they needed. Chef's passion for the guys on the ground is why this company exists. He has a vision like no one I have ever met. He can see the solution working before anyone even knows there is a problem."
Whitney first met Barlow in 2002 while both were stationed in Texas teaching military student pilots. Like Barlow, Whitney flew the A-10 as well as the T-38 Talon, a training jet. Back then, the two of them would take their kids out for hamburgers and talk about how they would do things differently if they were in charge. "And here we are," says Whitney. "I joined the company because I wanted to make a difference and be a part of something great."
The Special Ops community was the first to buy into Barlow's vision. Worried less about funding and flight-hours and more about getting their personnel trained to go to combat and come home safely, they made Blue Air's training a budget priority. The statistics for metrics such as mission capability, the quality of control and the quality of the controller went through the roof. "The regular Air Force couldn't deny our numbers," Barlow says. "Kicking and screaming, they finally admitted in 2016 that the type of training we offer was something they needed to do."
Like marksmen who practice day after day with every type of weapon, Blue Air Training puts its JTAC trainees through intense paces as well. They have to be athletic, with physical toughness to operate in remote locations and with the intellectual aptitude to think in three dimensions to project where fighters are in the air and where personnel are on the ground.
Training takes roughly a year and a half and begins with a year of shadowing a qualified JTAC. Then comes initial qualification training, a three-month program at JTAC "schoolhouses." Blue Air is under contract to run Air Force schoolhouses near bases in Nevada, Washington and Florida, as well as the Special Ops Command schoolhouse in Arizona. "With this initial training, you're like a redshirt freshman," Barlow says. "You know your position and what the plays are, but you're not ready to actually go to combat."
The next step is three to six months of mission qualification training, which makes trainees combat-ready. "We train that guy on the ground how to discuss exact details and use established procedures on how to talk to both joint U.S. military forces and the air forces of our allies to distinguish where the good guys are and where the bad guys are, and make sure they drop their bombs or strafe with their Gatling guns in exactly the right place," he says.
Blue Air's fleet of 18 fixed-wing aircraft is impressive, with BAC 167 Strike Masters, a British attack jet, A-90s from the Finnish air force and IAR 823s, Romanian light-attack aircraft. The fleet also includes two AH-6 Little Birds, special ops helicopters. Barlow soon will be buying another three helicopters as well as 20 jets from Ecuador and 12 from Jordan. As a licensed arms importer, he can deal directly with foreign governments to legally import aircraft, weaponry and weaponry release systems without having to demilitarize them first.
It's a heady thing to trot the globe with that kind of shopping list, for sure. But when you reinvent a crucial section of military personnel training and essentially create a new industry, things can scale up fast. "Our 3,700 percent growth is actually me trying to slow down the growth," Barlow says. "Those were 2016 numbers. We beat 2016 in the first quarter of 2017, and we almost beat 2017 in the first quarter of 2018." The company is set to expand into Europe in 2019 to train U.S. forces there.
In the company's early days, Barlow pulled out his personal credit card to pay for the repair of a blown jet engine. After years of successfully proving his training concept, he took his first Blue Air paycheck in 2016. The broke college kid known as Scraps is a distant memory, and Chef still has something cooking.