Westcott Plaza has been home to beloved Florida State University traditions for over a century. Most alumni remember celebrating 21st birthdays, participating in their class ring ceremony or posting photos in their cap and gown around the plaza.
Purchase a commemorative brick surrounding the iconic Westcott fountain to cement your place in FSU's rich history.
Due to the impact of COVID-19 and in accordance with University and state policies, we are postponing the installation of all bricks at Westcott Plaza. While we are unable to guarantee installation by a specific date for any bricks purchased during this time, please rest assured that we are committed to seeing your order fulfilled as quickly as possible. Once the University is able to return to normal operations, installing these bricks will be a priority for our staff.
As we continue to navigate this challenging time, we encourage you to visit the links below for any University and Alumni Association updates regarding COVID-19. Thank you again for your support. If you have questions, please email westcottbricks@fsu.edu.
Click here for Florida State University's Coronavirus updates.
Click here to see what the Florida State University Alumni Association is doing in response to Coronavirus.
---
Pricing Options
Outer Ring

$300 for Members
$400 for Non-members
$350 for Brick + Membership
Inner Ring

$600 for Members
$700 for Non-members
$650 for Brick + Membership
Base of Seal

$1200 for Members
$1300 for Non-members
$1250 for Brick + Membership
Recent Grad Package
$349
Brick in Outer Ring
1-Year membership included
Alumni License Plate Frame
Outer Ring (sections 1-12)
$300 for Members
$400 for Non-Members
$350 for Brick + Membership
Inner Ring (sections A-F)
$600 for Members
$700 for Non-Members
$650 for Brick + Membership
Base of the FSU Seal
$1200 for Members
$1300 for Non-Members
$1250 for Brick + Membership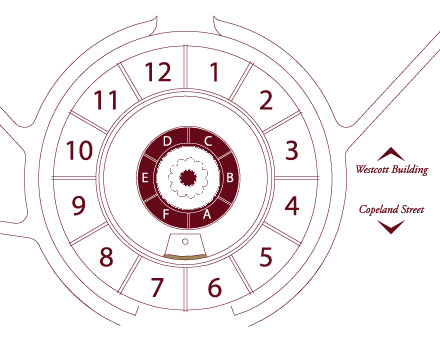 Want to see how yours would look? Using the tool below, type your inscription in the template below!
Frequently Asked Questions
No. Everyone is welcome to purchase a brick at Westcott Plaza!
Unless otherwise stated as part of a special promotion, it could take up to six months to install your brick, depending on when it was purchased. If you included a rush order on your brick, your brick will be installed within two months. You will be contacted once the brick has been installed.
As a courtesy, we are happy to accept requests for a specific area of the plaza. We will do our best to accommodate these requests, but we cannot guarantee a specific brick location. To request that your brick be installed in a certain area of the plaza, please place your order online and then e-mail the location request to
westcottbricks@fsu.edu
.
Please note that we will not move a brick previously installed to accommodate a new brick unless you purchased all bricks involved.
We cannot reserve bricks in advance. If you would like to purchase a brick now for inscription later, you will need to submit a placeholder inscription to be inscribed on the brick now. You can later pay a replacement fee to have the inscription changed.
Yes, you can. You will need to pay a $50 replacement fee to replace your brick. You can do so by calling the FSU Alumni Association at 850-644-2761.
Yes! We have an electronic certificate we can e-mail you. Please send a request for an electronic certificate to
westcottbricks@fsu.edu
. We also offer a card, similar to a greeting card, at no additional cost that you can give to your brick recipient. You can request that a card be mailed to you by e-mailing
westcottbricks@fsu.edu
.
No. We will only contact the purchaser of a brick regarding the transaction and installation. If you purchase a special package containing a membership and a brick, the gift recipient will receive information regarding their membership but not the brick.
The replica tile is created at the same time as the brick. It will arrive via UPS around the same time that the brick is installed at Westcott Plaza.
You can contact the FSU Alumni Association at
westcottbricks@fsu.edu
or 850-644-2761 for information on finding your brick.
A portion or all of your brick may be tax deductible. Please consult a tax professional for details.
Yes. Anything that takes up space on the brick counts toward the character limit – letters, numbers, punctuation, spaces between letters.
Due to the width of the brick, we cannot fit more than 18 characters on one line.
If you purchased the graduation special package that includes a photography session, the student will be contacted in March at their FSU e-mail address by the photographer to schedule the photography session.