VIRES - Fall 2019
Florida State University's official alumni publication, VIRES
®
magazine, is produced biannually by the Alumni Association for its members. Named after the first torch in the university seal, vires represents strength of all kinds: physical, mental and moral. Inside the magazine, you will find alumni success stories, university news, class note updates and more to showcase the strength of the Florida State community.
To submit your news for Class Notes, fill out the online form or email vires@alumni.fsu.edu.
To learn how you can advertise in the magazine, visit alumni.fsu.edu/advertise.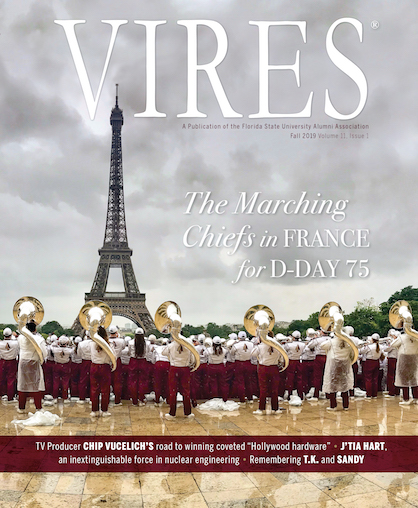 This issue of VIRES® features the Marching Chiefs in France for D-Day 75 ceremonies, TV Producer Chip Vucelich's road to winning industry awards for his work on "American Crime Story," Nuclear Engineer J'Tia Hart's journey from the shores of Miami to intelligence briefings in D.C., and a tribute to past FSU Presidents T.K. Wetherell and Sandy D'Alemberte.
---