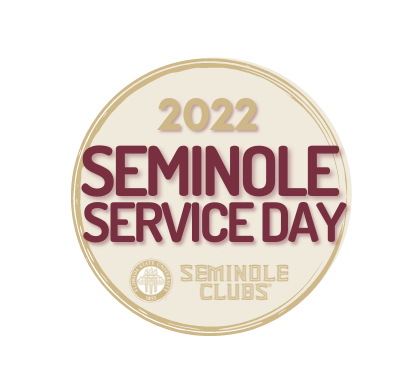 Seminole Service Days are held annually during the month of March and led locally by the over 50 Seminole Clubs nationwide. This opportunity to give back while representing Florida State is steeped in tradition and shows the outstanding character and Seminole Spirit of Florida State Alumni.
After a virtual year in 2021 that saw our Unconquered Scholars provided with everything they need to get off to a strong start in their on campus journey, we are excited to announce that 2022 will see the return of local, in-person opportunities for Florida State Alumni to give back to their communities.
Each Seminole Club will have the opportunity to choose their date, time and project based upon their past traditions and current needs. As they make our team here at the Alumni Association aware of details, we will post them here. You can also engage with your local club on their social media feeds.
We can't wait to see and hear of the positive local impact of our Garnet & Gold Alumni!
Click here to view all Seminole Service Day Projects.