The FSU Alumni Association's programs and services play key roles in our commitment to connect and engage our more than 361,000 alumni around the world. FSU alumni are proud of their alma mater and represent a responsive target market for your product or service.
We offer several advertising and sponsorship opportunities that will help your organization expand its reach, increase its sales, and engage our audiences.
Reach over 60,000 alumni and friends of Florida State University, 70% of whom reside in Florida, who are invested in the university by advertising in Florida State's official alumni publication. VIRES® magazine, produced biannually by the Alumni Association in February and August, keeps alumni connected to FSU with news about the university and fellow graduates all over the world. Our members are proud of their alma mater and represent a responsive target market for your product or service.
About our Readers
Nearly 20,000 copies of VIRES® are sent to our more than 24,000 Alumni Association members. However, the magazine's reach extends beyond print to Florida State's 361,000 living alumni online via the digital magazine and social media. Within the digital magazine, the ads will link to your organization's website for more information and extended reach.

Ad Rates per Issue
Back Cover: $3,000
Full Page: $2,500
Half Page: $1,550
Third Page: $1,000
FSU organizations receive a 15% discount (excludes back cover).
A 5% discount is available for multi-ad purchases.

Advertising Deadlines
Spring (Mails Mid-February)
November 15: Space reservation deadline
December 15: Artwork deadline
Fall (Mails Mid-August)
June 1: Space reservation deadline
June 15: Artwork deadline
Payment is due within 30 days from receipt of the invoice, which will be sent after the contract is signed reserving the ad space.
Content and Design
Our readers have a strong affinity to Florida State University and therefore, ads twith recognizable FSU Themes using the university's color palette resonate the most with our readership. All advertising is subject to approval and ads may be limited by industry. The publisher reserves the right to reject advertising material on or before receipt of artwork.
Ad Sizes and Specs
Back Cover: 9" wide x 7.375" tall, full bleed (requires .125" of bleed on all sides with printer's marks offset by at least .1667" to avoid encroachment into print area)
Full Page: 7.75" wide x 9.875" tall
Half Page: 7.75" wide x 4.75" tall
Third Page: 7.75" wide x 2.375" tall
Please ensure any text is at least .25" away from the edges on all sides.
File Preparation
File format: PDF
Please make certain that embedded images are saved in CMYK and include a .jpg of the ad cropped to print area to ensure accuracy.
Resolution: 300 DPI
Color mode: CMYK
When reproducing FSU official colors, you must use the CMYK values below:
Official Garnet: C19 M90 Y50 K55
Official Gold: C6 M14 Y39 K8
To reserve your space or learn more, email vires@alumni.fsu.edu.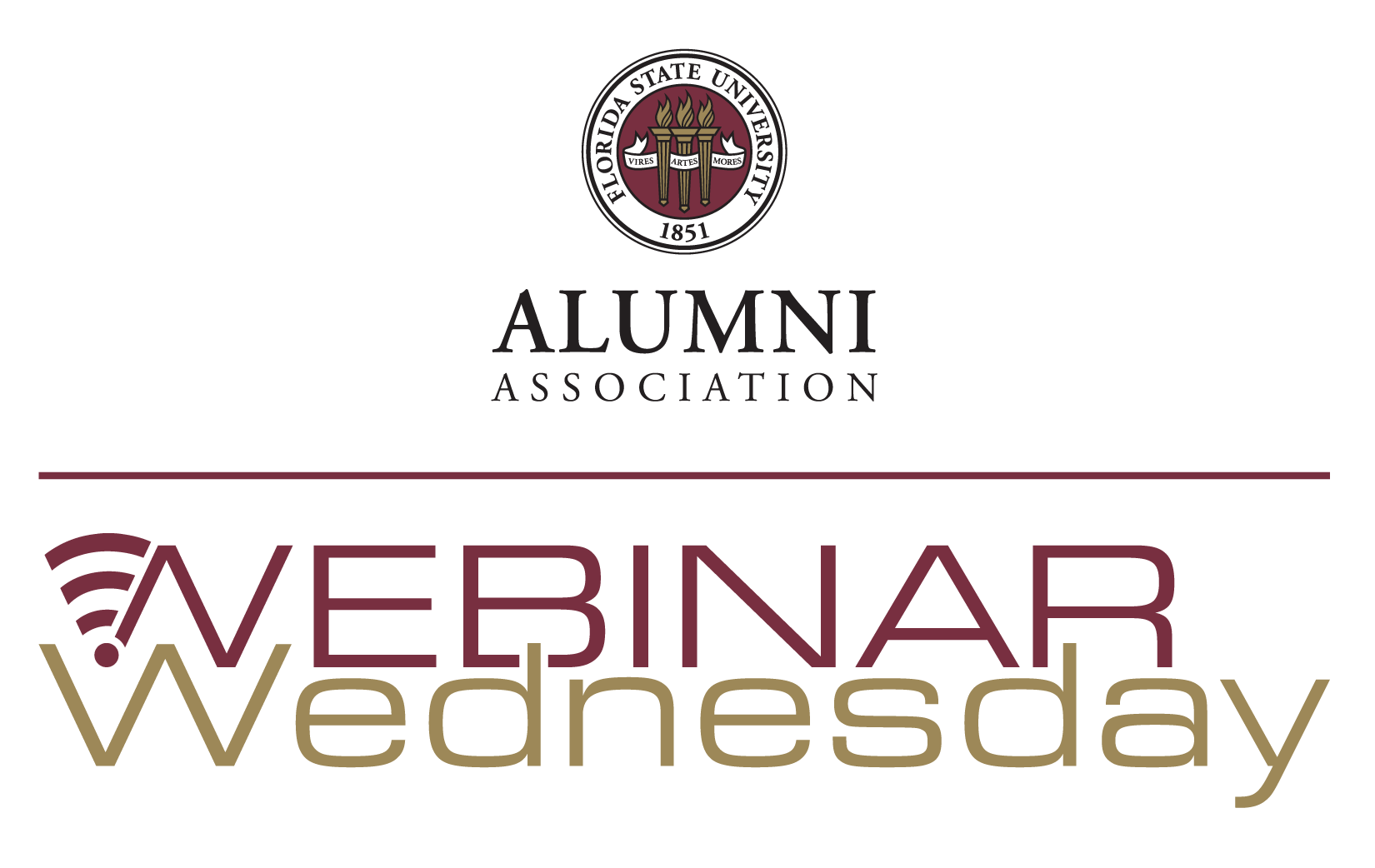 The FSU Alumni Association recently launched Webinar Wednesday, a monthly educational webinar series featuring alumni covering a wide array of topics from leadership, healthcare, business and education. While FSU Alumni Association members are given first access, these webinars are open to all FSU alumni and friends, creating the opportunity to promote your business to more than 360,000. Webinars average 50 attendees during the live presentations and extend to a reach of several thousand viewers on Facebook. Additionally, all webinars are stored on our YouTube and our Webinar Resources page, extending the reach of your company recognition even more.
The monthly sponsorship investment is $2,500 and includes the following benefits:
Marketed as presenting sponsor
Recognized as presenting sponsor in email blast to 26,000+ FSU Alumni Association members
Opportunity to address attendees and promote organization for two minutes prior to webinar
Recognition (logo and contact information) at the beginning and end of sponsored webinar(s) (live and on-demand versions)
Customized Zoom background with sponsor logo for use throughout the duration of the webinar
Logo featured on webinar landing page, registration page, registration confirmation page and webinar reminder email
Recognition in social media post advertising webinar, tagging sponsor when possible
Opportunity to redirect to company website when webinar concludes
Opportunity to include messaging in post webinar email blast
Take advantage of the quarterly sponsorship opportunity and receive a 5% discount (Investment total: $9,500).
To sponsor a webinar or learn more, email Whitney Powers: wpowers@admin.fsu.edu.
More details coming soon.