Can you name three campus statues? Or count its stone frogs? From fountains to sculpture, paintings to brilliant glass, the FSU campus is bristling with artistic output. Look around. Drink it in. There's magic there.
The view across Landis Green shimmers in the early spring warmth. Dotted by splashes of red and cerulean, it is a watercolor painting framed by campus oaks and red brick halls.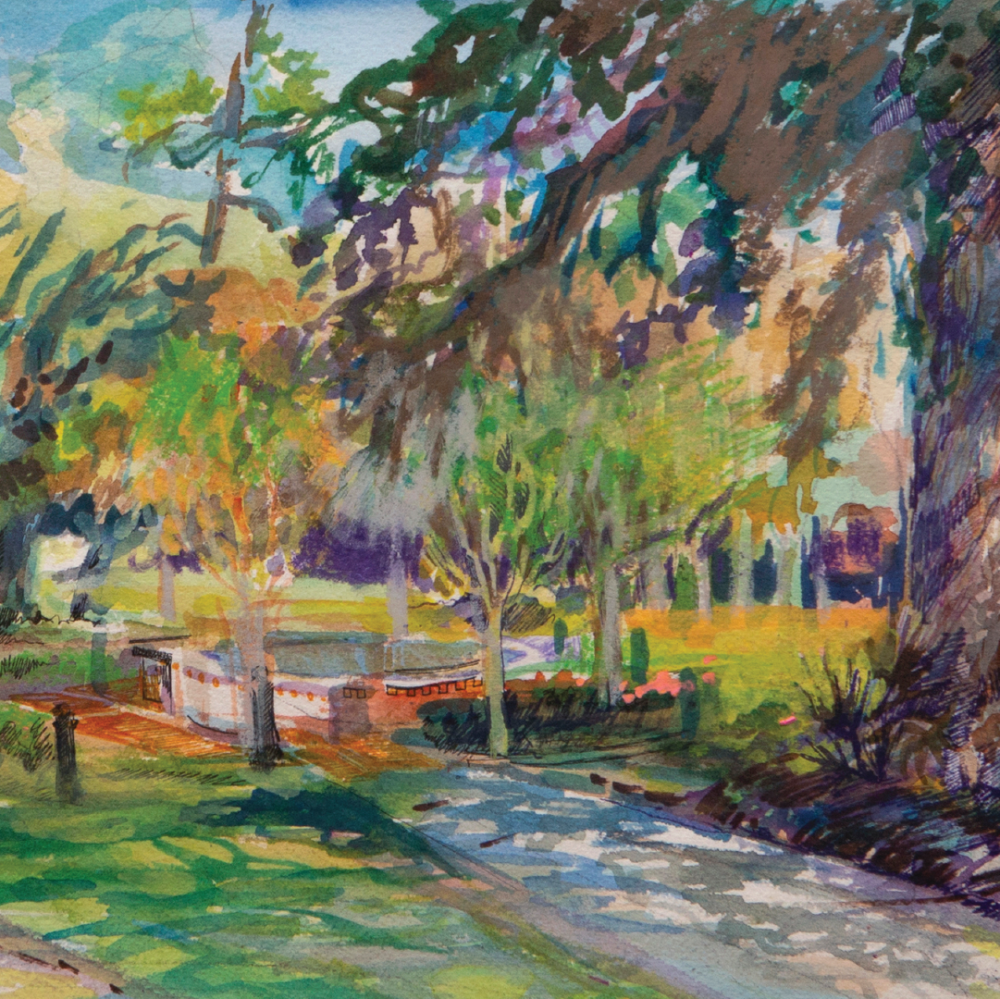 Nearby, students string a hammock between two longleaf pines and now dreamily stare into the branches. Seurat would have painted them, or Renoir made them in pastel.
And from the youths' vantage point, where the angles of Dodd and Williams and Eppes power upward, their gables and crenellations skewed sideways, their angles askew, the Florida State University campus could come to resemble an abstract by Kandinsky or Mondrian.
That is to say, art – ART – is not only on the walls, not only in the architecture, exemplified by the sculpture or tinkling from the fountains of FSU, but rather, on the university's 476 acres and among its 41,000 students, beauty is a living, breathing – needed – presence. To become aware of all of that art – inside, outside and even off campus itself – is what several touchstone programs at FSU hope to bring about.
Inside the Hallowed Halls
Although not all of the university's 542 buildings are located on the downtown Tallahassee campus, dozens of academic halls, residences, service buildings and gathering centers are. And inside most of them there is art. Sometimes a display will be dramatic, covering a wall, fabricated from materials bent to the will of the artist, or perhaps dangling from a ceiling and undulating overhead. Or it may be subliminal, as when light through Arthur Stern's bower of glass casts dancing leaves across the floor, or the copper panels of Cheryl Safren's "Dendrites" and "Synapse" alert a psychology student to the represented magic of nerves.
Just as a fire in a fireplace gives a physicality to an environment, so too does art. And perhaps it was the awareness by the Legislature that just as four walls, a floor and a ceiling do not make a home, neither does a stripped-down environment make a place where a mind might soar. In 1979, the state of Florida, through the Division of Cultural Affairs, decided that when allocations were made for new construction on each of the 10 Florida university campuses, 0.5 percent, up to $100,000, would be set aside for "Art in State Buildings." After all, as one facilities management director says, "Art gives a sense of place to a university. An online website isn't all that inspiring."
Allys Palladino-Craig, who is also director of the university's Museum of Fine Arts and oversees the Art in State Buildings program, loves showing off the variety of pieces hung on walls and gracing the campus from the Dunlap Student Success Center to the King Life Sciences Building and to the FSU College of Business. "Most pieces are site-specific, commissioned artworks that are chosen through competition by a committee comprised of Art in State Buildings administrative staff, the site's work staff, the architect and an arts professional," says Palladino-Craig. Currently there are 300 professionally created pieces ranging from metal and enamel sculpture to works on canvas and fabric, to ceramic, glass and large outdoor freestanding pieces that give artful and artistic respite to students whose minds may be juggling sheer facts. Whether it is a large single purchase like the outdoor murals on the College of Medicine building by Steven Weitzman or a number of smaller works by the likes of Ray Burggraf, Ivan Chermayeff or Leon Mead, varying budgets set aside for art purchases have been used for both dominating pieces of art and more subliminal artistic investments in an atmosphere of higher learning.
Art in Architecture
First impressions count. Even from afar, even in memory, FSU's architectural profile looms large. The "Cherokee red" bricks, the Jacobean Revival arches and the carved tracery communicate to students and alumni alike a place of stability, a place where their lives were changed.
And all of those bricks, carvings, roofs and the history embedded in them take loving care. Mark Bertolami is the ebullient director of Planning and Space Management, who is part historian, part guardian of the sprawling premises of FSU. "Look at those owls!" Owls are everywhere, once you look. Even an owl apparently being stared at by two Florida gators over a door of Jennie Murphree Hall. "Look at those frogs!" he says of the little amphibian carvings peeking from the Eppes Building. "Eppes was originally an education building, so one theory as to why there are frogs on the south entrance is that students will evolve academically just as frogs develop from tadpoles." Bricks become a fascination as well. "There are more than a dozen ways to lay bricks," says Bertolami, pointing to whole walls that seem to be brick tapestries. Here the ruddy brick palettes turn plain buildings into Collegiate Gothic art.
Yet more subtle art lies in the grounds at large. "Surrounded by buildings, small courtyards are created – places of academic refuge, in a way," says Bertolami. Small glens may appear, or a fountain in the Friendship Garden in a corner of the Mina Jo Powell Green. Another garden wraps around a newly placed sculpture of dancer Rudolf Nureyev that combines cast art with that of the quietude of Mother Nature.
But perhaps no other site on campus comes near the quasi-ecclesiastical architectural beauty of Dodd Hall's Reading Room. Now a museum within the campus, the 45-foot-high ceilings, crisscrossed with darkly Gothic hammer-trusses, and the university-produced stained-glass windows seem to splash the floors and walls with a scatter of rubies and emeralds. Outside, the massive arched entry is framed by glazed ceramic tiles that, against the limestone lines, look positively festive. "The half of knowledge is to know where to find knowledge," emblazoned in gold overhead, reminds those who enter that perhaps not all learning is found in books. Perhaps some of it can be absorbed through art itself.
Art on Campus Initiative
Though art may be discreet or head-snappingly powerful, it can't be either without artists to make it. Lilian Garcia-Roig, a professor in the Department of Art, is director of the Art on Campus Initiative, which she developed in 2011 to seek placement of works by students, alumni and faculty in offices and high-visibility settings all over campus. The university's Department of Art is the third-largest department in the College of Fine Arts, with 350 undergraduates and 32 graduate students, as well as 21 faculty members. The department, says Garcia-Roig, supports these opportunities to present works by student-artists and practicing professionals, which benefit all in different ways.
"We have student pieces in the Honors, Scholars and Fellows House, in the Dean of Graduate Studies office, in all of the vice presidents' and the provost's offices, the home of President Thrasher, as well as over 35 pieces in the Turnbull Center by faculty artists such as Judith Rushin, Mark Messersmith, Carrie Ann Baade and myself," Garcia-Roig says. "For students, there are small awards for those chosen to show works in the Honors House. For our faculty presenters, we offer the groups passing through the Turnbull Center the opportunity to see larger, fully matured pieces."
Diane Burnette, who works at a computer in the office of the provost, remarks, "In an office without a window, the painting above my desk brings me 'escape.' I lose myself in it, its colors, the paths that seem to lead into the woods." Garcia-Roig says that it is this power of art to change an environment that gives creative pieces their value. She stresses too that seeing art on a daily basis, missing it when it is moved or gone, establishes a "culture of art that is valued – that has value." "We wouldn't ask a plumber to fix our pipes for free; and we should give art and artists the same consideration."
Most of the works on display are available for sale. The venues may represent one of the first thrilling times a student's work has been presented in a public atmosphere. And there is learning there, too, says Garcia-Roig: "How to frame, how to organize a portfolio for competition, understanding how your art shows in a large space." A portion of the sales price of the work goes directly to the artist and the other portion goes through the FSU Foundation, which becomes a tax-deductible donation to the Art Department Student Scholarship Fund. Teaching young artists to believe in their own vision's value has value in itself, according to Garcia-Roig.
The Master Craftsman Studio
It's hard to believe how Florida State University managed to do without the Master Craftsman Studio for so long. Not established until 2000, the studio, in an auxiliary capacity with Facilities Management, not only maintains and preserves works of art on campus, but designs, fabricates and places new pieces wherever needed or desired.
Housed beside the new Declaration sculpture (which was designed by Kenn von Roenn and created by the studio), the Master Craftsman Studio appears little more than an expanded Quonset hut at the Gaines Street roundabout. Yet inside, artisans and their interns are turning iron, glass, metal, clay and brick into crafted pieces of beauty that must withstand what Mother Nature rains down.
John Raulerson, the studio's director, knows stone and he knows metal. And he knows how to preserve works created by others. Under his direction, the studio not only attends to works
of art on campus, like the frolicking figures in the Legacy Fountain created by Tallahasseean and FSU alumnus Ed Jonas (B.F.A. '71), but creates new ones for both the university and outside entities.
"We are self-sustaining," says Raulerson. "Our salaries are paid by the contracts we have with a customer – very often the university, but with others in the city as well. At present, we are doing sculptures for Big Bend Hospice and restoring a dolphin for Tallahassee Memorial Hospital." But the relationship with FSU is paramount. "We offer volunteer, paid and unpaid internships to students where they can earn college credit hours."
Passing one of several gigantic kilns owned by the studio, Raulerson picks up a 3-foot, metal feather from the headdress of the homecoming queen in the Integration sculpture by Sandy Proctor on Woodward Plaza. "Came loose," he says, with the grin of someone who knows about the tactile pleasure of interactions with sculptures on campus. With over 40 life-sized bronze bodies and busts that sit, stand, gallop and frolic in fountains, the work of keeping their metal intact and their patinas perfect never ends. With classical works as well as megalithic contemporary pieces to care for, the studio's expertise is deep and its portfolio wide.
Need an ornamental garden? A pavilion for meditation? Perhaps a massive wall of stained glass panels for your Gothic reading room? Better still, how about a life-size bronze of yourself appearing worldly and wise? The studio's Chris Horne is completing just such a statue that will soon be cast into the bronze effigy of FSU's former President Eric Barron. His smooth clay skin is being planed and his countenance is fair. If you'd like one, too, just ask. The Master Craftsman Studio is up to the task.
The Ringling Collection
The year 2000 was a banner one for art for FSU. Not only was the Master Craftsman Studio established, but FSU assumed governance of The John and Mable Ringling Museum of Art in Sarasota. With a massive collection of some 28,000 works of art and the poorly-cared-for estate and museum that John Ringling had built in the '20s under its purview, the university, the Legislature and the museum provided the funds to restore its facilities and develop academic programs to enhance it.
Florida State additionally benefits from the relationship with the Ringling through the loaned works of art that grace the homes of the Florida governor and FSU president. Today approximately 30 works can be seen in the home of President and Mrs. Thrasher, each of them individually selected by the couple.
Jim Stanley, for 38 years the operations manager for the President's House, knows the residence inside and out. With 150 events to plan for on the grounds and inside, and approximately 20,000 people "coming to visit" every year, he watches over thousands of pieces of furniture, crystal, china, silver and, of course, the art. From the fourth floor, where visiting grandchildren occasionally sleep, to the third floor's private living quarters, the second floor's elegant receiving rooms and salons, down to the ground level's casual space with its knotty-pine walls and utilitarian flooring, Stanley keeps an eye on all 13,000 square feet.
As each new president has taken up residence since the home's completion in 2007, the couples have expressed their own tastes and personalities through the art they display. Their choices may seem endless since they have not only FSU's own Museum of Fine Arts and art by students and faculty from which to choose, but also much of the Ringling Collection.
"While some tastes may lean to the classical, another president may prefer something totally different," Stanley says. "For instance, President and Mrs. Barron liked more modern, contemporary pieces. 'Grand Entry,' by Gifford Reynolds Beal, is one they chose. And the Thrashers like it, too, and keep it over the fireplace." But Jean Thrasher has picked a variety of pastoral scenes and still lifes that with their subdued tones, gilded frames and relatively small sizes seem to fit the style and scale of the home. So precious that the Ringling Museum sends up conservators to dust and straighten the paintings, the modest-appearing scenes of drowsy sheep and soft-skinned cows add a sense of gentle gravitas and grace.
On the Florida State campus – whether art appears as a pensive bronze statue, a perky stone frog, splashes of color that drip and run, whether it is small, or large enough for you to sit on or sleep on, or let it draw you into its very middle, whether with a capital "A" or a fountain's bubble – the commitment to artistic expression is unfailing. Let us open our eyes and drink it in.