How a landmark memorandum of understanding allowed Biscayne Bay's coolest feature to transcend its deliciously illegitimate beginnings and become a national treasure
Among the many distinct neighborhoods that make up Miami's rich cultural heritage, from Little Havana and Liberty City to Coral Way and Coconut Grove, one stands alone – both figuratively and literally. There are no homeowners, mailboxes, cul-de-sacs or backyards. No one lives there and no one ever will.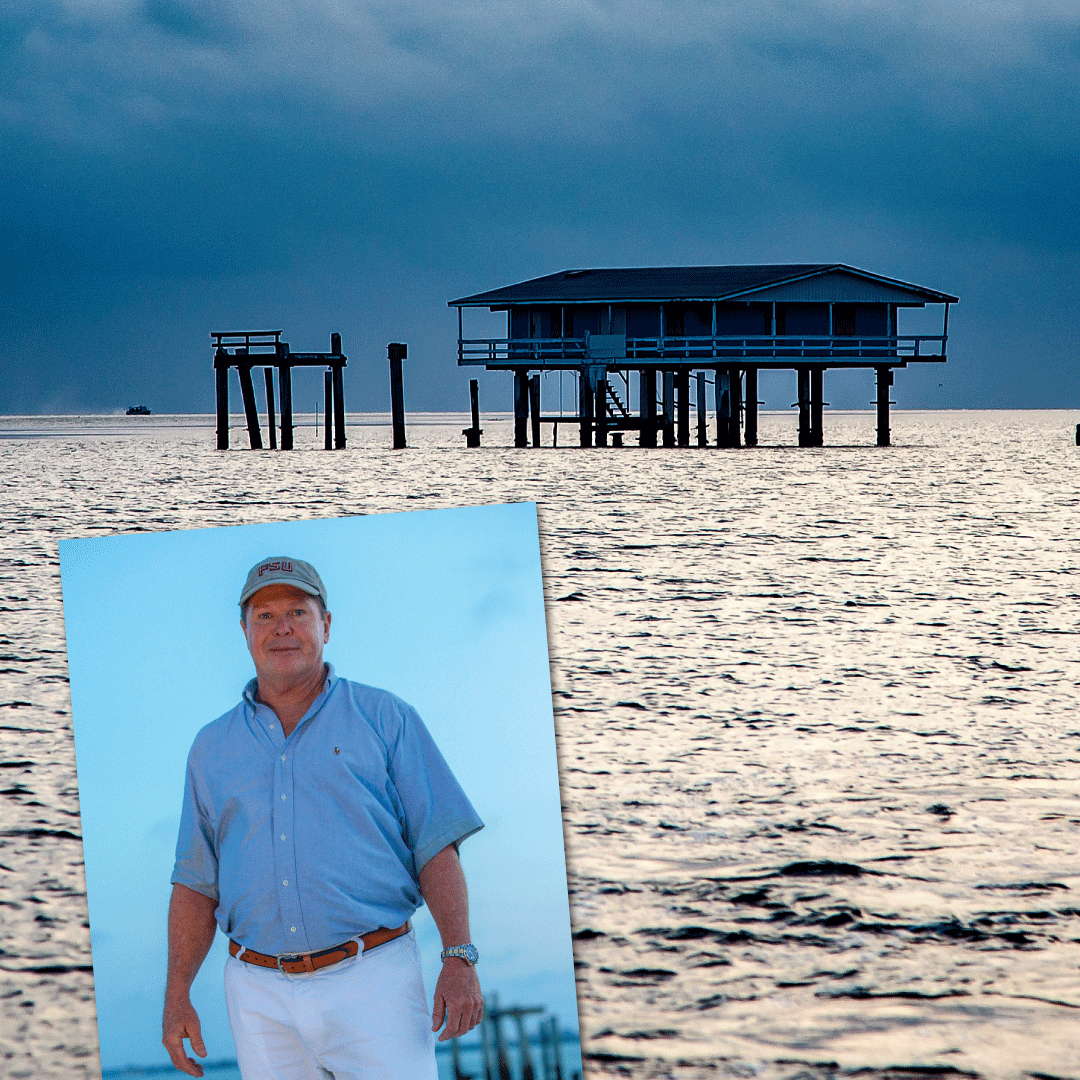 A mile and a half offshore just south of Key Biscayne sit seven houses, built on wood and concrete pilings driven deep into submerged lands and sunken barges in the bay. From a distance, adorned in pastel paint and seagull droppings on weathered wood, they might be mistaken for boats. Together they constitute the unique neighborhood known as Stiltsville.
Nearly a century has passed since "Crawfish" Eddie Walker first set up shop on an abandoned barge on the flats in Biscayne Bay, selling bait and chowder to local fishermen in the 1920s. Just a few decades after Miami officially became a city, times were different. The government was smaller and Prohibition ruled the day.
Bootleggers soon mimicked Walker's ingenuity, building houses on the water, which were naturally secluded and thus undisturbed by law enforcement. Word spread about the rogue getaways hiding in plain sight, and fun weekend excursions begot illegitimate social clubs with a scandalous milieu.
A Life magazine feature on the popular Quarterdeck Club catapulted Stiltsville into national prominence in 1941. Florida Gov. LeRoy Collins frequented one house incognito during his tenure in the 1950s, and rumor has it that U.S. Sen. Ted Kennedy celebrated his bachelor party there as well. Stiltsville's reputation grew as the number of structures increased, reaching a peak of nearly 40 in the 1960s.
After the devastating Hurricane Betsy in 1965, the state began regulating the stilt structures and banned the repair of structures that suffered more than 50 percent damage. Leases were administered to the existing structures starting in 1976, with the last leases containing an expiration date of July 1, 1999. No new structures have been built since.
In 1985, the de facto homeowners association changed leadership from the state to the federal government when a mostly underwater, already-existing national preserve was expanded to form Biscayne National Park, with its northern boundary barely including the submerged lands upon which Stiltsville was built. With a budget insufficient for maintaining the structures, the U.S. Department of the Interior determined the demise of Stiltsville upon the conclusion of the leases in July 1999.
The Stiltsville community resisted, waging a political and legal battle that lasted seven years, concluding with a Memorandum of Understanding in 2005 that decreed the houses could stay with the condition that they be shared with the public and preserved through private means. The author of that memorandum was Miami lawyer Bill Tuttle (B.A. '80, M.S. '80), a native who has lived in the area his whole life, besides the four years he spent in Tallahassee at Florida State.
While the endeavor included scores of supporters across the country, spearheaded by those with a vested interest in the homes, Tuttle utilized his legal pedigree to battle park officials and politicians en route to a victorious compromise.
"No one person gets credit for saving these houses," Tuttle says. "Everybody gets credit because it was a collaborative effort of thousands of people."
"It took a desire by all the caretakers to muster resources and connections to demonstrate the importance of Stiltsville," says Kevin Mase, current chairman of the Stiltsville Trust, the official network of house caretakers and former stakeholders. "Bill's been the guy that has principally done what is needed and charted our course forward, helping us navigate dealing with the government and other outside organizations to preserve Stiltsville."
The once exclusive outposts now open their doors to all those wishing to experience the mystical history firsthand. "Sharing these homes with other people in Miami is what this agreement is all about," says Eliott Rodriguez, a longtime news anchor for CBS4 in Miami who considers Tuttle a friend. "I can't think of anybody who has done more to save these homes, and I can't think of anybody who's done more to share these homes. Bill is constantly taking groups out there."
Tuttle is an articulate storyteller with a sharp memory, modest disposition and conspicuous passion. His task of taking on Goliath was accomplished pro bono, which is hardly shocking given the laborious and expensive duty of maintaining a wooden house in Biscayne Bay that no longer carries any real-estate value.
"I wouldn't have done it if I didn't have a passion for preserving what I think is one of Florida's greatest treasures," he says.
Tuttle was 5 years old the first time he visited Stiltsville. His parents had friends who invited the family to accompany them on a group outing at one of the stilt homes. His affinity for the houses took root that day and grew with each subsequent trip. In junior high and high school, Tuttle and his friends would boat over to Stiltsville after school and go fishing off the docks when no one was home. Sometimes, the owners would put them to work on maintenance tasks, which helped the youths earn their keep. That led to overnight campouts, and eventually the invitations became indefinite.
Over the years Tuttle has enjoyed countless common activities turned extraordinary by the setting, ranging from romantic evenings and guys nights to stargazing and book reading. Alone time on the water brings unparalleled peace of mind, but sharing the experience with others is equally rewarding.
"You know what inspires me to stay involved over all these years?" he says. "Ever since I've been a stakeholder, we've always had these groups of kids go out there. Every now and then, I'll bump into these kids that are now taller than I am, and they remember me. They say, 'When I was 6 years old, you took us out to your Stiltsville house. Do you still have that house?' I go, 'Yeah, I do!'"
Tuttle compares it to seeing Mount Rushmore or the Statue of Liberty for the first time. "They remember, like I do, their first experience," he says. "It's just something you never forget."
When it came time to choose a college, Tuttle was torn between the University of Florida, his parents' alma mater, and Florida State. Initially he chose the Gators, but in the end the outdoorsman changed course, yielding to the allure of the Panhandle's access to fishing in the Gulf and hunting in Georgia. He fell in love with Tallahassee's rolling hills and the enchanting red brick architecture of FSU's campus. Tuttle recalls fond memories of working at Nic's Toggery downtown, playing golf, taking trips to the FSU Reservation, attending First Baptist and making lifelong friends during his two years in Lambda Chi Alpha.
Earning a dual degree in business and restaurant management, he intended to enter the banking industry upon graduation, considering multiple job offers he received in sales and insurance. Maybe one day he would open up his own restaurant. Then one Wednesday night he was preparing for an eventful evening at the Silver Dollar – later known as the Phyrst – when his mother called.
She urged him to attend an LSAT exam offering the next morning. "I know you're not signed up, but if you get there really early, you can get on their wait list and walk in," she says.
"Mom, it's nickel beer night!" he told her.
Tuttle credits his career to his mother's benevolent pressure. "So, I go to nickel beer night and I'm halfhearted into that because I feel guilty," he says. "I wake up without setting an alarm clock at 6 in the morning and I make my way over there in shorts and a T-shirt. I was No. 6 on the list. They took seven walk-ins."
Tuttle aced the test on the first try and ended up going to law school. He has practiced general civil law for the past 35 years.
It was law school that brought Tuttle back home in 1980, and he picked up where he left off with his hobbies at Stiltsville. In 1985, he got his big break to buy into one of the stilt houses that was owned by five of his friends – one of whom was moving to North Carolina. Tuttle jumped at the opportunity to buy the one-fifth share. With the hearty consent of the other four owners, the sale was approved and Tuttle became a card-carrying member of his favorite community for a cost under five figures. Unlimited access was now his to be enjoyed.
Then Andrew hit.
Amid the catastrophic damage across the state, Stiltsville was devastated. Of the 19 existing structures, only seven survived the 1992 hurricane. Tuttle's house was not one of them.
"It could not have hit Stiltsville any harder," he says. Based on tidal surge estimations, Tuttle believes some of the houses were completely underwater.
Ironically, the destruction may have helped the longevity of Stiltsville, as caretakers of the surviving houses learned important adjustments necessary to strengthen the houses to withstand future storms. "Darwin, all over again," Tuttle says. "Natural selection, the survival of the fittest. The seven houses that remained are all much more structurally sound."
Jimmy Ellenburg, an old man known as the mayor of Stiltsville, identified Tuttle as a good heir to his iconic house, referred to simply as "The Ellenburg House." Once Tuttle and company completed the repairs, Ellenburg transferred his interest in the house. Tuttle remains the primary caretaker to this day.
Despite fierce winds and torrential downpours, hurricanes were not the greatest threat facing Stiltsville heading into the new millennium. The federal government was. Since the boundaries of Biscayne National Park were extended in 1985, the houses were now resting in an area protected by the U.S. Department of the Interior. However, the lease agreements signed with the state of Florida were still intact, so Stiltsville maintained legal standing.
As the looming 1999 expiration date approached, the writing was on the wall for Stiltsville. National Park Service officials decided structural upkeep was too expensive and private access to the homes was unreasonable.
The Stiltsville leadership went to the drawing board, drafting solutions while galvanizing support. They made an invaluable political ally in U.S. Rep. Ileana Ros-Lehtinen, who guided them through endless political gymnastics. A petition to preserve the houses began, ultimately accumulating nearly 75,000 signatures. Tuttle flew to Washington, D.C., to make his appeal, seeking to educate the bureaucrats on Stiltsville's cultural and historical significance to the local community. A bill to redraw the park boundaries failed, as did a campaign to add Stiltsville to the National Register of Historic Places.
Despite the public resistance, in 1998 the National Park Service ordered demolition of the houses upon conclusion of the existing state leases. Tuttle reluctantly played his final card, filing a lawsuit against the Department of the Interior.
"I did so regrettably, but we were at Defcon 5," Tuttle says. Just days before eviction, a federal judge blocked the demolition and both sides returned to the war room. National and local news outlets covered the back-and-forth, increasing both tension and publicity. Eventually, the park superintendent called Tuttle and asked to speak to him in person, alone.
"I get behind closed doors with this guy and he says, 'Listen to me. I have a great big place in my heart for Stiltsville,'" Tuttle says. "His bosses were putting pressure on him and they called the shots. I say, 'I understand the bureaucracy. I fully appreciate the argument: How is it that one small group of people can hold the keys to locks on structures inside of a national park? I get all that. But Stiltsville is different, and we have to find the right answer.'"
During the extended negotiations, the light bulb finally went off. Since the park could not offer official leases, nor afford to provide requisite maintenance for the structures, Tuttle suggested a change in phrasing. Instead of leases, the department entered into a Memorandum of Understanding with the new Stiltsville Trust Inc., a 501(c)(3) nonprofit.
Essentially, the compromise was this: The houses would not be demolished, unless damaged more than 50 percent, with the cost and responsibility for upkeep or repairs falling on the private means of the seven individual caretakers assigned by the Stiltsville Trust. Additionally, the houses would now be open to the public through special permission from the Stiltsville Trust and on occasion of the park. Functioning practically like a lease, the Memorandum of Understanding was legally unique.
After signing the official papers in 2005, Tuttle says, he received letters, calls and emails from roughly 200 lawyers across the country asking to review the documents. Now commonplace, a park representative told him this groundbreaking partnership of private funds utilized in a national park was unprecedented at the time.
"They used this sort of like a cookie cutter around the country," he says.
Once in an embittered relationship, Stiltsville and the National Park Service now share a mutual appreciation. The houses provide additional tourism and intrigue to the park, functioning as a microcosm of a developmental epoch in Miami's history and epitomizing the spirit of resolve that marks its residents.
"I think Stiltsville is a part of Miami's history, just like the Orange Bowl, Marine Stadium and the Freedom Tower," Rodriguez says. "Sadly, we lost the Orange Bowl, but we don't want to lose other iconic locations."
While hurricane season brings annual concern, the Stiltsville Trust chairman is optimistic. "I believe in my lifetime there will always be a structure there, at least for the next 20 to 30 years or so," Mase says. "Stiltsville's presence in Miami is somewhat folklore. It's part of the skyline, of all things. Even with it gone, there would be enough history to tell the story and have it part of the memories of this community."
Tuttle says he gets around 300 calls after every hurricane, from people wanting to check on the state of the houses. He knows they cannot last forever, so he continues to spread the word and share the experience with all who inquire.
"I always say there's nothing more 'Florida' than Stiltsville," he says. "You don't have to own a stilt house, you don't have to ever get an invite or set foot on one to enjoy them, and to appreciate how beautiful they are."