By Gerald Ensley (B.A. '80)
How Mike Martin won more games than any other coach in college baseball history.
If Tallahassee Community College had not given up basketball in 1971, Mike Martin might have entered the North Carolina Sports Hall of Fame this spring as a basketball coach.
Or if Martin had not been golf buddies with major league baseball player Woody Woodward, the only record Martin might own now might be "longest-serving teacher in the Leon County school system."
But because TCC did, and because he and Woody were, Mike Martin this spring became the winningest coach in NCAA Division I college baseball.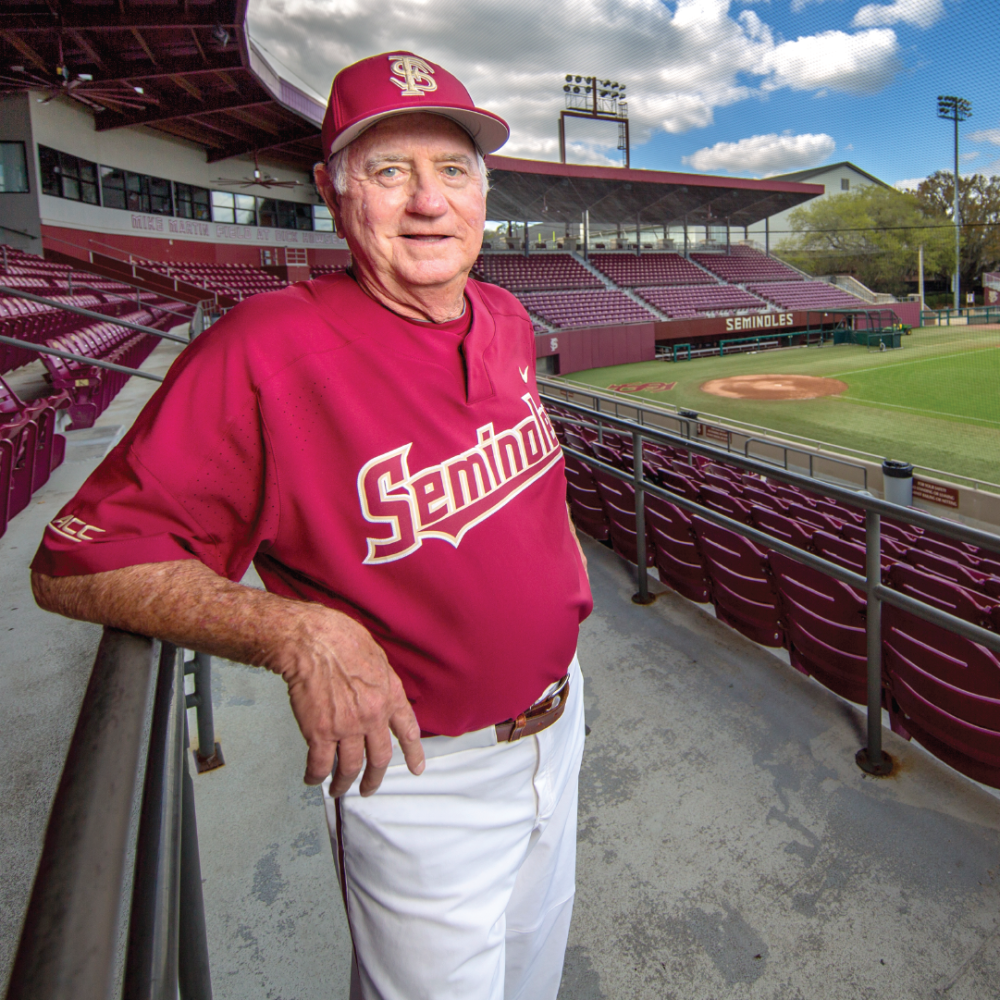 On May 5, with the nation watching, Martin led FSU in a hard-fought 3-2 defeat of Clemson to earn his 1,976th career victory, breaking Augie Garrido's record.
After nine innings, the Seminoles and Tigers were tied 2-2. Both teams went scoreless in the next three innings. Then, at the top of the 13th, Martin got the break he was looking for. Senior outfielder Steven Wells hit a solo home run to give the Seminoles a 3-2 lead and the eventual win.
"It was a night I'll always remember because of the way our young men battled," said Martin, FSU's head baseball coach since 1980.
Surrounded by reporters after the game, Martin described his newly minted record as especially meaningful because every one of his 1,976 wins occurred while he was coaching at FSU. "The record means that, for a while – I don't know when it will be broken – but for a while, it's going to have Florida State's name as the first two words associated with it, and that's what means so much to me," he said. "Because Florida State is the university that gave me a chance to coach."
Pride of the Garinger Wildcats
Michael David Martin was born and raised in Charlotte, North Carolina. His father, Baine, sold chemicals used in textile mills; his mother, Elizabeth, was a homemaker. He was the youngest of three children.
Martin was a star athlete at Charlotte's Garinger High School. He was the Wildcats' center fielder and leading batter in baseball, top-scoring guard in basketball and backup quarterback in football.
One day during junior year, as he bent to get a drink of water from a two-nozzle school drinking fountain, he bumped heads with the other drinker: Carol Dellinger. Martin turned to apologize – and was dazzled by the pretty blond senior. He chatted her up and asked if she'd like to go on a date.
He invited her to his next basketball game. The two began dating and were married in June 1964. They have three children, four grandchildren and celebrated their 54th wedding anniversary this year.
"I had some pressure in my house (to date Martin): My father was a big sports enthusiast who knew all about Mike and was excited I was going to date him," Carol says. "But that wasn't the real reason. Mike was a big man on campus and a friendly, outgoing person. If he asked you out, you were going."
Martin went to Wingate Junior College, 30 miles east of Charlotte, on a basketball-baseball scholarship. He became a junior college All-America in baseball and all-conference in basketball.
His second season, the sharp-shooting Martin lit up the Davidson College freshman basketball team for a career-high 40 points. A few weeks later, Wingate played Davidson again. In the runway to the locker rooms stood legendary Davidson varsity basketball coach Lefty Driesell and his assistant coach, Terry Holland, later the head coach at Virginia. The two had come to scout Martin for a possible scholarship offer.
Martin missed his first seven shots and committed three early fouls. Before halftime, Driesell and Holland left.
"I knew then I wasn't going to be a basketball player," Martin says with a chuckle.
But he had a future in baseball.
Free out-of-state scholarship
Morris McHone, the former equipment manager at Davidson (later an FSU assistant basketball coach and NBA head coach), had taken the same job at FSU. McHone talked up Martin to FSU baseball coach Fred Hatfield, who invited Martin to join the Seminoles.
The Martins got married on a Saturday in Charlotte, spent the night in Columbia, South Carolina, and drove to Tallahassee the next day. After meeting with Hatfield, who offered him a full out-of-state tuition scholarship, the Martins headed off for their honeymoon. They stayed in an inexpensive motel on Panama City Beach, "So we could say we went to a resort on our honeymoon," Carol says.
"I thought I was hot stuff (to get a scholarship)," Martin says. "But when I started working at FSU, I learned they had an unlimited supply of out-of-state scholarships back then. Anyone could get one."
Martin opened like a house afire that 1965 season. The starting center fielder had eight hits in his first 15 at-bats, including a game-winning home run and a game-saving catch. A photo of Martin swinging a bat was on the front page of the Tallahassee Democrat sports section. In midseason, he was still leading the team with a .325 average, four homers and 17 RBIs.
Then, in a game at Clemson, Martin led off the eighth inning with FSU trailing 9-8. Trying to get on base, he let an inside pitch hit him on the left wrist. Though it hurt terribly, Martin went to first, watched as the next batter struck out, then was erased at second base when the third batter hit into a double play. When a teammate brought out his glove, Martin "could not for the life of me" pull his glove over a rapidly swelling left wrist.
His season was over, which left him "devastated" when FSU qualified for the College World Series for only its fourth time since beginning play in 1947.
The next Dean Smith?
Martin bounced back to have a great senior season, batting .373. But FSU lost in the NCAA playoffs and didn't earn a berth in the College World Series Martin spent three seasons in the minor leagues with the New York Mets and Detroit Tigers organizations. Though making the major leagues had been his goal, he realized it wasn't going to happen.
"I got in pro ball and saw how tough it was," he says. "You're competing with men from not only all over the nation but all over the world, some of whom were unbelievable." So Mike and Carol came back to Tallahassee. He landed a full-time job as teacher and basketball coach at Cobb Middle School, and she got a job with the state Department of Education.
For three seasons, Martin coached a juggernaut, as the hustling, pressing Cobb Cubs basketball team became the scourge of local middle schools. Martin coached an up-tempo game of fast breaks and pressing, man-to-man defense and racked up wins.
In 1970, he was hired to coach the inaugural Tallahassee Community College basketball team – surely becoming one of the first coaches to leap from junior high to junior college.
Unfortunately, the Eagles played poorly and many players didn't go to class. By the end of the season, Martin had only eight players still eligible, and TCC President Fred Turner decided the young school wasn't ready for athletics. So he discontinued the program, which remained dormant until 1990.
Martin was hired as the boys basketball coach at Godby High. From 1971 to 1974, he led the Cougars to three winning seasons. And he began entertaining visions of moving up the coaching ladder – in basketball.
Then Woody Woodward called.
$2,000 a year
Woodward had been an All-American shortstop at FSU and the second FSU player drafted by major league baseball (1963), behind Dick Howser (1958). Woodward was still in the major leagues but was back at FSU working on a master's degree. Martin and Woodward became friends and started playing a lot of golf together, especially after Woodward retired from baseball in 1971 and returned to Tallahassee as a vice president with the Winewood Corp. One day in 1974, while playing golf, Woodward told Martin that FSU President Stanley Marshall was thinking of hiring Woodward as FSU's baseball coach for the 1975 season.
Martin surprised himself by blurting out, "If you get hired as head coach, I'll go with you and help."
"When I said it, I wasn't sure I meant it," Martin says. "I was happy at Godby and I knew what (the change) would entail."
As it turned out, Woodward called the very next day: Marshall had offered him the job. So Martin became FSU's first full-time assistant baseball coach, in a program that had played its first 18 seasons without one.
The job paid only $2,000 a year, and he had to quit coaching Godby basketball. He returned to Cobb Middle School as a physical education teacher, and had to use his leave time whenever FSU went on the road.
But Martin never looked back. "Obviously," he says, "it changed my life."
The birth of 'Eleven'
Woodward said Martin was his first choice.
"I knew Mike and I had watched him coach basketball: His energy and his enthusiasm in coaching were just off the charts," he says. "Plus, I knew he had played baseball at FSU and in the minor leagues, so he knew the game. When you can bring in someone who knows the game, you know you can turn over some aspects of coaching to him.
"I took the infielders and pitchers; Mike took the outfielders and catching; and we both worked the hitters. I didn't have to check on him; his work was A-plus."
In those days, FSU baseball operated on a shoestring. After practice, Martin and Woodward had to count baseballs to make sure they'd all been returned. The team traveled by bus. The outfield "wall" was a chain-link fence. The press box was a six-seat wooden shed on top of the FSU dugout. The backstop was lined with chicken wire to catch foul tips.
And FSU had only two sets of uniforms: white (home) and gray (road).
"Today, I can name you seven combinations (of FSU uniforms) without even trying," says Martin, whose team now has eight types of jerseys and five types of pants, yielding dozens of combinations.
That paucity of uniforms led to Martin's famous nickname, used by everyone from players to fans to umpires to small children: "Eleven," which has been his uniform number at FSU for 43 years.
His number in high school and college was 15. But when he became an assistant coach, he was relegated to whatever number the players didn't take. When his turn came, all that remained was No. 11.
On the second or third day of fall practice his first year, he was hitting fly balls to the outfielders when player Jim Busby called out, "Hey, Eleven, when are we going to hit?"
"That was the first time I'd been referred to as 'Eleven,'" Martin says, "and it stuck."
Woodward to Howser to Martin
After the 1978 season, when Woodward was enticed back to the major leagues as the assistant general manager for the Cincinnati Reds, he endorsed Martin as his successor. But FSU instead hired Dick Howser, who had played eight years in the major leagues after FSU and then spent 10 years as an assistant coach with the Yankees. Howser lived in Tallahassee during the off seasons and had become friends with Martin and Woodward. After he got the FSU job, Howser asked Martin to remain as assistant coach.
A year later, 1979, Howser returned to the major leagues as manager of the Yankees for one season, before taking over the Kansas City Royals and leading them to their first World Series title in 1985. Howser died of brain cancer in 1987, and FSU named its baseball stadium for him in 1988.
When Howser returned to the major leagues, FSU tapped Martin. Thirty-nine seasons later, he's still the coach.
"I never dreamed of being the baseball coach at FSU; I was happy in my role as the assistant," Martin says. "It's all been a blessing."
More to life than Omaha
By most measures, Martin has done a tremendous job as FSU head coach.
His teams have had 24 50-win seasons and 38 40-win seasons. Under Martin, FSU has appeared in 38 straight NCAA regionals and won 19 conference championships (Metro and ACC).
He's produced 90 All-Americans, 19 first-round major league draft picks, eight National Player of the Year winners and four Golden Spikes winners – the baseball equivalent of football's Heisman Trophy.
Martin has taken FSU to 16 College World Series – a record that has become something of an albatross. FSU has never won a College World Series.
Annually, Martin is subjected to a barrage of criticism – either because he didn't get the Seminoles to the College World Series or he got them there and they didn't win.
Martin insists the criticism doesn't bother him.
"Nobody feels worse than I do when we don't succeed," Martin says. "But I always look at the criticism as, 'This is the job I chose to pursue, and criticism comes with it.'
"This day and age is no different than it was when I first started, with the exception that it's easier to get it out there because of social media. But I can remember people running up to the chicken wire (behind home plate) and screaming, 'What are you doing!'
"Thank goodness we have passionate fans who want FSU to be successful. I'm the same way. Not the critical part but the desire to be successful."
Martin claims the only talent he brings to coaching is a "competitive spirit." Woodward and others point to Martin's good planning, attention to detail and coaching flexibility: When he's had teams with lots of good hitters, he played for the big inning; when he's had pitching-dominated teams, he was a fan of the bunt, hit-and-run and stolen base. His personality has changed over the years, as Carol noted:
"He used to be a wildman on the field; he wanted to win and he pushed the boys to win."
But he has mellowed over the last 20 years. Part of it was a stronger embrace of his Methodist faith: "He was chasing a national championship so hard, it was to his detriment," Carol says. "He felt it wasn't in God's will to be a tyrant and head case."
Another factor was hiring his only son, Mike Jr., as an assistant coach in 1997. Mike Jr., who played for his father at FSU, is the team's head of recruiting and hitting coach – and has helped his father better deal with the pressures of coaching.
"He's adapted to the times; his ability to teach and play different styles is important," says Mike Jr. "One change I've seen is he is not as fiery, yelling and screaming. He's much more mellow. He takes time to explain things. I think that goes a long way with kids of any generation."
'I owe everything to Florida State'
In 2005, FSU's diamond was named Mike Martin Field at Dick Howser Stadium and he was inducted into the Florida Sports Hall of Fame. In 2007, he was inducted into the National College Baseball Coaches Hall of Fame. In 2012, he was selected the NCAA Coach of the Year. In May, he was inducted into the Hall of Fame of his native North Carolina.
His one-time $2,000 annual salary has grown to $577,000 and bonuses. He hasn't decided if 2018 is his final season.
In 2004, Martin was selected for the FSU Alumni Association's Bernard F. Sliger Award, which recognizes those who've contributed to the university's mission. In 2005, he was inducted into the Circle of Gold, which honors alumni and employees who represent FSU's tradition of excellence.
They're Martin's two most valued awards.
"(Those awards) are not about what you've done on the field but what you've contributed to the university," Carol says.
Indeed, Martin is a relentless cheerleader for all things FSU, and he shrugs off compliments about his record saying, "I owe everything to Florida State."
"I'm not going to say the record doesn't mean anything; everyone who works wants to achieve something that is a big challenge," he says. "But I wanted the record for Florida State. I want those who know college baseball to always say, 'Yeah, Mike Martin at Florida State' (holds the record).
"That's what excites me. And I truly mean that. Florida State is special."