By Kati Schardl (B.S. '77)
From the jungles of Panama to London's West End, FSU's long-standing International Programs have given generations of students the chance to see the world and discover themselves
Each year, Florida State University sends more than 2,000 students out into the world to study in one of its International Programs. Many have never traveled abroad before. Some have never traveled beyond their hometowns. Almost all return transformed by the experience.
A season of celebrations marking the anniversaries of International Programs' study centers abroad wraps up in fall 2017 with festivities in Tallahassee and encompasses events in London (45th anniversary in January 2016), Florence (50th anniversary in February 2016), Panama City (60th anniversary in March 2017) and Valencia (20th anniversary in June 2017).
"When International Programs began in 1957, we offered the opportunity for students to study in the heart of the Republic of Panama," said James Pitts, director of International Programs at FSU. "From there, our Florence program was established in 1966, followed shortly thereafter by our London program in 1971.
"Then in 1997 we started our Spain program. Today, we offer over 50 diverse programs in more than 20 locations around the world. We have shared the life-changing experience of studying abroad with over 30,000 students and hundreds of faculty. This year we are proud to celebrate 60 years as a nationally recognized leader in the field of international education."
Sally Karioth, assistant dean of FSU's College of Nursing, has been shepherding students in the London program since 1972. She has seen time and again how the experience changes her charges.
"They go from being citizens of Two Egg (a small community in the Florida Panhandle) to being citizens of the world," Karioth said.
"They learn about the world, and that teaches them about themselves. They are made to get out of their comfort zones and find that they are bright enough to try new things. They learn we're all in this together and that 'the others' are us. And they learn that all knowledge is transferable."
Karioth teaches a course called "Grief and Loss in British Culture" each year during the London summer program, and she also leads students on a whirlwind spring break session in Britain's capital. Her tutelage extends far beyond the classroom. Karioth requires students to attend theater performances and visit museums, as well as to navigate London's streets and mass transit system.
"A whole new world opens to them," she said. "It gives them cultural awareness, and it makes them curious."
Each IP student's story is unique, although some of the takeaways are universal. Here's what some FSU International Programs alumni had to say about their experiences.
Florentine 'mud angels'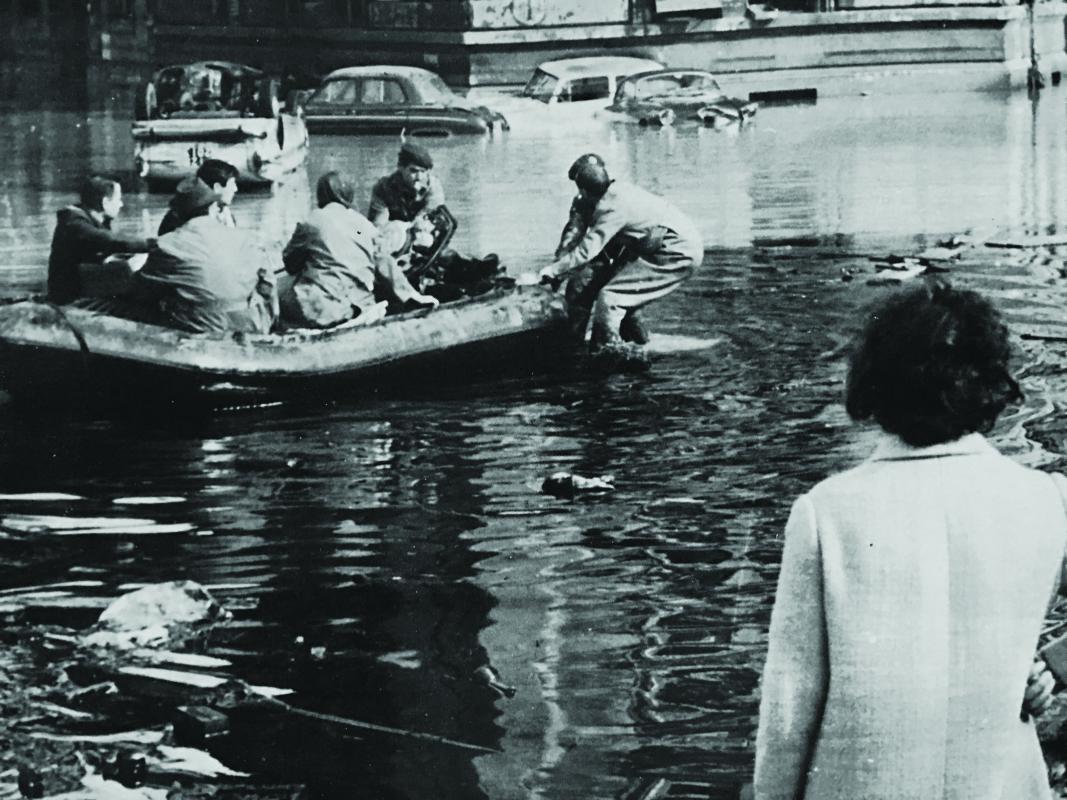 Doreen van Assenderp Cohen (B.A. '66, M.A. '68) grew up in Tallahassee. She chose to attend Florida State, where her father was a professor, for practical reasons — in-state tuition, quality of education and the resources to participate fully in campus life (she pledged Alpha Delta Pi sorority) and university activities.
In 1966, at the end of her senior year, the history and humanities major had been accepted into the master's program in library science at FSU. First, though, she flew to Florence, Italy, as part of the first group of students to attend the brand-new FSU Study Center.
She was responsible for the center's small library, great experience for her library sciences degree. What Cohen couldn't know when she left Tallahassee was that she would get hands-on experience saving historic books and manuscripts when the Arno River overflowed its banks in the worst flood Florence had seen since 1557.
Cohen and her fellow students pitched in to help after the waters receded. Some called the American students the "blue angels" because they showed up in Levis and sweat-shirts, but by the end of the first day they were "mud angels," covered from head to toe in yellow-brown muck. Some volunteered at art galleries, some at hospitals. Cohen reported for duty at the Biblioteca Nazionale.
"Being in Florence at the time of their historic flood was a unique and sobering experience," said Cohen, who now lives in Los Altos, California. "Being able to pitch in and help out gave us a connection to the community.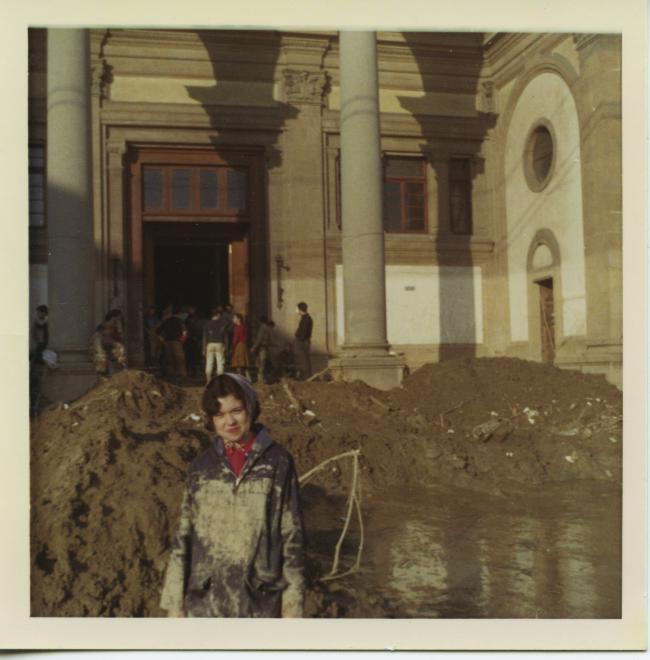 "It wasn't until I was back in Tallahassee in library science school that I learned more about protecting and preserving historical materials and understood more about the significance of the tragedies at the libraries and museums in Florence."
Cohen, now retired after 22 years working at NASA's Ames Research Center in Los Altos, cites her Florence experience as "life-changing."
"For me, the takeaway was a new sense of adventure that I would have going forward in my life," she said. "(Another) takeaway was a better understanding of and respect and tolerance for other cultures and ways of looking at things." Cohen's Florence experience continues to reverberate 50 years later. She and four others from that original 1966-67 group of students got to revisit the city when they attended the anniversary celebration for FSU-Firenze in February. They spent time sharing stories and catching up in between attending official festivities that included a banquet at the Palazzo Borghese, guided tours and other events.
"Most of what we remember occurred outside the classroom — in the streets, on the trains, on the ferries, finding our way around, trying new food in restaurants, attending concerts, operas and ballets in fabulous opera houses … taking risks and surviving it, discovering new academic and personal interests," she said.
The mini-reunion spurred an effort to track down as many of the original 128 students as possible for a more complete reunion that took place in November, with attendees staying at the original study center at the old Hotel Capri.
In addition, a compilation of the group's photos and memories, including updates on their lives since then, has been finalized and published on DigiNole, FSU's digital repository, at fsu.digital.flvc.org. To view the compilation, search for "FSU-Firenze 1966-67 Memories."
Forging a path in Panama
Lauren Stuart at a waterfall near Boquete, Panama.
Most university freshmen spend their first year at school adjusting to being away from home and learning to live in unfamiliar surroundings. The experience is amplified when that first year is spent in a foreign country.
Just ask Lauren Stuart (B.S. '16, B.S. '16), who graduated from FSU in spring 2016 with bachelor's degrees in meteorology and geography and has begun graduate studies in climate change and international development at the University of East Anglia in Norwich, England.
Stuart started her FSU career as a First Year Abroad student at the university's Panama City campus, the oldest FSU International Programs study center. The experience allowed the Tennessee native to save thousands of dollars on tuition, because FYA students who complete a year of studies abroad qualify for in-state tuition rates. It also helped her chart her future academic and professional course.
"Your freshman year of college is such a unique experience, and because I didn't know anyone who had ever done anything like this before, I really felt like I was forging my path," said Stuart. "My time in Panama ended up being so much more fulfilling and life-changing than I could ever have imagined."
Stuart chose to study in Panama because of the array of math and science classes offered at that campus. But the defining moments of the experience took place outside the classroom. One stood out in particular — a trip to visit an indigenous community in the jungle.
"The village was only accessible by boat, and at one point we had to climb out and push our dugout canoes because it hadn't rained in weeks and the water only reached our shins," Stuart said. "It was in this moment that I realized just how vulnerable underdeveloped communities are to weather and climate change, and (that's) what ultimately led me to study climate change and international development in graduate school."
Favorite memories from Panama include hanging out with housemates and live-streaming "The Bachelor," and hiking the mountains around the small town of Boquete.
"(Boquete) is at the base of Volcan Baru, which is the highest point in Panama, and the summit is the best place to see the Atlantic and Pacific oceans at once," Stuart said. "One of my favorite memories was hiking Volcan Baru in the middle of the night and watching the sun rise over the Atlantic and Pacific oceans from the summit."
Her experience in Panama helped Stuart set her course for life and continues to enrich her personal and academic life.
"Studying abroad allowed me to discover passions I never knew I had and helped me solidify my career goals," she said. "It gave me confidence to dream big and the skills I needed to achieve my goals. Even four years later, it amazes me how much the experience has influenced my life and how many doors it has opened."
From small town to big world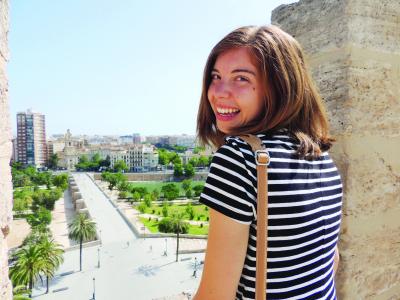 Although Samantha Arvin, a current FSU student, originally hails from the tiny town of Baker in Northwest Florida, she usually tells people she's from Destin, which is 45 minutes away.
"In Baker, we have one stoplight and a Taco Town, and a few years ago we were put on the map, so we're pretty proud of that," Arvin said.
Arvin spent the summer of 2015 at FSU's IP campus in Valencia, Spain, inspired by her mother to see the world. "Growing up, she always took us on family trips during the summer, so a love for travel is basically in my genetics," Arvin said. "I wanted something more than a tourist experience, however, and I wanted to know what it was like to live in another country."
"I really only expected to gain language skills while I was there, but my time (in Valencia) exceeded all of my expectations," she said. "Every day was an adventure, because everything I chose to do was able to push me outside my comfort zone.
"Every day we would go out of the classroom to talk to locals and get an ear for the language. One day, my teacher took us to the bullfighting ring and we sat in on an actual bullfighting class and watched locals my age being chased around the ring by a bull on wheels! While this was happening, we conversed with each other in Spanish about what we were seeing."
Standout experiences in Valencia included going out with flatmates in the evening to get gelato and watch the locals in the plaza.
"Also, Valencia likes to celebrate everything, and every Saturday night I sat by my kitchen window and watched fireworks going off over the Torres de Serranos (a historical monument close to the study center)," she said.
Although Arvin can't attend the March 2017 anniversary celebrations in Valencia, she loved her experience there so much that she now works as a student recruiter for IP. She's not sure what the future holds after her graduation in spring 2017 with a degree in communication science and disorders. But she knows travel will be part of it, thanks to her summer studying in Valencia.
"I learned so much about myself and the world," Arvin said. "I learned that the world is so much bigger than the little FSU bubble I had been in, and now I want to see all of it."
Friends for life in London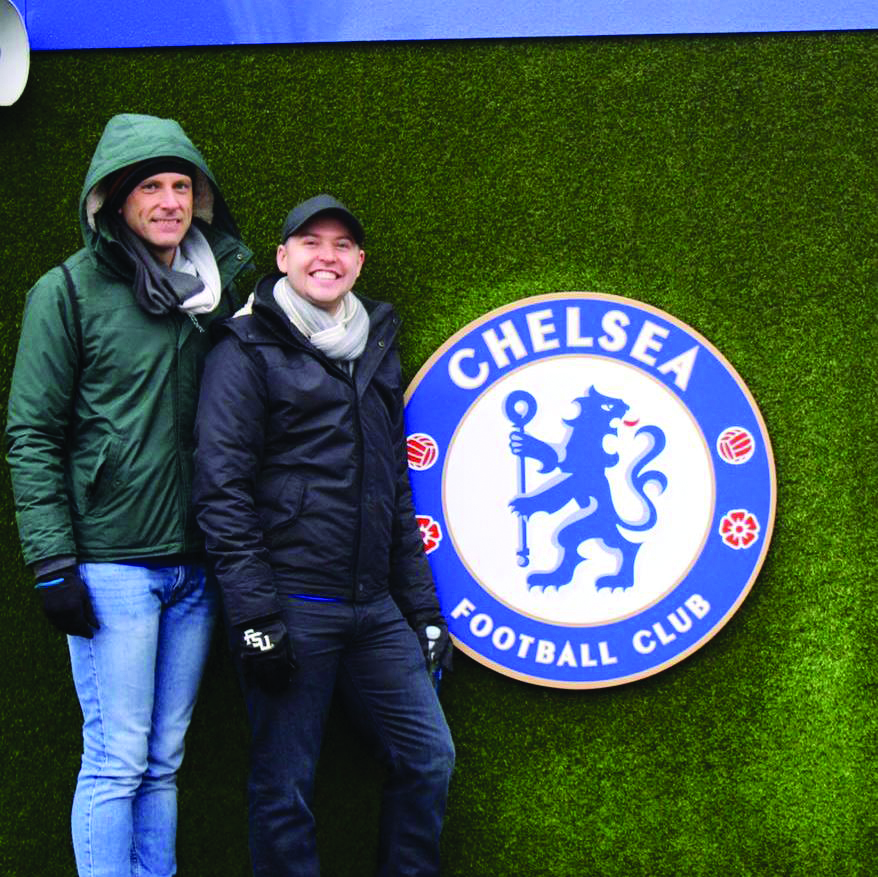 When Scott Wenger's husband, Chris, proposed to him, he told Scott (B.A. '09) he knew he would be marrying more than the man he loved. He'd be marrying the Flat — Scott's flatmates from his 2007 sojourn in FSU's London program.
"I lived in Flat 3 with seven other students, all in the theater program," said Scott, who graduated with a degree in theatre arts. "It couldn't have been more perfect. We rehearsed together, toured the city, saw a ridiculous amount of theater in the West End, sang 'The Golden Girls' theme song at Thanksgiving dinner at the study center, hosted a murder mystery dinner and traveled all over Europe.
"We learned so much about ourselves simply by learning about each other."
When the Wengers got the invitation for the London program's 45th anniversary celebration in January, both jumped at the chance to go.
"I saw the email and made a joke to my husband about how we should drop everything and head to London for the first time together (to attend) the anniversary program," Scott said. "We both laughed it off. A week later, Chris said, 'If we are going to go to London, we will need to start looking at flights.' I was floored, but ran with it!
"He told me that he knew marrying me meant marrying the Flat, so he figured he might as well see where it all began."
In London, the couple enjoyed anniversary festivities that included a dinner/celebration at the London Transportation Museum and day trips, including one to Chelsea Stadium on Chris' birthday (Chelsea is his favorite soccer team).
It reinforced Scott's appreciation for the greatest and most lasting takeaway from his experience in the London program — the lifelong friendships he formed with his flatmates.
"We have developed a bond that I learned during the anniversary program is quite rare," he said. "We have an open Facebook message where we constantly update each other on our lives. We try to have group vacations at least every two years. There have been two weddings so far where everyone was in attendance, and each had participants from the flat in the wedding party."
Scott went on to earn an MBA from Florida Institute of Technology and now works at North Florida Regional Medical Center in Gainesville as director of employer outreach services and company care. He said the seeds for his confidence and success were planted in Flat 3.
"This program showcases the epitome of FSU's dedication to education and the experience you can have while learning," he said. "If I have to summarize the program in one word, I would have to say 'epic'!"