By Gerald Ensley (B.A. '80)
Many baby boomers collected baseball cards growing up. And if their thoughtless mothers had not thrown them away while they were off at college, they'd still have hundreds of baseball cards – which surely would be worth thousands of dollars.
But Ron Hobbs (B.A. '62, M.S. '67) really collected baseball cards. Hobbs has hundreds of thousands of cards worth many thousands of dollars.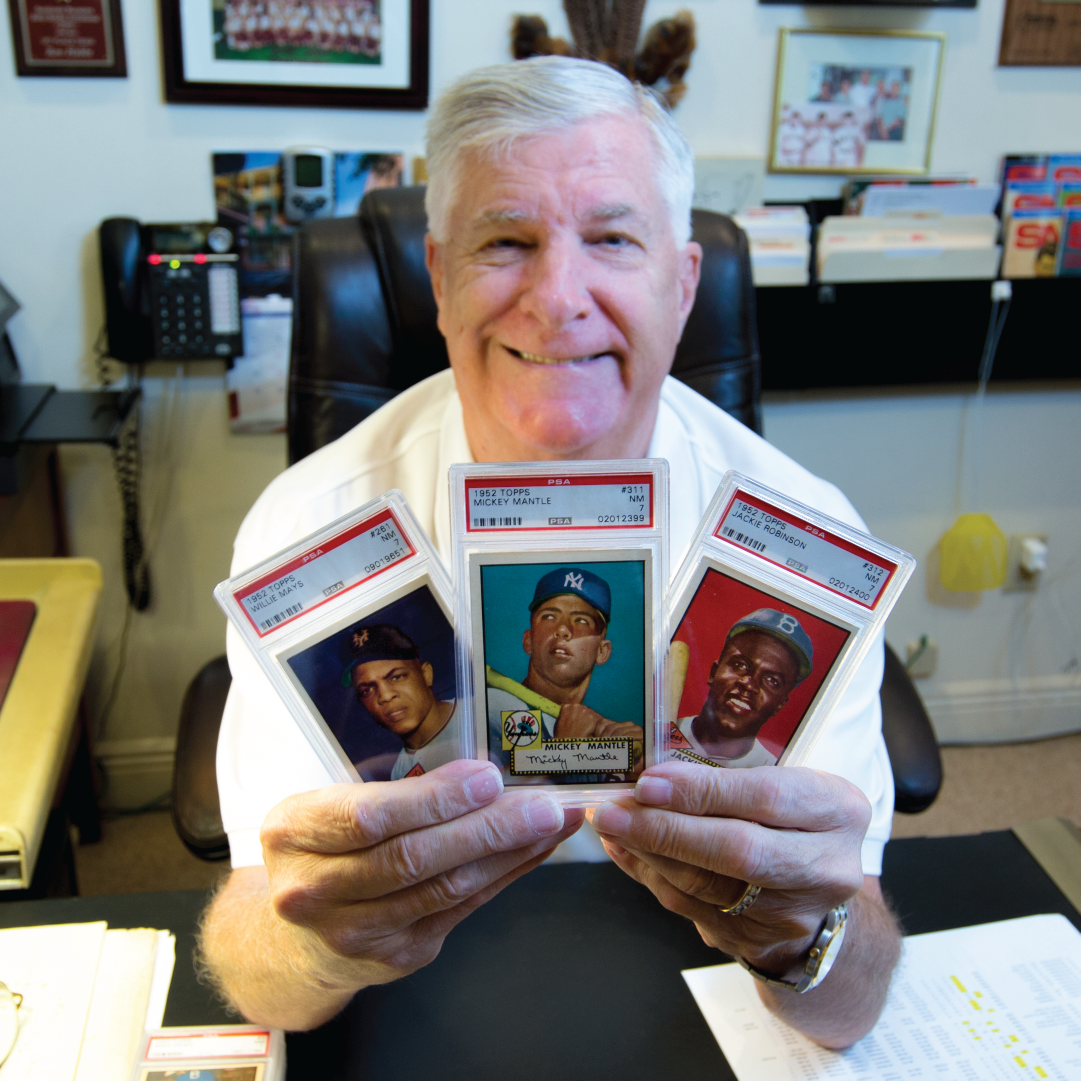 Hobbs, 77, grew up collecting "flip cards" – the term for baseball cards back in the day when they were used to "flip" in children's gambling games, and as noisemakers ("flick-flick-flick") in bicycle spokes. He has only a few of his childhood cards, which are nearly worthless today because of the abuse they took being flipped and tossed on sidewalks.
But in 1988, following his first "retirement" as co-owner of a northern Virginia technology company, Hobbs went looking for a different hobby. Until then, he was a stamp collector. But as the cost of stamp collecting escalated – a pair of 1912 stamps he wanted were $3,000 apiece – he turned to baseball cards.
A baseball card's value depends on the fame of the player – and the condition of the card. A California company, Professional Sports Authentication, is an official appraiser of baseball card conditions. PSA grades run from 1 (poor condition) to 10 (mint condition). Cards with a PSA of 7 or above are considered "investment grade."
Collection of baseball heroes
Hobbs' collection naturally includes some legends of FSU baseball, including these head coaches who also played in the major leagues: Danny Litwhiler, FSU's coach from 1955 to 1963; Fred "Scrap Iron" Hatfield, FSU's coach from 1964 to 1968; Woody Woodward, FSU's coach from 1975 to 1978; and Dick Howser, FSU's coach in 1979.
In addition, Hobbs owns four complete graded sets of Topps cards (1952, 1953, 1956 and 1969). He also owns a complete set of Play Ball Hall of Famers, a 52-card collection, issued in 1940. He has had complete graded sets of Topps from 1951 to 1969, but over the past several years he sold them to focus on the above four sets.
Among his holdings, Hobbs has an "active" collection of 13 complete sets of pre-1970 baseball cards, for which he continues buying, trading and trying to improve. A complete set consists of every card issued by a manufacturer in a given year, including duplicate cards to correct errors. Hobbs has 4,000 cards in that collection, with each card's condition a 7 or above.
His complete sets include eight years of Bowman cards (1948-1955). Bowman's was the major manufacturer of baseball cards until 1951, when Topps was founded and revolutionized the industry. The 1952 Topps set is the most sought-after in card collecting, in part because it includes the first Mickey Mantle cards printed by Topps. Hobbs has two 1952 Mantle cards, each worth more than $100,000.
Hobbs also has an "ungraded" collection of more than 250,000 post-1969 cards produced by later manufacturers (Fleer, Donruss, Upper Deck, Score, Panini, etc.), as well as Topps and Bowman (which was bought by Topps in 1956 but continued to issue cards). Some of his ungraded cards are still in the factory-sealed boxes. But many sets are indexed in plastic-pocket, three-ring binders.
The value of baseball cards began declining in the 1990s, with the proliferation of cards and the rise of the Internet. A once-booming card shop industry dwindled, and most business today is conducted online and at regional card shows.
Hobbs' sons, Brian (B.S. '03) and Reagan (B.S. '95), operate the family's longtime card shop, Collector's Attic in Tallahassee. Brian is a collector of all kinds of sports memorabilia; Reagan is the owner of SummerBrooke golf course. In addition, they operate Twin Action Properties, the real estate and development company started by Ron and his twin brother, Roger, in 1988.
For the Hobbs clan, the world of work, a hobby such as card collecting and a love for the garnet and gold is often a family affair. Ron's wife, Carolyn (B.A. '64), his brother Roger (B.A. '65, M.B.A. '70) and older sister Natalie Hill (B.S. '60) are all FSU alumni. And Ron's oldest granddaughter, Whitney Hobbs, is a current FSU student and is in her second year serving with the official bat girl organization of the FSU baseball team.
All about enjoying a hobby
Hobbs' Bowman collection is currently considered No. 1 in the nation, his 1952 Topps set is No. 4 and he figures, "Among active collectors, I'm in the top 10 for all of my sets."
His favorite cards are those of his childhood heroes, the Brooklyn Dodgers (especially center fielder Duke Snider) and the Boston Red Sox, for whom he was a batboy during spring training in Sarasota. Which is to say Hobbs doesn't collect cards for the fame or money. He's in it for the hobby. He loves searching for cards he needs to improve his collection: If he finds a card that is graded 8 and his best version is 7, he'll buy the 8 and sell the 7.
He loves creating notebooks to display his cards. And he enjoys bonding with his two sons and grandchildren as they attend card shows. "To me, money is no good if you don't do something with it. That's why I like philanthropy and collecting," he says. "Collecting baseball cards is my hobby."