By Gerald Ensley (B.A. '80)
Carol Marbin Miller, an award-winning journalist and advocate for open records laws, sheds light — and effects change — to help the most vulnerable Floridians
Carol Marbin Miller (B.S. '81) likes to say her journalism career was born during the Miami riots.
In May 1980, four Miami-Dade police officers were acquitted in the killing of Arthur McDuffie, a black motorcycle rider the cops had beaten to death the previous December after a high-speed chase.
They were acquitted of manslaughter and evidence tampering despite testimony that McDuffie had been subdued before the officers began beating him — and despite admissions that they had run over his motorcycle afterward to make his death look like an accident.
The acquittals infuriated Miami's black community, which erupted in riots for three days. Looting, fires and gunfire raged throughout neighborhoods such as Overtown and Liberty City. Fifteen people were killed and 188 injured. Gov. Bob Graham sent in 3,500 National Guard troops. Dade County was declared a federal disaster area.
Marbin, a junior at Florida State University, was transfixed. Home between spring and summer semesters, she stayed glued to the television news and read every story in the Miami Herald.
"I couldn't put it down or turn away," she said. "There were National Guardsmen in tanks on the streets of my hometown. It was so disturbing. I had never seen anything like it."
Back in Tallahassee a week later, she asked Steve Watkins, editor of FSU's independent Florida Flambeau student newspaper, if she could write a guest column about the riots. Watkins published her column — and was impressed by her writing. He asked her to join the paper, which she did, writing a weekly column on politics and culture until she graduated.
Thirty-five years later, at age 57, she is one of Florida's most celebrated investigative reporters. A Miami Herald reporter since 2000, Marbin — as she is commonly known — has become a tireless chronicler of abuses in Florida's social justice network.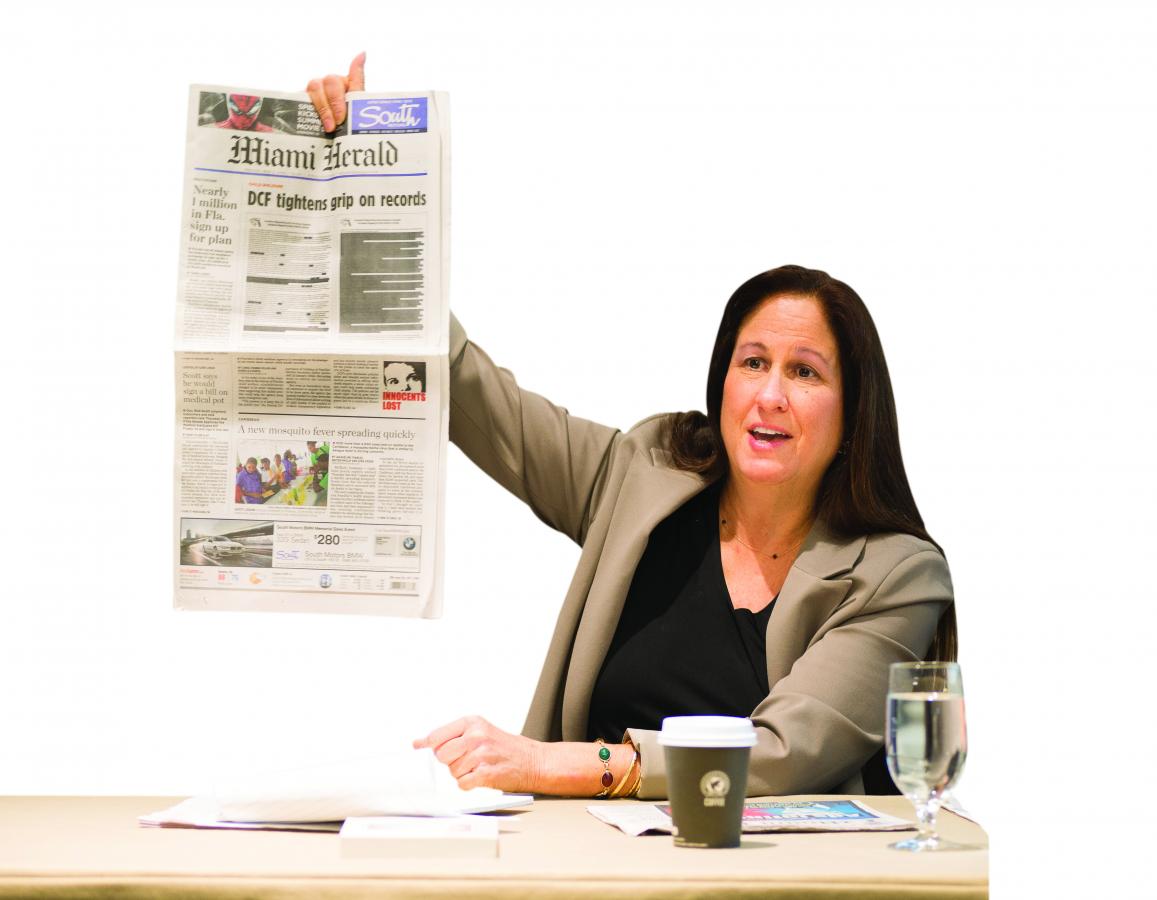 In March 2014, she and fellow Herald reporter Audra Burch collaborated on "Innocents Lost." The series detailed how, over a six-year span, about 500 children had died under the supervision of Florida's Department of Children and Families. The series earned numerous state and national journalism awards and led to major changes in Florida's child protection laws.
Over a career spanning six newspapers, Marbin has been a finalist for the Pulitzer Prize and has won innumerable awards for her investigative reporting — much of which also led to changes in Florida laws and policies. She has written about the lack of regulations for assisted-living facilities; the death of teenager Martin Lee Anderson in a Bay County boot camp; abuses of Florida's involuntary commitment law; the unethical practice of hospital patient brokering; the often shameful treatment of people with disabilities; and countless stories of child abuse and deaths.
Just as important, she has become one of the most ardent defenders of Florida's laws dictating open access to government documents and meetings.
Like two fellow FSU graduates, the late Gov. Reubin Askew (B.S. '51) and acclaimed reporter Martin Dyckman (B.A. '57), Marbin has become a champion of transparency in Florida government.
"Carol's drive and passion are almost unparalleled," said Casey Frank, investigations editor for the Herald. "She's got a tremendous grasp of Florida's public-records laws and how to use them to her advantage. She is a very strong reporter who will not be denied when trying to get at a story that needs to be told."
What also sets Marbin apart is her heart. She prowls the halls of Florida's social service agencies in search of answers and justice for the downtrodden. She brings to her efforts 30 years of dealing with Florida social agencies, as well as the compassion of a mother whose child has special needs.
"There is the mythos of the old, grizzled, super-cynical reporter — but Carol is not that kind of reporter," said Elizabeth Koh, a Washington, D.C., bureau reporter for McClatchy Newspapers, who worked at the Herald in 2015. "She knows her beat better than anyone else. But what comes across in her writing is that she cares. Despite how long she has been doing the job, she connects on a personal level."
FSU was the 'family business'
Marbin is a proud FSU alumna.
Her late parents, Roy and Sherry, were both Miami real estate agents, and Marbin's first job as a teenager was "working out of a trailer in a cow pasture," showing prospective customers models of condos.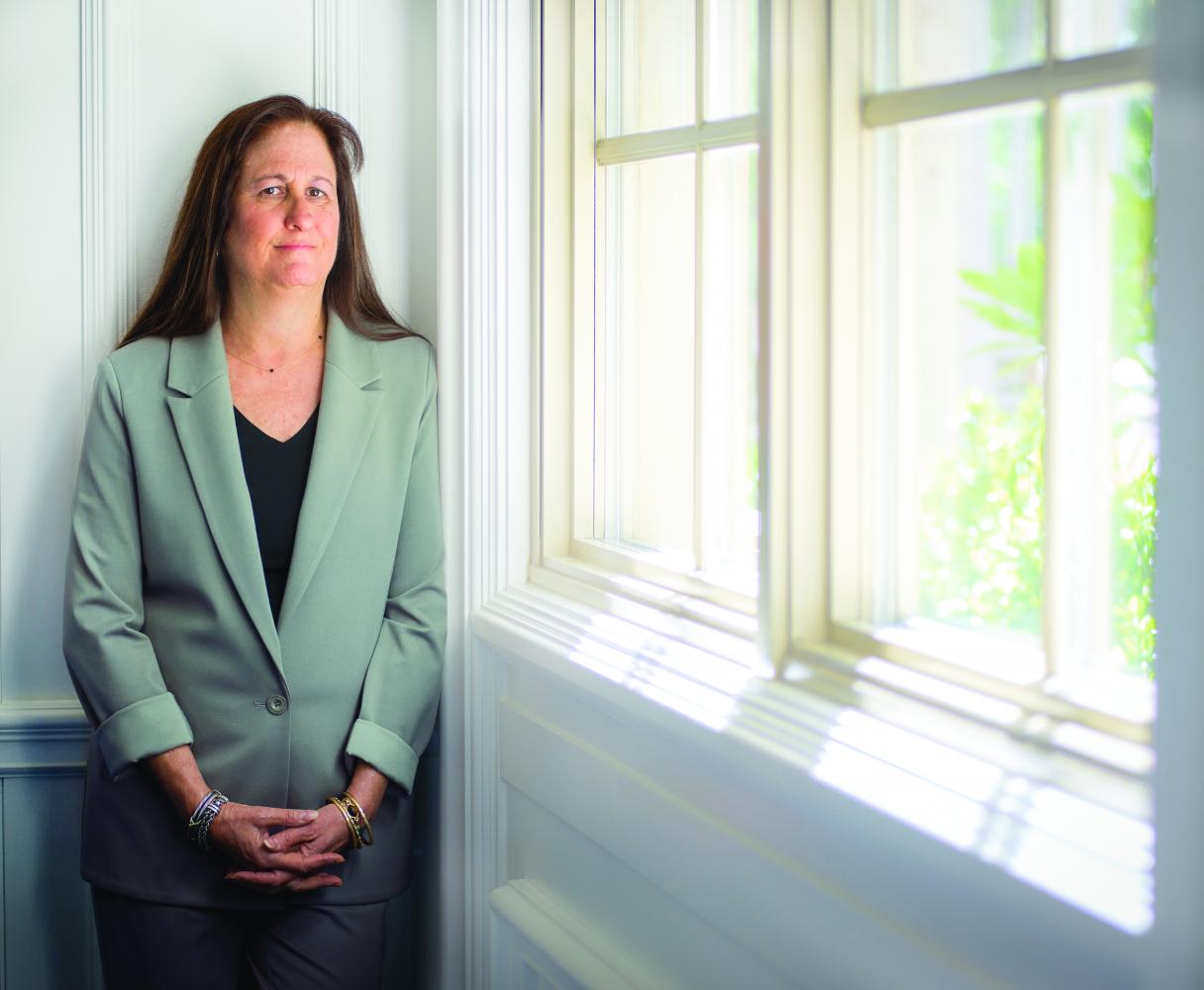 Her older brothers, David (B.S. '76) and Evan (B.A. '76), and a sister, Patty ('78), all attended FSU. So she enrolled after graduating from North Miami Beach High in 1977.
"There was never a question I was going to FSU," Marbin said. "Back in the day, even idiots like me could get into (University of) Florida. But I never thought about it. FSU was the family business."
She graduated in 1981 with a bachelor's degree in sociology and criminology. She had a vague idea she wanted to be a college professor and enrolled at the University of Chicago to pursue a doctorate in sociology. But she quickly discovered she had little taste for academic research and dropped out.
The next year, she enrolled in the Columbia School of Journalism, graduating in 1983 with a master's degree.
"I fell in love (with journalism) there and never looked back," she said.
Her first newspaper job was in Huntsville, Texas, headquarters of the Texas prison system. She spent several months covering prisons and once a week interviewing death row inmates, which was "absolutely fascinating." But tiny Huntsville, 70 miles north of Houston, was "not for me culturally."
She beat a retreat back to the Sunshine State, spending two years covering city government at the Boca Raton News. She jumped to the Herald in 1985 for an uncomfortable six-month stint covering three beats, before landing a job at the Palm Beach Post.
At the Post, she spent a "wonderful" five years covering courts. She covered the arrest of Panamanian dictator Manuel Noriega, the trial of Carlos Lehder Rivas and dozens of trials of major drug distributors during the heyday of South Florida's "Cocaine Cowboys."
But in 1990, she was offered a chance to join the St. Petersburg Times (rechristened the Tampa Bay Times in 2012), one of the nation's last privately owned newspapers. Though she was technically a beat writer covering social services, the Times gave her the opportunity to invest long periods of time in investigative reporting.
Her 1993 series, "The Patient Pipeline," revealed that Florida was rife with "patient brokers" — agents who took kickbacks for placing drug addicts and mentally ill patients in inappropriate treatment programs, often at state or federal expense. After her series, the state Legislature outlawed patient brokering. Within five years, about 50 people were convicted in federal court, including a sitting Ohio judge and a probation officer.
Marbin's 1995 series, "A Dangerous Age," uncovered widespread abuses in Florida's Baker Act, in which elderly patients were improperly committed to psychiatric hospitals by nursing homes and assisted-living facilities trying to shed the cost or aggravation of caring for them. After a series of hearings across the state, the Legislature tightened state regulations governing involuntary commitment, making it more difficult to hold frail elders against their will.
Though Marbin never goes into a story expecting it will elicit a change in public policy, dozens of her stories have done just that — by making the public aware of abuses.
"Shame is a very powerful tool," she said. "And in the course of doing this for 30 years, I came to discover you can produce significant and positive change just with the power of shame."
'Innocents Lost' revealed state failures in child protection
In the late 1990s, Marbin slipped her career into neutral to deal with family issues.
In 1996, two years after marrying former Times copy editor David Miller, she gave birth to the couple's only child. Their daughter, Laurel, suffered complications at birth that led to serious mental and developmental impairments. In 1998, Miller completed law school and began searching for a job.
The couple decided the best move would be back to Miami, where Miller's career options were better and Marbin's extended family could help care for a child with special needs.
She resigned from the Times and, unable to immediately land a job at the Herald, took a job for two years with the Daily Business Review in Fort Lauderdale, where she still managed to cover the occasional story about social services.
In 2000, a job finally opened at the Herald and Marbin returned to covering social service agencies full time. Five years ago, she was promoted to the four-person investigations team.
In that role, she has produced numerous, award-winning investigative series — though none as lauded as "Innocents Lost."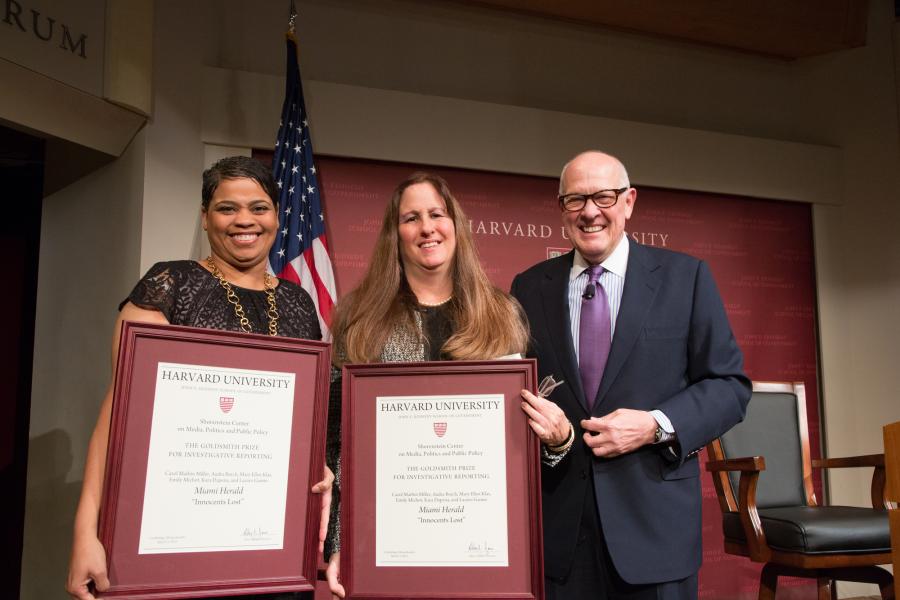 The March 2014 series detailed the sometimes shocking, always saddening ways in which the Florida Department of Children and Families failed children. Marbin and Burch investigated the deaths of about 500 children, each of whose families had been subject to at least one — and as many as 32 — investigations by DCF officials before they died at the hands of their parents or caregivers.
The series underlined the agency's lack of funding: Though the state budget tripled over the six years of study, the DCF budget was reduced in five of the six years.
DCF was also hamstrung by its marching orders: Keep children with their parents at all costs. In case after case, children who should have been placed under agency supervision or removed from the care of their parents — many of whom were drug addicts or violent felons — were returned to their parents. All of the youngsters subsequently died, even as other family members pleaded with DCF to remove them from the homes.
The series won awards for Marbin and Burch from the Associated Press Managing Editors, the Florida Society of Newspaper Editors and the Online News Association. Their awards from journalism schools and foundations at Harvard and the University of Southern California earned $80,000 in prize money.
Better, the series led to almost immediate changes. In May 2014, the Legislature overhauled Florida's child protection laws, increased DCF's budget and refocused DCF's mission.
"Lawmakers proclaimed that the life and safety of neglected and abused children was a higher right than the right of parents — which was a profound shift in philosophy that many thought was necessary," Marbin said. "The problem is DCF is so hidebound, so set in its ways, so underfunded, so understaffed, so undertrained, that the desired and promised reforms have not materialized."
Though Marbin said many investigative stories start with a tip, "Innocents Lost" was born out of her long career. She and Frank knew there was a problem with DCF's oversight of children and set out to detail the problems.
She enlisted Burch, calling her "one of the most gifted writers I know; I wanted her 'eye,' I wanted a partner I could learn from." The two women spent more than three years researching the series, while continuing to work on other stories.
"I guarantee Carol knows more about DCF than anyone working there, because she's been doing this a lot longer than anyone who works there," Frank said. "When anyone tries to give her information that is not entirely true, she has the experience to say, 'Let me explain how your agency works.' She understands their operation better than they do."
Coupled with that experience and passion is Marbin's kindness — honed by her experiences with her daughter, now 20. Though she rarely discussed her personal situation, she found the endless medical and personal challenges of caring for a special-needs child imbued her with empathy, patience and understanding when she needed to interview someone about personal trauma.
"Before, I pushed and pushed and that seldom worked," she said. "Now, when I need a person to talk, I say, 'I'd like you to talk and I think you'd benefit by it. But you think about it, and if you want to talk, call me back.' Many do talk to me; 20 years ago, they wouldn't have."
It is that compassion that most strikes Marbin's friends and co-workers. Diana Moskovitz spent seven years at the Herald and occasionally worked on stories with Marbin.
"There's not a week that goes by that I don't reach back to something Carol taught me," said Moskovitz, now a reporter for the website Deadspin in Los Angeles. "I always remember how open and honest she was with people (she interviewed). That's the thing people want from reporters … . She is so honest with them that they respect her. It's a passion with her."
A champion for public records
An equal passion of hers is Florida's public-records law. Marbin calls it the public's best safeguard against governmental abuses and the "most important tool in the toolbox of the investigative reporter."
She follows in the footsteps of Askew and Dyckman.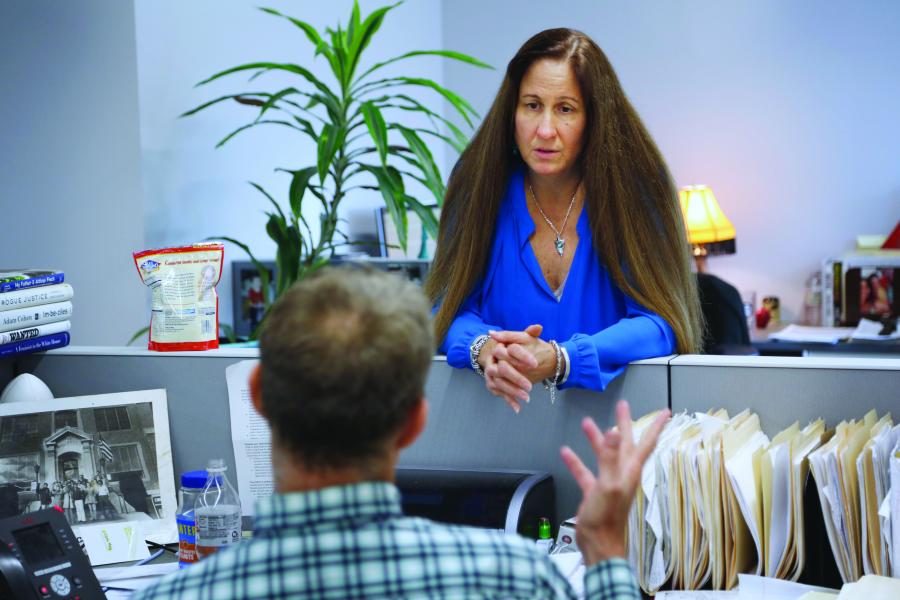 As governor, Askew spearheaded passage of the 1976 Sunshine Amendment, requiring public officials to disclose their financial interests when running for office. Askew was a state senator when Florida — which in 1909 became one of the first states to require that records be open — passed its most recent open-records laws in 1967.
"Askew wasn't in the same proactive league as (other state leaders) in regard to open meetings, but he was fierce for exposing the private financial dealings that might be conflicts of interest or worse," said Dyckman, author of the highly praised 2011 book "Reubin Askew and the Golden Age of Florida Politics." "He thought (financial disclosure) would restore public faith in government at a time when the (Florida) Supreme Court and Cabinet had been centers of scandal."
Dyckman spent 47 years as a prize-winning investigative reporter, editorial writer and columnist with the St. Petersburg Times. Renowned as one of the state's fiercest advocates of open records, the now-retired Dyckman said he "relied on public-records law so often that it is hard to come up with examples" of major stories that didn't rely on them.
"The work (Marbin) and her colleagues at the Herald have been doing vindicates the purpose and dramatizes the importance of having a powerful public-records law," said Dyckman, who became friends with Marbin when both were at the Times. "It is the nature of every bureaucrat and bureaucracy to bury their mistakes — often literally — and left to itself, government is all too unmotivated to expose them. That's what the press does, and it couldn't do it without a strong public-records law and news people like Carol, who are able and willing to go to court to enforce the law."
Unlike some reporters, Marbin delights in the tedious reading of hundreds of pages of documents to understand an issue.
"I love meetings. I love interviewing people and hearing their stories. But I also love reading records," she said. "To me, there is not much more gratifying than finding that stunning revelation that is the linchpin to your series. Now and again, as you're reading records, you're thunderstruck: 'Did they really write that?'"
Such revelations are happening less frequently, Marbin said, for three reasons.
Public officials are becoming far more cautious about what they say in documents and emails, knowing they might be read later by reporters. When she and Burch began "Innocents Lost," individual reports on abused children ran eight to 10 pages. Now, they are two to three pages and "say virtually nothing."
Another issue is the Legislature's constant attempt to water down Florida Statute Chapter 119, the public-records law, by creating exemptions for various agencies and meetings. Marbin said the Legislature is turning Chapter 119 into "Swiss cheese" because of all the holes in coverage.
Perhaps the most common threat to public-records access is the rising cost. Many agencies charge exorbitant fees to produce or copy existing records, knowing most newspapers cannot afford to either pay the fees or sue agencies to produce the records. Marbin said officials often spend meetings blatantly discussing "what (fee for public records) would be prohibitive; what do we have to charge to make reporters go away?"
In June, Marbin spoke at the Florida Society of News Editors' annual luncheon, where she won an award.
"The threat to investigative reporting has never been more acute," she said. "For too long, we've placed too little faith in the good citizens of Florida and too much faith in the lawmakers who often benefit from our silence. Voters have shown again and again they do not want to be governed in darkness."
Despite obfuscation by state agencies and rising costs, Marbin remains convinced that investigative reporting will not disappear — because reporters won't let it.
"If I ran a state agency, I would fill my ranks with retired reporters," she said, "because they are taught to think critically."
And none more so than Marbin. Frank said many Florida newspapers, including the Herald, are committed to paying the costs of fees and lawsuits for open access — to support reporters such as Marbin.
"She has people on notice that the law is the law and we are going to hold you to it," Frank said. "Though the state of Florida may drag its heels or raise prices in an effort to discourage stories in the public interest, I feel good with reporters like Carol around."