By Bill Edmonds (M.A. '96, Ph.D. '14)
Despite rough living conditions and the inconveniences of being far from home, FSU alumni fondly remember their life-changing service
It was late, 2 o'clock in the morning on an October day in 1960, and John F. Kennedy was tired after a day of campaigning, but the crowd at the University of Michigan was thousands strong, waiting to hear from the young senator running for president. So Kennedy climbed up some steps and gave brief remarks before heading to bed. In those few words, he launched an idea and a challenge that would become a defining part of his presidency.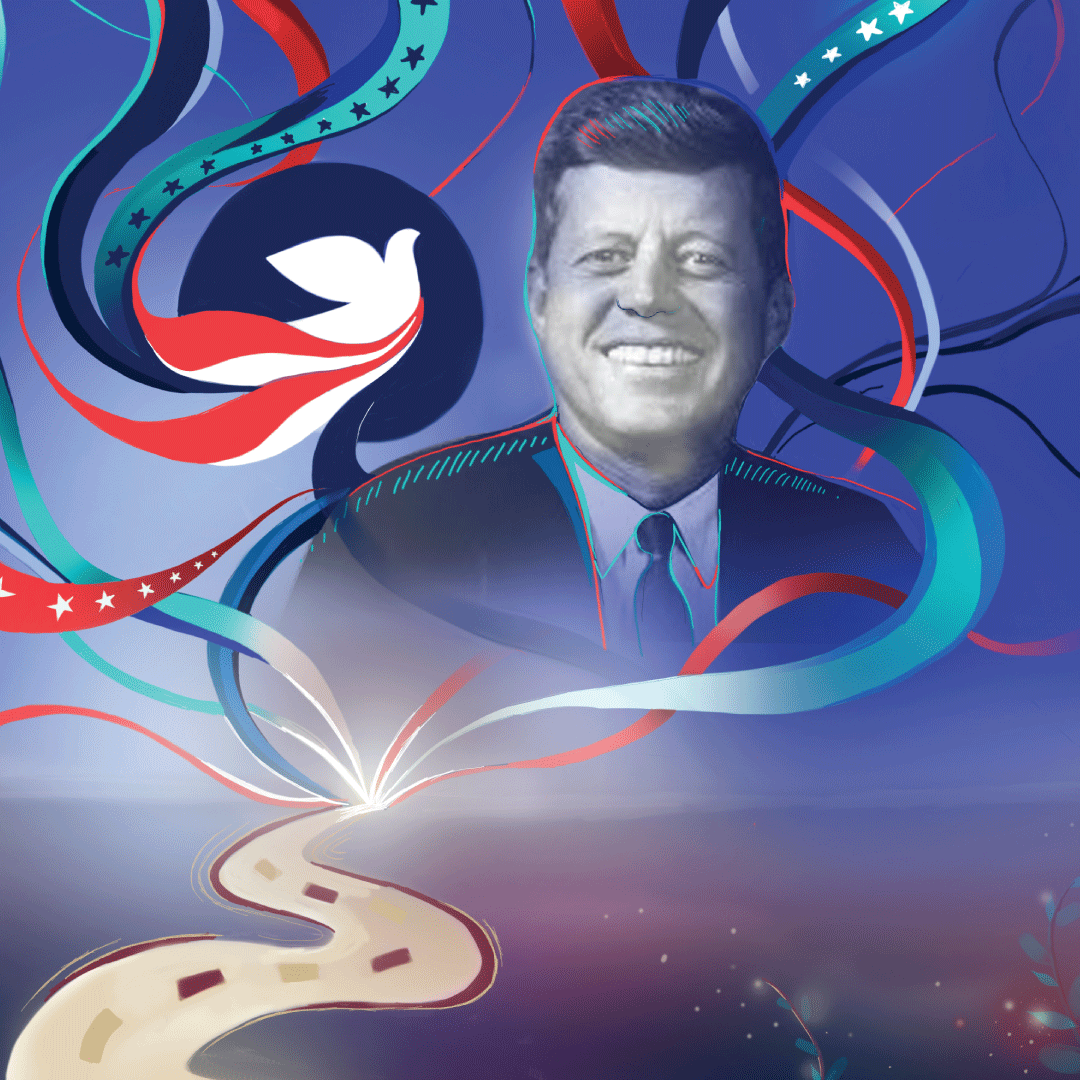 "How many of you who are going to be doctors," Kennedy asked the students, "are willing to spend your days in Ghana? Technicians or engineers, how many of you are willing to work in the Foreign Service and spend your lives traveling around the world? On your willingness to do that, not merely to serve one year or two years in the service, but on your willingness to contribute part of your life to this country, I think, will depend the answer whether a free society can compete. I think it can! And I think Americans are willing to contribute. But the effort must be far greater than we have ever made in the past."
The students cheered, Kennedy smiled, and so was born the idea of a Peace Corps. College students and Americans of all ages have been answering Kennedy's call to service ever since, and alumni of Florida State University have been many among them.
Kennedy, of course, won the election, and establishing the Peace Corps became an early priority. Within months of his taking office, his administration was enlisting young Americans. Each recruit received quick training – a hurried tour through the language of their destination country, some basics on the native culture, a course on safety and first aid – and with hearty pats on the back and plane tickets in hand, they were off to adventure and to do good.
Students at FSU and other colleges and universities across the country were captivated by this heady offer to explore a foreign land, meet interesting people and share American know-how. Many at FSU considered the possibility of volunteering, and some actually took the bold step, and they did so in no small numbers. Since the start of the Peace Corps in 1961, 858 FSU alumni have served.
Listening to FSU alumni tell their stories of Peace Corps service, what sound like deprivations and danger – riding Italian motorcycles in the blistering desert heat, fetching water with a bucket, witnessing a coup d'état, keeping an eye out for cobras, fighting dengue fever, catching the side-eye from CIA-wary locals, trying to get warm in mountain cold – are but colorful details of some of the greatest times of their lives.
ROY DOUTHITT, LIBYA
Roy Douthitt (Ph.D. '80) was one who heard the call. He was in high school when JFK, as Kennedy was called in the acronym-rich 1960s, got the Peace Corps established in one of the first acts of his short administration. "I remember Kennedy's speech," he said in a Skype conversation from Ho Chi Minh City (formerly Saigon), where he works for Singapore International Schools. "I graduated high school in '64, and I started following the Peace Corps very early." Douthitt watched the evocative Peace Corps public-service ads on TV, with the well-scrubbed men and women in khakis and T-shirts sinking wells for drinking water in dusty villages or teaching English and mathematics in dirt-floor classrooms, and he read the articles about these young goodwill ambassadors in Life, Look and other magazines.
While a student of international relations at Oklahoma State University he made the commitment, and in July of 1968 Douthitt found himself heading first to Tripoli, then to an isolated hamlet to teach English at two schools in the Libyan desert.
For Douthitt and many other volunteers, Peace Corps service was a form of escape. "I had an adventuresome spirit," he said, "and I wasn't interested in staying in Oklahoma." For some young men of his time – Douthitt signed up in 1968 – Peace Corps service was attractive for other reasons. "When I joined the Vietnam War was going on, and probably half the guys joined for a large extent to avoid the war," he said, adding, "I would have joined regardless, war or no war."
Each day in Libya, Douthitt gave a lesson to fifth-graders who before his arrival had heard not a word of English, and each day the students and the desert opened his eyes to life outside the American comfort zone.
"Some of those kids rode a donkey three miles to school every morning, and back home…," he recalled. "They were real Bedouins, living in tents, all of them."
To reach the students, Douthitt bumped along on a motorcycle – "we were riding 125 Moto Guzzis with a dirt-bike setup" – taking care not to lose his way on the sandy path. Once at school, he was a figure from another world. "In the first school, I had two or three kids who had seen foreigners and interacted with foreigners," he said. "When I walked into that second school, the one off the road, none of my students had ever seen a foreigner, and none of my students had ever heard the English language."
Life was unlike anything back in Oklahoma. There was no electricity, he pulled drinking water from a cistern, and there was just not a lot for a young man to do. "Take a walk around, read a book, you know," he said. Watching movies, shooting pool, drinking beer, like the guys back home? "Zero."
Did he meet any girls? "Oh, no," he said. "I never spoke to a woman. Women were very much behind the veil. If they saw you coming they would avoid you; they didn't know what to do and, of course, no one spoke English. Even if you went to Tripoli, the capital city, I don't recall ever talking to a Libyan female."
Nightlife meant going to bed early or visiting one of the few businesses. "We'd go down and sit in one of the very small shops and talk to the shopkeeper, with very, very basic communication skills. But he enjoyed talking to us, even though our Arabic was terrible, and he spoke no English. By the end of the year our language skills were beginning to improve, but of the three guys I was living with, none of us was born to be a linguist."
Douthitt's work was part of an effort by an education reformer in Libya to teach English earlier and more effectively. "It was a good plan," Douthitt said. "The only problem was [Muammar] Qaddafi came along and ended everything."
"I was in Tripoli when it occurred," Douthitt said of Qaddafi's bloodless coup against King Idris in September of 1969. "I had just gotten back from a summer holiday in Europe and hadn't gone back to the village. There were about six or seven of us hanging out at an apartment in Tripoli, on the third floor, and we could look out the window and see everything going on. 'The king was gone, we are going to be able to drink beer, there will be movie theaters' – this is the talk of the young people – 'finally Libya is going to open up, become a real country.' They had no idea what was coming."
Once in power, Qaddafi accused the young volunteers of being agents of the CIA and sent the Peace Corps packing. Douthitt returned to the United States and finished his two-year volunteer commitment with Teacher Corps, a now defunct program that placed educators in low-income areas. He taught in Appalachia.
Though his Peace Corps service was cut short, it made a big impression.
"If it hadn't been for the Peace Corps I wouldn't have gone into education," said Douthitt, who studied education at Western Carolina University and at American University in Cairo before earning his doctorate in international-intercultural development education at FSU. He has worked in education here and abroad ever since. "Definitely, it changed my life."
In his view, his service also changed the people he met in the desert. "In Libya, for people who only listened to Radio Cairo, who never heard the English language, here was this Martian, this moon-man, suddenly dropped down in their village, and they had to stop and think, 'Huh, this is a bigger world than what I've been living in.' That kind of thinking leads to other kinds of thinking ... and that kind of cognitive turnover moves mountains."
DEBORAH THOMAS, THAILAND
Deborah Thomas (B.A. '76) heard the Peace Corps call earlier than most. Clearly decisive as a young girl growing up in West Palm Beach, she chose FSU as her higher-education option at an early age. "When I was in, I don't know, maybe third or fourth grade, we drove through Tallahassee. I just fell in love with the city," she said from her home in Washington, D.C., where she retired after a career with the Peace Corps administration. "I knew I wanted to be a teacher, and Florida State had a good reputation for the education program, so I just decided that's where I was going to go. I didn't even apply to the University of Florida, I just applied to Florida State."
She was set on the Peace Corps, though, long before she strolled across Landis Green. "It's kind of hard to explain, because I think I was probably unusual as a child, as I knew I wanted to be a teacher and I knew I wanted to do Peace Corps," she said. "When I was in elementary school, I had already decided that was something I was going to do. And when I was in eighth grade, I called to Peace Corps Washington, and said, 'I want to join Peace Corps, and where are you placing most of your education volunteers and what language skills do I need?' I'm sure they were laughing at the other end of the phone, saying, 'Who is this crazy child?' They said most of their teaching positions were in Francophone Africa." So she studied French and was scheduled to go to Morocco, but a mix-up in her medical records delayed her departure too long. She was offered a position in Asia instead. "I really didn't know much about Thailand, but I said, 'OK.' And I loved it."
Thailand was nothing like Tallahassee. "It was just rice fields, as far as you could see," she said. "My house was on stilts, it looked out over rice fields, so you could see water buffalo in the afternoon and the morning, and the monks would come and ask for rice for food…. Certainly as a young woman it was very exotic, very different from anything I had ever experienced."
Though well versed in French, Thomas knew little of the Thai language, so right away she had to adjust and to learn. "The language was so different," she said. "It doesn't use the Roman alphabet, there are 44 characters, and it is a tonal language…. That was difficult, because I'm speaking like a kindergarten kid in this new language, and trying to get by, trying to be understood."
Thomas always was aware that she stood out, and that was something new. "One of the most valuable lessons I learned was what it was like to be a minority," she said. "I was in a very welcoming situation, where people were very kind to me and very nice. But I would also encounter, particularly drunk men, those who because of the Vietnam War thought I was a spy, and they hated Americans. It was really interesting realizing how much I stood out because of my appearance, and that I represented a whole country. That was an eye-opening experience, to be able to empathize with what it was like for immigrants coming to our country…. It was a shock."
Being a cultural outsider was not the only shock. "There were cobras," she said. "The men would go out every afternoon to shoot the cobras."
And one time, the cobras got personal. "I had a water jar that collected rainwater – that was my water supply – and you always had to keep it covered, because snakes would often get in there because it was cool and dark. One time I went to dip out a bucket of water to take upstairs for cooking and I guess I hadn't put the lid back on well, because there was a cobra inside. That was pretty terrifying."
Thomas took the cobra threat seriously, and she took steps to avoid other dangers, too, though not always successfully. Once, after returning from a trip to northern Thailand, she began to feel ill. She had dengue fever. "I got so weak and I was delirious, I couldn't really move, and everything ached," she said. "I realized I was in trouble. If I heard any noise I would get all of my strength to try and call out. At some point, somebody heard me…. I don't really know the details, because I was so out of it at that point, but they went and they found somebody with a car, and this person drove me to Bangkok, which was many hours away, and got me into a hospital. It saved my life. I don't even know who this was."
Cultural adjustments, cobras, dengue fever. Her service in Thailand doesn't sound like a good time, but Thomas says she thrived there and enjoyed the experience, enough to sign up for a third year, and more. Upon returning to the States, she taught briefly, at Orlando's Maynard Evans High School, before moving to Washington and starting a career with the Peace Corps administration.
And like other volunteers, Thomas said the Peace Corps shaped her for life. "It honed an independent streak I've always had," she said. "I really felt that I could handle most situations…. It made me stronger…. Anyone who is open to new experiences, who is willing to take risks, would enjoy it."
During the years since Thomas' Thai adventure, the Peace Corps has lost its grip on the American imagination, and no longer is it seen as the pure expression of America's role in the world. Today, many Americans have forgotten about the program, if they ever knew of it at all. The Peace Corps, though, continues to send volunteers around the globe, and FSU graduates are still taking part.
MERON DELDEBO, ARMENIA
"I was really blessed with a wonderful site, with people very welcoming and very hospitable," said recently returned Peace Corps volunteer Meron Deldebo (B.S. '13) of her experience in Armenia. "I really hit the jackpot. It was an amazing experience."
For Deldebo, who returned last November from two years of teaching English in the small nation between Turkey, Georgia and Azerbaijan, the Peace Corps remains an enduring part of her life. "Even now," she said, "I talk to my host mom and to my counterparts at least three times a week for at least 20 minutes at a time." While serving as a volunteer, she became fluent in the Armenian language. In August she started a job with the Peace Corps in Washington.
Of course, her time in the Peace Corps was not without challenges, such as her sometimes falling under suspicion. "Armenia and Russia have a very close relationship," she said, "so a lot of Armenians would see Americans and would assume the volunteers were spies." And the weather. "It was very cold."
Nevertheless, the benefits were undeniable. As with other volunteers, she enjoyed the pleasure of living in a new country. "Armenia is a very peculiar country, because it is so small but there is so much diversity, so much you can experience in one area…. It is very beautiful. There is a lot of nature, a lot of mountains, a lot of hiking to be done."
And there is, she said, the great satisfaction of making a difference. "The Peace Corps does a lot of good in Armenia, and all over the world…," she said. "After seeing firsthand the impact that you really can have, the kind of impact the Peace Corps had on communities, on the people, on students, seeing life changing right in front of you, makes you realize, 'Huh, maybe there is something to this.'"
FSU'S PEACE CORPS PREP AND COVERDELL FELLOWS PROGRAMS
Deldebo is not alone among new FSU alumni with an interest in the Peace Corps. Currently, there are 38 alumni serving abroad, and FSU is taking steps to keep that pipeline flowing. This summer, the College of Education and FSU's Learning Systems Institute announced a new Peace Corps Prep program designed to help students prepare for service, with targeted courses, hands-on experiences and assistance with applications. "FSU is among the top 25 universities in the United States supplying volunteers to the Peace Corps, and this program will help to expand that number," said Helen Boyle, associate professor of education and program coordinator of the Peace Corps Prep and herself a returned Peace Corps volunteer (she served in Morocco in 1987-1990). "This program is designed to prepare students for service in the education sector in Peace Corps, but students who wish to travel and work internationally in a variety of fields will benefit as well."
In addition, earlier this year the College of Social Work, in partnership with the Peace Corps, launched the Florida Paul D. Coverdell Fellows Program to provide financial assistance to returned volunteers pursuing a master's degree in social work at FSU.
FSU's work with the Peace Corps is worthwhile, said Jeffrey Ayala Milligan, professor of education and director of the Learning Systems Institute, because graduates can gain much from their service. "One of the best decisions I ever made," Milligan said of his own Peace Corps service in the Philippines (1985-1986). "It was really a turning point. Everything that I value today I can trace back to that experience. I didn't know that, didn't plan for that at the beginning, I was just going off on another adventure, but for me it was extremely important."
Among FSU's potential future volunteers is sophomore Karina Amalbert, who is planning to join the Peace Corps once she graduates with her degree in, well, she's not yet decided (she's eyeing anthropology). She's already in contact with FSU's Peace Corps recruiter, Jared Tirone (a volunteer in Mali, 2009-2011, and currently pursuing a master's in international and multicultural education), and she's also done Peace Corps-like volunteer work in Peru.
Amalbert was not aware of the Peace Corps until she heard volunteers in a discussion at The Globe on FSU's campus. "They were just talking about their experience, and how they went abroad, how they worked, and it was like, 'The world has just spun perfectly,' as it's everything I wanted to do…," Amalbert said. "You want to ship me off for two years to do what I want to do as a living anyways, and then come back and possibly pay for my master's? Sign me up!"