After getting their start as FSU students, three Orlando-area politicians – Orange County Mayor Teresa Jacobs (B.S. '81), Orange County Sheriff turned mayoral hopeful Jerry Demings (B.S. '80) and U.S. Rep. Val Demings (B.S. '79) – have been faithful public servants, gaining trust and getting rewarded at the ballot box.
"Look around. One out of three of you won't be here at the end of the year."
Those words, spoken almost 40 years ago now, still ring in Teresa Jacobs' mind as she sits at her desk as mayor of Orange County. "I remember hearing that speech they give all freshmen," said Jacobs (B.S. '81). "I hunkered down and was like, 'I am determined I am not going to be the one who gets kicked out of FSU.'"
Orange County Sheriff Jerry Demings (B.S. '80) and his wife, U.S. Rep. Val Demings (B.S. '79), were on Florida State's campus during that time as well, though they weren't freshmen. Jerry was living with his twin brother studying finance. Val was doing ride-alongs with FSU P.D. and majoring in criminology.
The three alumni never met while in school together, but they did meet at a school, more than a decade later. Their children attended the same elementary, middle and high schools together. They couldn't have known then that in 2017 Jacobs would be finishing her final term as mayor and Jerry would be campaigning to succeed her, with Val observing from her post on Capitol Hill.
All this would have surprised Jacobs at the time, of course, but hindsight has made her appreciate the unexpected. "I often tell people, 'I really believe in having a plan,'" she said. "Although when I look back on my life, all the things I've done that I really loved have never been part of that plan."
Val Demings may not have been able to predict the future, but her time at FSU made her confident it would be bright. "I remember feeling like I was a part of something bigger than me," she said. "And that 'something' wanted me to succeed."
• • •
In high school, Teresa Jacobs wasn't even thinking about going to college. While her parents wanted to see their children pursue higher education, she was more concerned with her part-time job as a veterinary technician. In fact, her parents' pleading may have turned her off to the idea. "If anything, I would say – and my mom would agree – I was just a very rebellious, independent-spirit teenager," she said. However, two years after graduating from high school, Jacobs got the itch to go get a degree, after seeing many of her friends' successes and subsequent opportunities.
Once on campus, she stumbled into one of the university's iconic traditions: the Flying High Circus. Her roommate was already in the circus and urged Jacobs to join, so she decided to give it a try. It wasn't long before she was ready to disappoint her parents once again with a new aspiration. "I think I scared my dad to death when, a year after being in the circus, I told him that when I graduated I wanted to join a professional circus," she said. "I know that was not why he was paying for my tuition."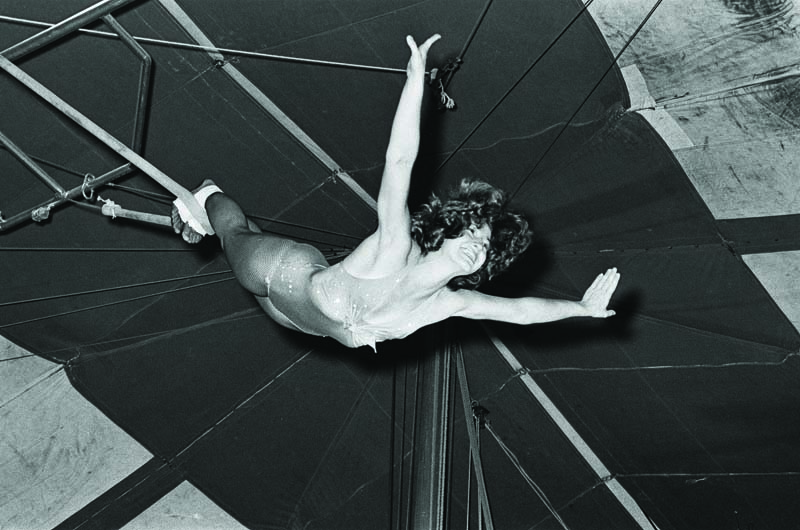 Ultimately, Jacobs laid aside the circus dream for a more ordinary career path, but her involvement led her to land her first job, in banking, as well as her husband, Bruce. Still, she believes the experience brought her more than just a spouse and a career. "I don't think I would've had the courage to run for mayor if I hadn't been in the circus," she said. "Some of the falls, and literally breaking my arm and recovering from that, formed strength and conviction and courage and discipline to work through difficult issues."
When Bruce's job led the family to Orlando in 1991, Jacobs was a full-time mother of three and pregnant with the couple's fourth child. She soon learned that the county intended to build a road that would run through the middle of the family's neighborhood.
After attending a homeowners association meeting and urging members to assemble a committee, she decided to lead the effort. Although the process of fundraising for private research, galvanizing subdivisions and drafting alternative proposals for presentation took over a year and resulted in defeat, it yielded an unexpected victory. Linda Chapin, mayor at the time, formed a new transportation planning division after Jacobs suggested the government seek community feedback before hiring consultants and engineers for future roadway renovations.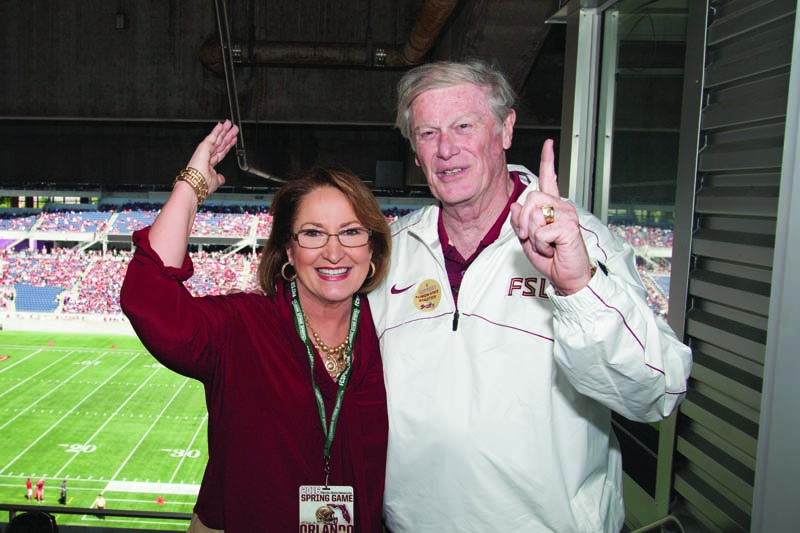 "For me, that was it. I was hooked," Jacobs said. "The fact that changes were made and future neighborhoods were dealing with government in an entirely different and more honest, open fashion was exhilarating."
Former U.S. Sen. Mel Martinez (B.A. '69, J.D. '73) instantly recognized Jacobs as an extraordinary citizen. "I think the first time I met her I was in the middle of a debate running for mayor and she asked a really nasty, tough question," he said. "So, I followed up with her afterward. I don't mean nasty – she wasn't rude, but it was a very poignant, difficult question. I was like, 'Who is that?'"
The two got lunch and Martinez was blown away by her intelligence and willingness to study the issues. They bonded as fellow FSU alumni, and Martinez remembers Jacobs flaunting the battle scar from her circus injury.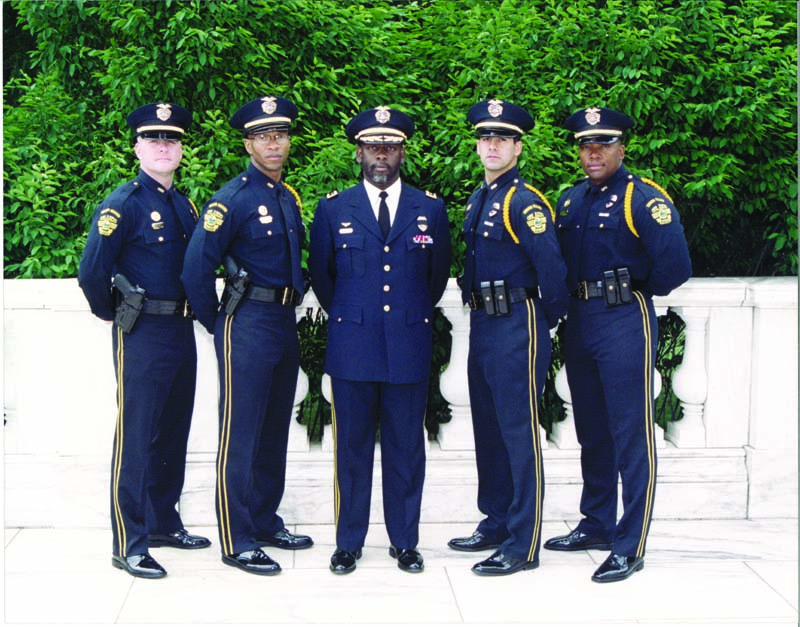 "Immediately it was clear to me that she was well informed and a real force in the community," he said. Martinez later encouraged Jacobs to run for county commission in 2000, adding that he would help her succeed against the incumbent Bob Freeman. Despite her disadvantages, Jacobs claimed a 68 percent victory. "She had that 'it' factor, not only combining smarts, but running for the right reasons," Martinez said.
Those same reasons led her to run for Orange County mayor in 2010, and her apparent smarts and "it" factor led her to claim 68 percent of the vote once again. Once in office she prioritized government transparency by inviting the public to speak on all issues and elevating the ethical standards for county employees. In 2015, she took aim at the opioid epidemic, creating a heroin task force co-chaired by Sheriff Demings.
Among the most exciting accomplishments during her tenure was the arrival of the Orlando City Soccer Club of the MLS and the Orlando Pride of the NWSL, both of whom play in the pristine Orlando City Stadium, which opened in February. Jacobs enjoys seeing the fanatical home crowd cheer on their team. "Forget the game, watch the fans," she said. "I say that only jokingly because I actually love soccer, but you could go there and do nothing but watch the crowd. That, in and of itself, is a show."
One of the county's most endearing achievements to Jacobs is the Dr. Phillips Center for Performing Arts. Located in the heart of downtown Orlando and completed in 2014, the project suffered multiple budget shortfalls, but Jacobs believes all the extra work and patience was worth the wait. "It's just absolutely phenomenal," she said. "It's become an iconic and incredibly warm part of our community."
"More than a building, or the performing arts center which she was so influential in this community getting, the more important legacy is her integrity," Martinez said. "She served with an honorable dedication that I think is exemplary of what people should be doing in public service."
While Jacobs will leave office next year, Martinez hopes she maintains a prominent position in the community in some capacity. "I could understand if she chooses to retire from it like I did, but the community would be better for her [continued] public service."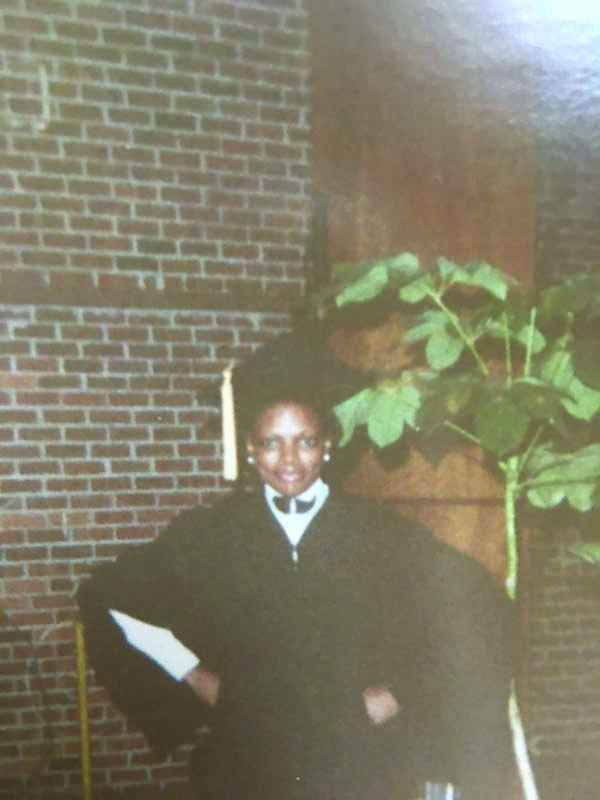 • • •
Long before Teresa Jacobs ever dreamed of making a difference in the Orange County community, Jerry Demings was growing up as a multisport athlete from a low-income family in Orlando. The only time he has ever lived elsewhere was during his undergraduate years at Florida State.
Demings' father drove a taxi and his mother was a maid. Neither went to college, but they were determined to make sure their children got an education. His mother also kept their children involved in church activities.
While those religious values took root in Demings at a young age, his older brother, Joseph Demings, strayed into consistent drug abuse, including heroin, which culminated in his death in 1999 at age 50. "It created a passion in me to work hard to rid our streets of drug traffickers," Demings said. "I have, now for 36 years, devoted a life of service to our community."
Demings and his twin brother, Terry Demings (B.S. '80), both attended FSU. Terry studied criminology and is a successful businessman in Orlando. Jerry chose to study finance and, after graduating, took an accounting job that brought him back to Orlando. Still, his passion for law and order drew him to apply for positions at the FBI, Secret Service and the FDIC, all of which were in a hiring freeze. During the interviewing process, a recruiter suggested he get some local law enforcement experience, improving his odds of getting a job once the freeze ended.
Demings had a friend who had already applied to the Orlando Police Academy, so he jumped on board as well. Starting out as a patrol officer, Demings worked his way up to serve as police chief from 1998 to 2002 – the first African-American to fill that role in the city of Orlando.
Perhaps due in part to his religious upbringing, Demings is known for his old-school persona. He speaks slowly but eloquently in a calm, measured Southern drawl. The sheriff may be quick to the crime scene, but according to his pastor, the Rev. Terrance Gray, he never rushes his words. "He's always thinking through," he said, "and when he does speak on an issue, he's speaking from a position of practical wisdom."
Gray believes Demings' roots, deeply entrenched in family and religious values, keep him from drifting as many do when power and success arrive. "When you start doing things, you can very easily bypass the route that got you there," he said. "He has not forgotten how he has achieved or succeeded." As an example, Gray pointed out that Demings still cuts his parents' grass – "which speaks volumes to the kind of humility, as well as the dedication, he has."
Those same values have made him a beloved sheriff since his election in 2008, and they help make him an attractive candidate for mayor in 2018. They also helped him win over the affections of his wife, Val, who initially determined to never date a fellow police officer. Eventually she relented, once she got to know Jerry.
"I wanted a man who was a man of faith, a man who was honorable, a man of integrity, a hard worker, like my dad, family first," she said. "Jerry had all of those qualities." They met when they shared a case on the police force. Initially, they had a sharp disagreement about how it should be handled. Professionalism prevailed and love won out in the end, though, and now they laugh about the memory.
• • •
Val Demings, like her husband, came from humble beginnings. Her father was a janitor and her mother was a maid. The couple raised their seven children in a two-bedroom home in Jacksonville. Despite being the youngest, Demings was the first in her family to graduate from college, studying criminology at FSU. As early as elementary school, she felt drawn to law enforcement, after being selected for school patrol. "It really was a position of honor. I could help people do what they were supposed to do and stay safe," she said. "I knew that I ultimately wanted to be in a position where I could help people. Every job that I've had as an adult had that capacity."
Once she started taking her criminology courses in college, Demings became fascinated by the psychology and sociology behind crime. "It's easy to believe that there are people who just make a decision in life to want to be good people or they want to be criminals," she said. "Now, there are some who fall into those categories, but it's not that simple. Crime, more times than not, is a byproduct of social ills in a community."
Upon graduating, she moved back to Jacksonville and took a job as a social worker. Demings remembers sitting at her desk one day, feeling particularly fed up with government bureaucracy at work, when she heard an advertisement from the Orlando Police Department announcing an upcoming recruitment in Jacksonville. She had considered pursuing law school or returning to Tallahassee to join the police department there, but opportunity knocked and she answered. "Orlando P.D. was just a little faster than Tallahassee, but you know things have a way of working out," she said.
Like her husband, she worked her way up the ranks, eventually becoming the first female chief of police in Orlando in 2007. Not surprisingly, they were the first couple to both serve as chief of police in the same agency. The crime-fighting spouses shared concurrent jurisdiction and a successful run in their respective roles when Jerry became sheriff in 2008. While they made it through scandal-free, it certainly wasn't stress-free. "When you have the sheriff and the chief in the same house, the phone rings all night long," Val said. "We'd look at each other and say, 'I hope it's for you.'"
Similar to Jacobs, Demings never saw herself entering the political realm. It took some coaxing and convincing from Orlando Mayor Buddy Dyer, who pitched her on the idea of running for Congress. "I initially thought that was the funniest thing I'd ever heard in my life," she said. "I said, 'I'm a cop, I'm a little rough around the edges. I mean what I say and I say what I mean. I don't think that would be a good thing.'"
Dyer talked her into a sit-down with some people in Washington, D.C., and the ball got rolling. The turning point for Demings came when she heard someone say, "One out of six children go to bed hungry every night in a country that we call the greatest in the world." She was determined to help change that, even if it meant stepping into an unfamiliar environment that wasn't conducive to her skills.
Demings was victorious in her 2016 bid to represent Florida's 10th Congressional District.
To her surprise, the transition has gone smoothly and proven to be more like her work in law enforcement than she anticipated. "Although I'm in a different city and a different position, being a member of the United States Congress is all about solving people's problems," she said. "While I don't put on a uniform every day, I'm still involved in improving the quality of life for people living in my community."
• • •
For three public servants dedicated to serving and protecting their community, virtually nothing could prove more devastating than the Pulse nightclub shooting on June 12, 2016.
After coming home from a local gala the preceding evening, Sheriff Demings began to decompress, excited about the next day. June 12 is his birthday. He had just gone to bed at 1:30 a.m. when he received a call from his watch commander, informing him of the situation. "Sheriff, this is bad," he said. Demings began to put on his uniform.
"I asked him what happened, as I always do," Val said. "Because when he responds out I know either a deputy has been seriously injured or it's something really bad."
Jacobs was sound asleep when she got the call. "It would've been difficult to process even if it had happened in the middle of the day, because of the magnitude of the issue," she said. "We were all watching the numbers coming in and just shocked to see them increase from 15 to 20, to maybe 22, to then suddenly a count of almost 50."
"Sheriff Demings and I worked closely together," Jacobs said. "We were both on the ground and present for pretty much every day the first full week." Campaigning for Congress at the time, Val Demings volunteered at the blood bank and offered her support for victims in various ways, wherever it was needed.
"We were forced to work across jurisdictional boundaries. Federal, state and local government authorities were able to work together," Sheriff Demings said. "I think we grew as a community, to be better for all people."
Martinez admires how Jacobs and Dyer put the community first in pursuing a common goal. "Oftentimes those situations can get competitive," he said. "They were working hand in glove. I honestly believe they made this community proud."
"I think the most important role as mayor at that time was to provide comfort and assurance to our LGBTQ community and Hispanic community, that they were not alone. That we were going to stand with them," Jacobs said. "And we did. I have never been more proud of the Orlando Orange County Community than I was in the hours, days and weeks that followed Pulse. Absolute unity and outpouring of support."
• • •
Mayor Jacobs and Sheriff Demings have worked together extensively over the past eight years, but Jacobs and Val Demings are more familiar with one another from interactions at their children's PTSA meetings and various other encounters. Still, their respect is mutual.
"The thing that I admire about her is what really got her into politics in the first place," Val said. "A lot of people will see a problem and sit on the sidelines and criticize the leaders that are dealing with the problem and really do nothing. She saw a problem in her community and she got in the arena to deal with that problem.
"She's not a sideline person." Which describes all three of them.