Celebration counts down nation's fastest-growing alumni-owned companies.
Drum roll, please.
The fastest-growing alumni-owned business in America is Blue Air Training. Owned by retired Air Force fighter pilot James "Chef" Barlow (B.S. '95), the company uses its privately owned air force to simulate combat air strikes to train the U.S. military's joint terminal attack controllers. And from 2013 to 2016, it grew at an astronomical rate of 3,748.07 percent.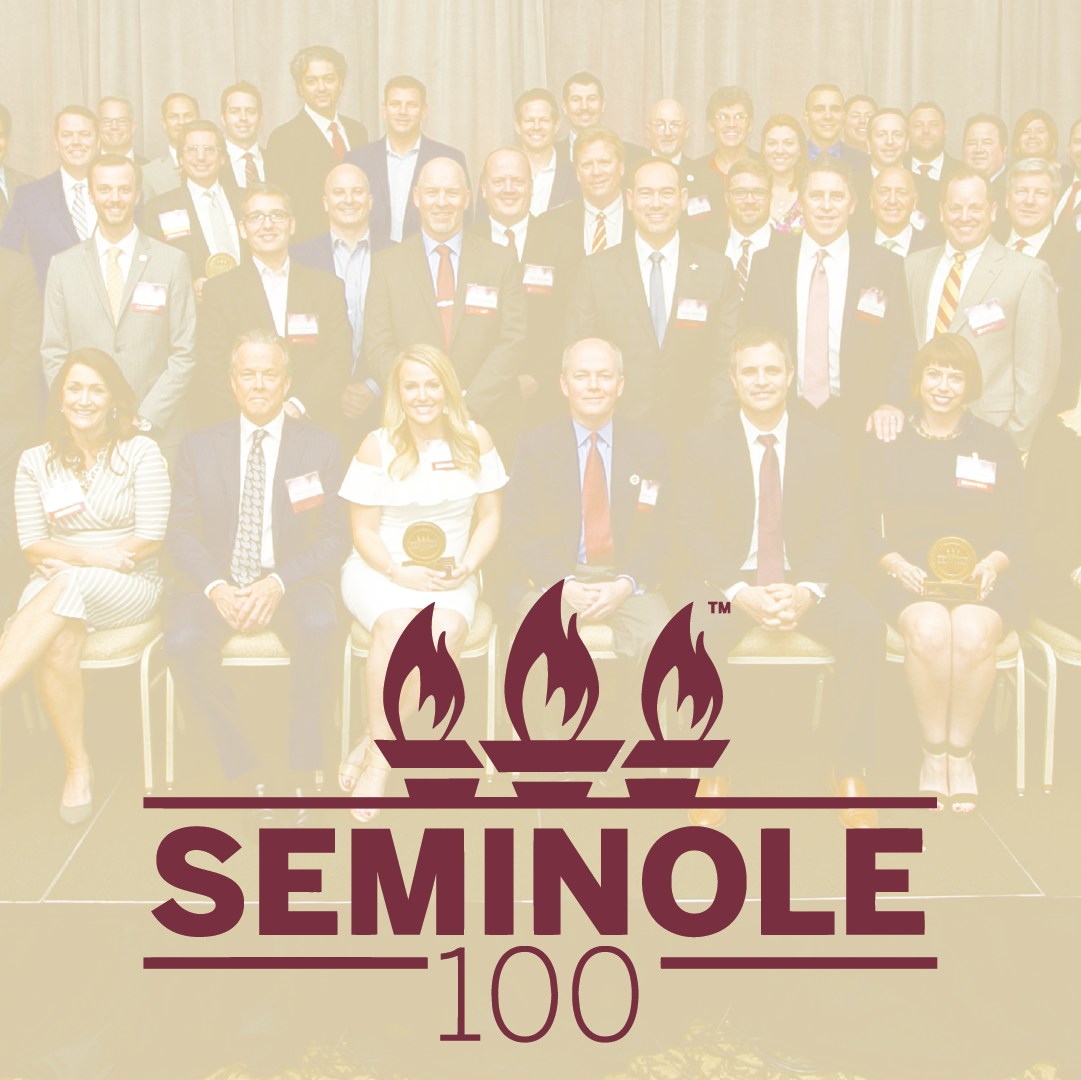 This past August, FSU and the Jim Moran Institute for Global Entrepreneurship in the College of Business rolled out the inaugural Seminole 100 as an alphabetical listing of the nation's fastest-growing businesses owned by FSU alumni. As a group, the businesses were impressive. They employed more than 12,000 people and generated $1.6 billion in total revenue. But the question of how they stacked up against each other was not answered until the evening of March 3. During the Seminole 100 Celebration, a gala co-sponsored by JMI and the FSU Alumni Association, the numerical ranking of Seminole 100 businesses, based on their growth rates, was counted down to reveal Blue Air Training's No. 1 spot.
"The inaugural Seminole 100 set the bar high for future honorees," said Melissa Roberts, JMI's managing director. "These companies play important roles facilitating economic growth in communities across the country. Their extraordinary success is a testament to the dedication, innovation and entrepreneurial spirit of Florida State University alumni."
In the ranking's first year, 80 businesses across multiple industries applied for consideration through a partnership with Inc. magazine. The businesses were ranked using a compounded annual growth rate during a three-year period. Several Seminole 100 honorees – including No. 1 Blue Air Training – also were named to the Inc. 5000, a comprehensive list of the 5,000 fastest-growing businesses in the United States. In fact, 41 of the Seminole 100 appeared on the Inc. 5000 for the first time. (The window to apply for the 2019 Seminole 100 closed May 31.)
The Jim Moran Institute for Global Entrepreneurship at FSU revealed the 80 businesses of the inaugural Seminole 100 by rank, according to their growth rates from 2013 to 2016, at the Seminole 100 Celebration held March 3 at the University Center Club, Doak Campbell Stadium. (In the ranking's first year, only 80 businesses applied for consideration.)
This list includes company names, growth rates and owners. It also recognizes the 57 businesses named to the Inc. 5000 (as noted with an asterisk), including 41 that appeared on that ranking for the first time.
Blue Air Training*
3,748.07%
James "Chef" Barlow (B.S. '95)

Fan Fest*
1,855.16%
James Frazier (B.S. '00)

BD Guidance
1,230.06%
Deb Goslin (B.S. '74)

The White Magnolia Bridal Collection*
930.58%
Kerrie Hileman (B.S. '07)

Southern Proper Hospitality*
735.42%
Chris Hadermann (B.S. '94)

Veteran Energy
621.43%
Rich Blaser (B.S. '91)

Gulf Beach Weddings*
507.91%
Brandon Wheeler (B.S. '06)

ROI Healthcare Solutions*
468.78%
Bill Starks (B.S. '98)

Oasys*
443.58%
Tony Johnson (M.S. '00)

Auto Data Direct*
310.54%
James Taylor (B.S. '79)

CFO Alliance*
293%
Brooke Evans (B.S. '97)

Bourbon and Boweties*
290.02%
Carley Ochs (B.S. '08)

Insurance Specialty Group*
258.11%
Bruce Harrell (B.S. '73, M.Acc. '75)

A-LIGN*
247.59%
Scott Price (B.S. '97, M.Acc. '97)

Black & Denim Apparel Company*
245.23%
Roberto Torres (B.S. '05)

Bolay Enterprises*
243.52%
Chris Gannon (B.S. '09)

Visiture*
234.80%
Ron Dod (B.S. '11, M.S. '12)

Convert IT Marketing*
233.18%
Paul Rubenstein (B.S. '99)

LandSouth Construction*
222.09%
James Pyle (B.S. '82)

The Connect Agency
211.96%
John Ream (B.S. '00)

GMF Steel Group*
211.94%
Andy Norman (B.S. '97)

Fiore Communications
209.20%
Dave Fiore (B.S. '86)

Ardent Eagle Solutions*
200.60%
Joe Albano (B.S. '06)

The Mortgage Firm*
191.55%
Brett Lindquist (B.S. '83)

Kupanda Capital*
169.86%
Bobby Pittman (B.S. '97)

Owenby Law*
167.09%
Joy Owenby (B.S. '93)

iMobile3*
161.62%
Bob Leonard (B.S. '85)

Accountable Healthcare Staffing*
155.43%
Kevin Little (B.S. '92)

CIO Partners*
154.69%
Mike Burgett (B.S. '90)

Kerigan Marketing Associates
145.83%
Jack Kerigan (B.S. '90)

ReEmployAbility*
141.83%
Debra Livingston (B.S. '87)

Aerospace Quality Research & Development*
127.95%
Suresh Narayanan (B.S. '08)

4 Rivers Smokehouse*
110.17%
John Rivers (B.S. '89)

Florida Event Décor*
103.96%
Eric Karter (B.S. '96)

Peterson Foods
101.29%
Bill Peterson (B.S. '78)

Convergence Consulting Group*
98.82%
Sam Powell (B.S. '99)

IANSITI Performance Group*
94.77%
Christopher Iansiti (B.S. '92, M.S. '94)

AlliedPRA New Orleans*
90.29%
Jeff O'Hara (B.S. '89)

Maryland Foot and Ankle Specialists
86.96%
Justin Lewis (B.S. '02, M.S. '04)

Mad Dog Construction*
84.72%
Laurie Dozier (B.A. '72)

Axis Management Group Holdings*
83.33%
Mike Smith (B.S. '84)

Southwest Georgia Oil Co.*
82.97%
Mike Harrell (B.S. '84)

Boos Development Group*
82.38%
Robert Boos (B.S. '91)

Florida Environmental and Land Services
79.41%
Elva Peppers (B.S. '90)

North American On-Site*
77.59%
Jesse Vance (B.S. '82)

Advanced Systems Design*
77.23%
John Dubard (M.A. '73, Ph.D. '93)

MCCi*
76.16%
Donny Barstow (B.S. '01)

First GREEN Bank*
75.33%
Ken LaRoe (B.S. '81)

Allied Instructional Services*
72.54%
Karen Walker (B.S. '87, M.S. '88)

AgileThought*
70.03%
David Romine (B.S. '96)

Creative Sign Designs*
67.48%
Jamie Harden (B.S. '90)

Altrua Global Solutions*
66.67%
Melode Smelko (B.S. '85)

Tal Search Group*
65.10%
John McFarlain (B.S. '97)

Venture Medical*
64.53%
John Pritchard II (B.A. '96)

San Francis Veterinary Hospital*
62.96%
Carlos Campos (B.S. '96)

Asker Distributors*
60.73%
Alan Asker (B.S. '75)

BowStern*
55.31%
Kelly Robertson (B.S. '05)

TRINITY Analysis & Development*
55.31%
Mo Evans (B.S. '86)

Global Sales*
50.50%
Jeff Collins (B.S. '86)

Tribridge*
49.97%
Tony Dibenedetto (B.S. '87)

Dorsia
48.43%
Christopher Lanza (B.S. '07)

Lynch Oil Company*
45.30%
Craig Lynch (B.S. '83)

Paul Consulting Group*
44.83%
Marc Paul (B.S. '95)

Information and Computing Services*
44.35%
Jorge Morales (B.S. '70)

Diverse Computing*
43.65%
Daniel Percy (B.S. '96, B.S. '97)

Moisand Fitzgerald Tamayo*
42.95%
Dan Moisand (B.S. '89)

Simpluris
38.05%
Troy Hoffman (B.S. '02)

Pathways Psychology Services
36.62%
Joe Roszkowski (B.A. '96)

Momentum Medical
36.06%
Darryn Dierickx (B.S. '98)

Hamic Previte & Sturworld PA
31.83%
Steve Hamic (B.S. '78)

Men's Divorce Law Firm
28.22%
Jeffrey Feulner (J.D. '97)

The Aleksander Group
26.12%
Sebastian Aleksander (B.S. '01)

Partners in Association Management
25.80%
Bennett Napier (M.S. '02)

AVION Insurance
21.87%
Scott Langevin (B.S. '95)

Warchant.com
16.03%
Gene Williams (B.S. '88)

BSM Media
15.65%
Maria Bailey (B.A. '86)

Deep Blue Yacht Supply
14.66%
Ryan Charles (B.S. '97, B.S. '99)

Accurate Temperature Control
6.13%
Jenny Vincent (B.S. '94)

Synergy Settlement Services
3.08%
Jason Lazarus (J.D. '96)

Wherry Truck Lines
2.11%
Kendell Wherry (B.S. '87)