With a nonstop tour schedule and a new album on the way, Tori Sparks leaves European audiences clamoring for more.
An extremely remote celestial object, emitting exceptionally large amounts of energy, and typically having a star-like image in a telescope.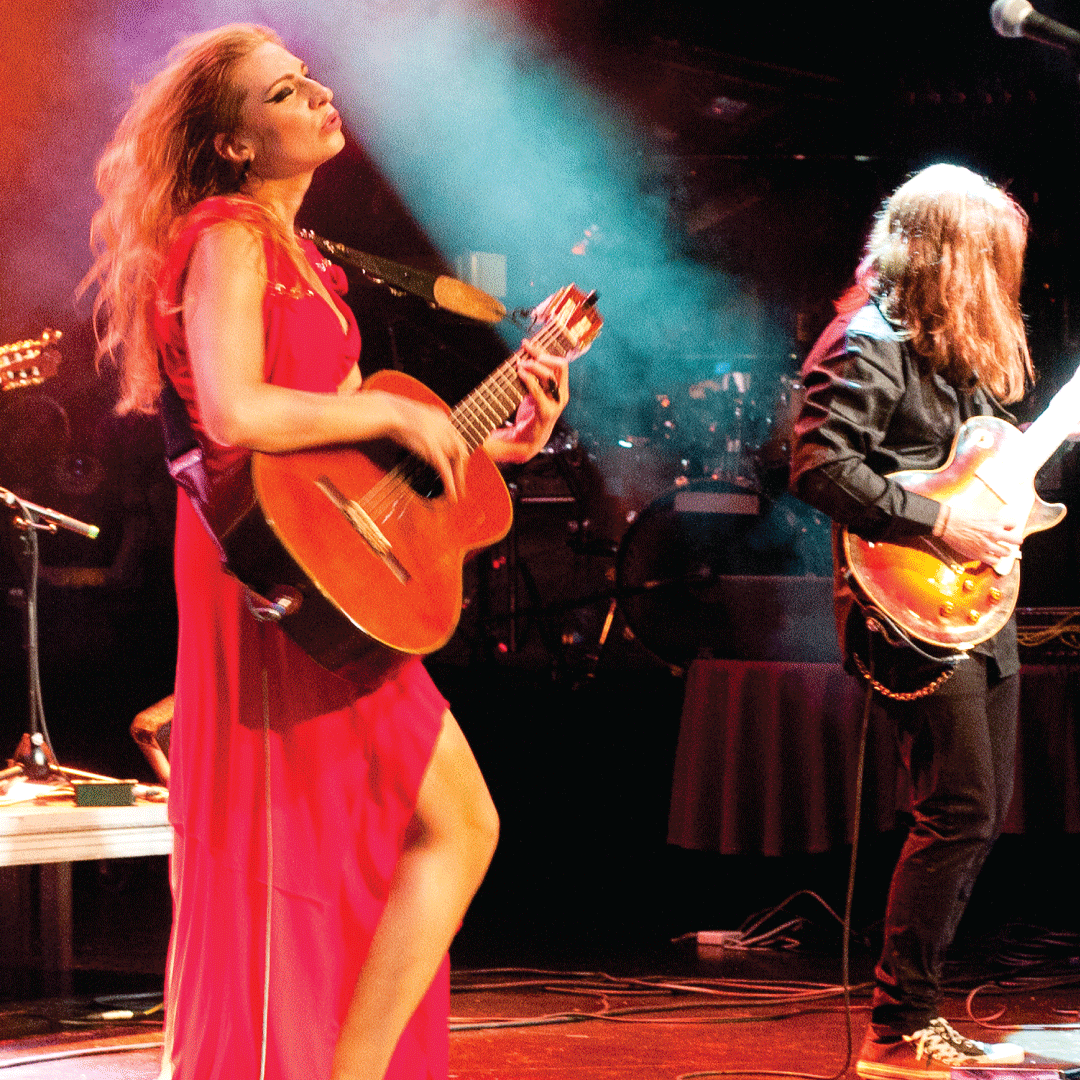 What better way to describe Tori Sparks (B.A. '04)? Like an astronomical quasar, the international singer/songwriter is filled with powerful energy. She is celestially talented, remote only because, at present, she is based in Barcelona, Spain, and without a doubt, she is the possessor of star quality.
The Florida State University alumna is one of the chosen few, gifted with intellect, musical talent and personal creativity. Perhaps even more rare, Tori Sparks has a drive that, like a quasar's, has taken her luminous talent over great distances. From her early days in Sarasota to Tallahassee and FSU, on to the Memphis country scene, and now to Barcelona and the European stage, Sparks is a one-woman energy source, attracting others with a certain ephemeral magnetism.
Living and working in Europe since 2011, Sparks is a singer/songwriter unlike most performing today. Able to imbue a ballad with heart-wrenching loss or go full-country, Sparks is now the vocal heart of Calamento, a fusion trio melding rock and flamenco. With a blend of gritty guitar riffs and rhythmically complicated flamenco palos, Sparks has brought together the two worlds with her soulful understanding of each.
Sparks plays between 150 and 200 acoustic or full-band shows across as many as nine European countries in a single year. The size of the venue varies, as does the number of days spent on the road annually. "Our average full-band shows are in clubs for a couple hundred people," she says. "When I'm in production for an album, there are fewer days on the road, but we play quite a few shows in and around Barcelona."
The 34-year-old chanteuse, with her long, blond mane, aristocratic profile and a vocal range that may pound out something resembling rock followed by an intimate vision into her soul, is thrilled with the reception this amalgam of styles has received. In January 2018, she was voted "One of the Top Five Female Artists of the Year," and the group "One of the 20 Top Albums of the Year," by Popular1, one of Europe's oldest music magazines. In addition, she has been written about in Spain's Rolling Stone magazine.
But even celestial bodies follow a trajectory. Sparks was born in Chicago and moved to Sarasota with her mother and sister. Her musical gifts began to surface early in the quiet Gulf-side town. "I began playing the piano. Then the cello, with its beautiful voice. As I grew into my teens, the guitar came into my life … and kind of took over."
Sparks says that she feels her mother, Debi George – "one of my favorite people" – is responsible for setting the example of what it means to be strong and to accomplish your goals. "She is so creative and so hard-working. With no background, she became one of the only female general contractors in the state and the founder of a successful architectural steel-roofing business. She never quits. I love that." Perhaps learning by osmosis what it means to persevere, Sparks was exhilarated by the feeling she got from succeeding, from achieving through determination and hard work. And her interests were wide – beginning in elementary school.
"I went to a magnet school where I learned to speak French," she recalls. After a summer abroad in high school, she says, "I thought that one day I would go to live in Paris." She became proficient in guitar, became active in theater productions – though oddly never musicals – and soared academically. "I was a driven student," she says. "It was always for myself, which made it fun, actually." So much fun that Sparks decided to take a double load her last year of high school in order to "get on with life." A future as a lawyer seemed like it might fit the bill. But there was music too. Sparks by now was writing her own songs and establishing a style that would develop into the powerful, no-holds-barred renderings that have come to set her apart from less passionate artists.
Florida State University saw the potential. Receiving a full academic and music scholarship, Sparks moved north to Tallahassee and launched herself not only into pre-law studies, but also onto the city's bustling music scene.
"I remember well her playing here," says an employee of the Black Dog Café on Lake Ella. "She had a powerful voice, wrote beautiful ballads, and had quite a following. I believe we might still have a couple of her CDs here." She adds, "She booked really well." Meaning: Tori Sparks, even then, was a woman who realized the necessity of getting oneself seen, heard and marketed. The endless energy that was allowing her to study French, anthropology, business, international affairs and classical guitar at FSU – law having fallen by the wayside – was also propelling her onstage as a performer and driving her backstage to initiate gigs all over the city.
Gary Anton, owner of the Bradfordville Blues Club, says, "She was hard to forget." Sparks opened in 2002 and 2004 for several important acts at the BBC. "She was brought over by Charles Atkins and his FSU Music Lab group and possessed this personal style – a strong yet soothing voice. It was clear she would have a bright future. At about 20 years old, she just needed seasoning," he says. Anton thought enough of that possibility that Sparks became the first "star sticker" that he had made and stuck on the Blues Club door. It is still there today. But Sparks was still a schoolgirl then, and she was busy absorbing everything she could from her university.
"For me, the best part of FSU was the surprise of the experience … how it expanded me. I had been assigned to one honors dorm, but got it changed to one that was more ethnically diverse. It felt more creative there." And she took a world music course with Assistant Professor of Ethnomusicology Margaret Jackson that both affirmed Sparks' own instincts and helped them evolve. "I think that allowed me to envision a 'world career' rather than something only local," she says.
Jackson, who herself performed vocally across Europe and has a deep interest in everything from German lieder to hip-hop to minstrels, says she met Sparks as an eager 18-year-old student when they "bonded over Tom Waits." She was impressed with Sparks' ability to set her own course and take the steps necessary to succeed. "She improved her instrumental abilities by taking flamenco guitar classes, she studied voice with me privately, and early on, she understood the necessity of marketing one's talent. I was impressed." My advice to her was, "If you're interested in living abroad and making a career there … do it! It's not impossible."
And then one night at FSU, in the wee hours of a long study session, Sparks received an email. "It was 2 a.m. and a Nashville record label said they'd heard a CD I'd made here in Tallahassee. They wanted to know if I'd be interested in signing with them. I deleted it," she laughs. It would take the Nashville country music producers multiple emails before Sparks understood they were serious. Again, hearing opportunity's call, she doubled her academic load, graduated from FSU early, and just before she turned 21, moved to Nashville.
Yet not all that glittered in the country music capital turned out to be gold. "I learned a great deal in Nashville," says Sparks. But her relationship with the record label quickly soured. "While some people may Netflix-binge when they get mad, I get creative," she laughs. Sparks decided to book her own tour – 34 concerts in 35 days. Driving from gig to gig in her own car, she managed the sound system, the press kits, the interviews and haggled with venue owners while polishing the artistry needed to pull the whole thing off. Subsequent tours followed and continued for much of the next seven years. They would arm her with the business and promotional skills she would parlay toward a much wider audience. One venture, the establishment of her own record label, Glass Mountain, will celebrate its 10th anniversary this year. More "mountains" to climb were to come.
"I had already booked several tours in England and played in France, and I wanted to spend more time there. When I left, it seemed like the right time to make a change." With an exhausting European tour of eight countries over four weeks winding up, Sparks had thought she would now put down new roots in a favorite city, Paris, when she was called to audition for a new show on Broadway. The apartment hunt was put on hold. And while she didn't go to Broadway, the interruption somehow realigned her plans. "Yes, I do make decisions instinctively," she says. And her instinct told her that Barcelona was calling. "I didn't speak Spanish, and perhaps Berlin or London would have made more sense." But Barcelona it would be. And Sparks hasn't looked back.
Since 2011, she has toured the continent extensively, learned to speak Spanish and Catalan, obtained a dual Italian-U.S. citizenship, recorded seven award-winning albums, studied flamenco guitar in Granada, bought a house, and established a unique relationship with the flamenco-infused Calamento. Her newest album with the group, "Wait No More," recorded live on Sept. 14 in Luz de Gas, will be released April 20.
Watching one of her many videos or in person, it feels like an invitation to enter Sparks' personal space. With her half-closed lids and hair that cascades in blond arcs to her shoulders, she resembles a hybrid of a young Streisand and the Lady Gaga of the Tony Bennett duets. But that impression may not last. Soon, with heel stamps and the percussion of the cajón, Sparks changes the subject and the rhythm to a synthesis of her own influences – Spanish, Latino, Greek, Arabic and African musical styles. "My music probably wouldn't be called 'happy music,' something you would play at a barbecue," she quips. "The songs that interest me tell a story. And in any good story there is conflict and resolution. I write more about the conflict than the day when everything is perfect."
Sparks is well aware that in the world things really are far from perfect. From the music industry itself to human and women's rights, her eyes are wide open and her energies and intellect stirred to do something about it. She plays many benefits promoting freedom of speech and women's advocacy causes. She participates in panels and writes opinion pieces for magazines. From concerts for cancer research to assistance for the persecuted, she is proud of her activism. "These are things to really lose sleep over, and I would like to do even more to help," she says. "Occasionally I wonder about law school again." Old friend and mentor Margaret Jackson thinks she would make a wonderful teacher or artists' manager. But for now, Sparks says it's hard to imagine herself doing anything different from following the muse that has guided her thus far.
And for the public, so enamored of the passionate tales she tells with her music and the exposure of her soul, it is hoped Tori Sparks will continue to follow the instincts that have brought us the joy of her innovation and the beauty of her voice.