Julie Cheney has not missed a beat since starting Nov. 1 as president and CEO of the FSU Alumni Association. Building upon her 19 years of experience as an alumni relations strategist at the universities of Georgia and North Carolina and, most recently, Coastal Carolina University, she's been working to get to know Florida State and its people. With her new adventure at FSU under way, we sat down to ask Julie about what's in store.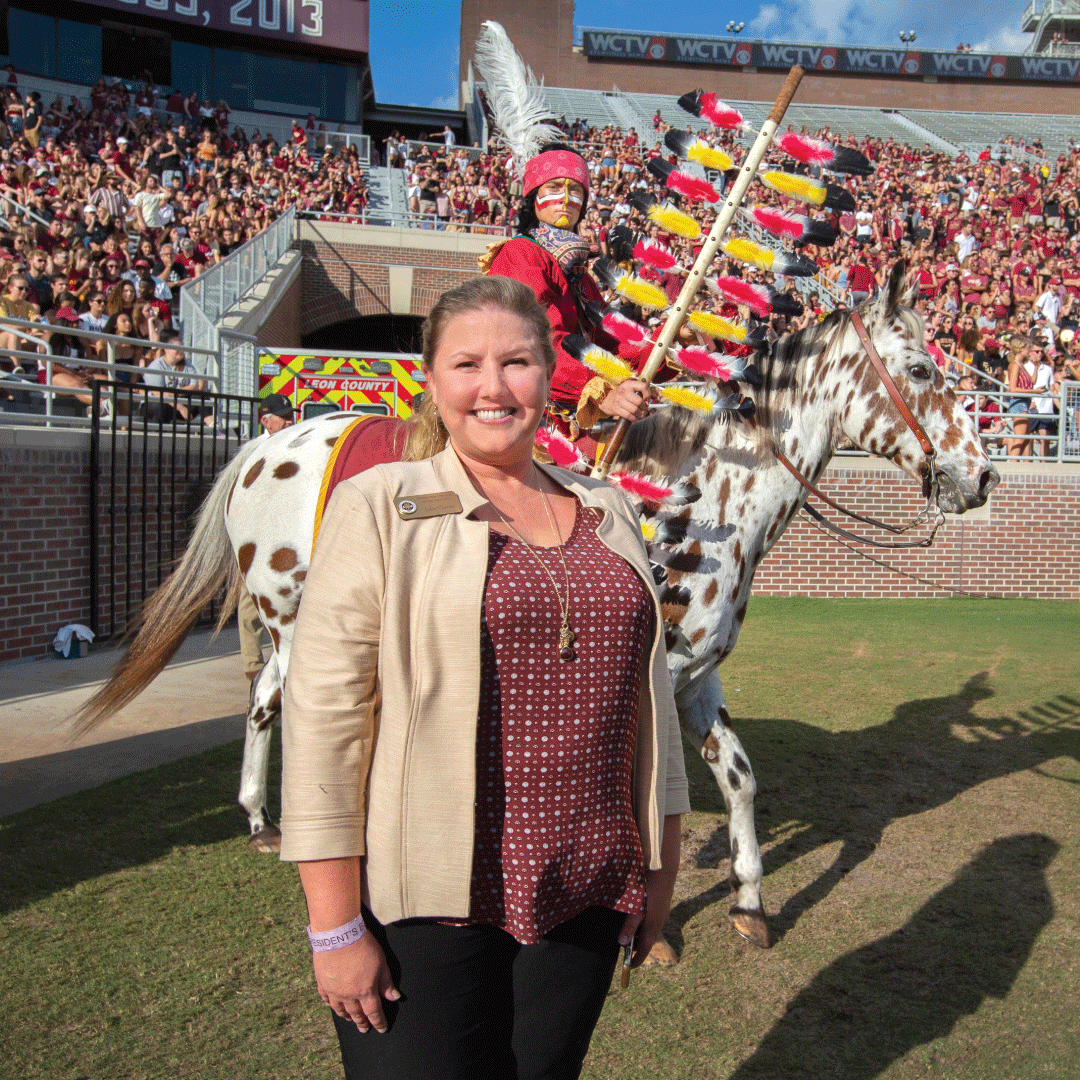 When did you realize that working in alumni relations would be a career and not just a job?
Early on I knew that alumni relations was a great fit for me due to the dynamic nature of the work and the breadth of the outreach. Specifically, while working with the Student Alumni Association, I was able to see the impact of this work on our Student Alumni Council while they selflessly shaped a culture of philanthropy through student alumni programs. I found that time period in my career extremely rewarding. At the end of the day, everything comes back to our students.
Depending on the schools they serve, all alumni associations are different. What do the successful ones have in common?
A successful alumni association at a large public university will see itself as a keeper of history and traditions as well as a partner in advancing the university. I believe successful alumni associations have moved from being singularly the "friend-raisers" to a key collaborator in everything from admissions to athletics. Alumni care passionately about widely varying issues on campus, and the alumni association should endeavor to connect all constituents – graduates, friends, parents, students and community.
What is the key to your own success?
Undoubtedly, the key to my professional success has been amazing mentors. I am here today because several people cared to guide me, give me feedback, share their experiences and include me. Subsequently, I believe it is incumbent upon me to reach back and do the same. Personally, I would be absolutely nothing without my family, and that includes my chosen family.
When you found out that you had been selected to lead the FSU Alumni Association, how did you react?
It was a feeling I have never felt before, I can tell you that much! "Elated" and "thankful" are two words that come to mind. Elated in that I felt all of my experience aligned to actualize my potential; thankful for the opportunity to serve Florida State during this unique and special time in the history of this institution.
What's your favorite thing about Tallahassee so far?
Immediately, I felt at home when I came to Tallahassee. I love being in the capital city while also getting a college town feel. The community is diverse, kind and vibrant. From the tree canopy-lined streets to the beauty of campus buildings, I couldn't ask for a better place to be.
Now that you've experienced your first FSU Homecoming, what stands out most?
The faces of proud alumni sharing their alma mater with children, beloved students creating their own memories through the many Homecoming traditions and energetic community members beaming with pride. Everything was new to me and these "firsts" won't be forgotten.
What do you envision for the future of the FSU Alumni Association?
Your alumni team will work to articulate and enhance the value proposition of the Alumni Association both internally and externally. You'll see existing programs growing and new ones emerge as we work to include all areas of campus with the goal of advancing the university, engaging our graduates and upholding the FSU brand and legacy. There are exciting days ahead to build on an already exceptional foundation.
How can our members help to implement your vision?
First, if you are a member of the Alumni Association, thank you! Our active, dues-paying members support scholarships, strengthen alumni programming, enhance student leadership development and more. Research shows, too, that if you're a member of the alumni association, you're more likely to be a donor and involved with your school or college specifically. Simply put, membership matters. Our members and graduates can help by keeping their address and email updated, promoting and advocating for FSU, visiting campus, hiring Florida State graduates and serving as a volunteer.
With so many opportunities for alumni to attend events on campus and with local clubs, alumni associations and fun often go hand-in-hand. What part of the job is most fun for you?
The most fun is connecting with people. Getting to see important connections being made or old friends reacquaint – it's special. Also, I get to hear some pretty great stories, and I treasure learning about the experiences alumni want to share with me. In alumni relations, we get to serve people who are, for the most part, very happy to be connecting with you. They care deeply for their university and, when we are good stewards of that sentiment, it's a blast.
Leading an alumni association is a prominent position that comes with a bullhorn. What would you say to the world about Florida State University?
The future is garnet and gold. This is an institution on the rise in every area. The success that your alma mater has realized in the 21st century not only increases the value of your degree but also impacts the state, region, country and world. Our graduates are global influencers, change makers, risk takers and more. The future is bright for FSU. Join us!