Circle of Gold:
The FSU Alumni Association's Circle of Gold recognizes worthy individuals who, through their service and achievements, personify the university's tradition of excellence. It is given to those alumni and/or friends of FSU who, through their dedication and loyalty to the University, exemplifies the Alumni Association's core values of Tradition, Leadership, Family, Spirit and Greatness.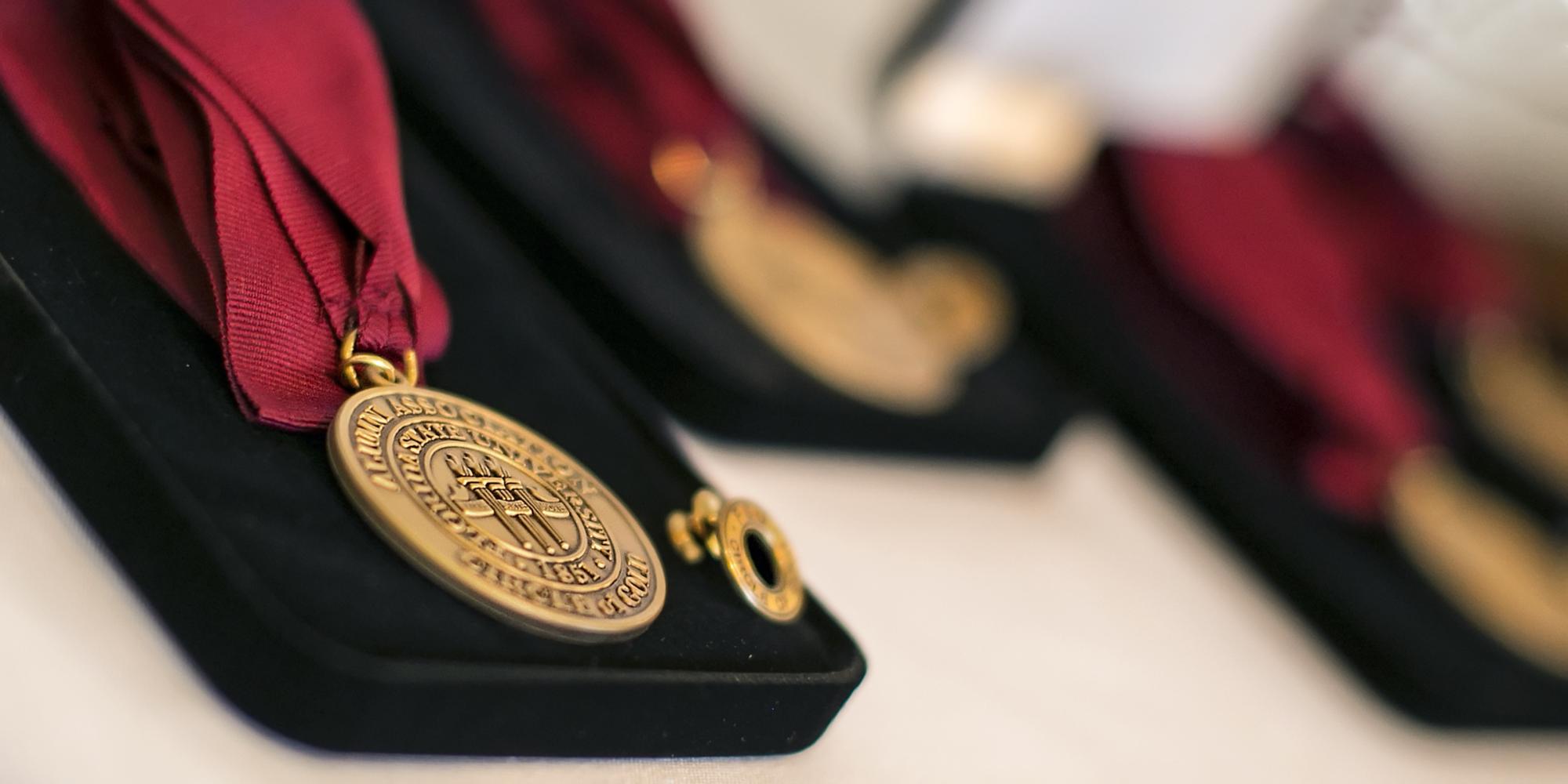 2021 Honorees will be recognized at the Annual Alumni Awards Gala in October 2021.
Process: A committee appointed by the Alumni Association National Board of Directors select the recipients of the Circle of Gold. Each year's recipients are notified upon approval of the Awards Committee in June each year. If a nominee is not selected in a particular year, he/she may be re-nominated in succeeding years. Self-nominations will not be considered. Exceptional nominations for non-degreed friends of Florida State University will be considered.
Interested in sponsoring the 2021 Alumni Awards Gala? Click here.
---
The FSU Alumni Association welcomed five new members of the Circle of Gold in 2020.
Dr. Jean Accius (B.S. '02, M.S. '03)
Mr. B. Dan Berger (B.S. '89)
Mr. Christopher Iansiti (B.S. '92, M.S. '94)
Dr. Karen Laughlin (Professor; Department Chair; Dean of Undergraduate Studies) presented posthumously
Senator Bill Montford (B.S. '69, M.S. '71)
---
Circle of Gold Members
Lawrence G. Abele
Michele Adair
Robert L. Akers
Ruth Ruggles Akers
Sam Ambrose
Mickey Andrews
James Apthorp
Florence Ashby (B.A. '57)
Donna Lou Askew
Reubin O'D. Askew
Kathy Atkins-Gunter
Scott F. Atwell
Dubose Ausley
Lucy M. Baer
Chip Baker
Robert L. Bannerman
Charles Barnes
Eric Barron
Molly Barron
Cheryl S. Beckert
Allan Bense
Margo Bindhardt
Bruce Blackwell
Gordon Blackwell
Bobby Bowden
F. Allen Boyd
Dennis O. Boyle
Sue Chaires Boynton
Rod Brim
Richard Brinson
Derrick D. Brooks
Steve Brown
Yvonne Brown
Ed Burr
Joseph L. Camps, Jr.
John Carnaghi
Robert T. Carnes
Milton S. Carothers
Keith Carr
Max Carraway
Ken Cashin
John Champion
Mary Champion
Bridget Chandler
Jim Clark
Billy Close
David Coburn
Mary Coburn
Lee Corso
Raymond Cottrell
Stella Cottrell
Marie Cowart
John Crowe
Benjamin Crump
Alicia Crew
John Dailey
Talbot D'Alemberte
Kathleen Daly
Hugo de Beaubien
Gene Deckerhoff
Ron Diamond
Carl Domino
Kyle Doney
J.D. Doughney
Warrick D. Dunn
Allen Durham
Hugh Durham
William M. Durham, Jr.
Donald L. Eddings
Mark Edenfield
Steve Edwards
Julie Dunn Eichenberg
Charles W. Ehrhardt
Gerald Ensley
Diane Ervin
N. Frank Fain
Richard Fallon
Ray Fielding
Mary Celia Diamond Findley
Janice Finney
Daisy Parker Flory
Doby Flowers
Robert O. Fohl
David B. Ford
Paula Fortunas
Grace I. Fox
Billy Francis
Eric Friall (B.A. '90)
Davis Gaines
Gordon Gaster
Donald Gifford
Jim Gladden
Thomas O. Goldsworthy
JoAnne Graf
Ritesh Gupta
W. Andy Haggard
Odell Haggins
Charles D. Hall
Marty Hall
Sue D. Hall
Anne Hamilton
Tom C. Haney
Tonya Harris
Betty Lewis Harrison
Doug Henderson
Sherman Henderson
Linda A. Henning
Charles K. Hill
Jeffrey L. Hill
Louis Hill
Mart Pierson Hill
Mark Hillis
Nan C. Hillis
Cliff Hinkle
Lee F. Hinkle
Lucy Ho
Ronald H. Hobbs
Katherine Blood Hoffman
John Wayne Hogan
Pat Hogan
Gordon Holder
Robert Holton
Jim Horne
Wiley L. Housewright
Mary Parker Hutchinson
Thomas V. Hynes
Cassandra Jenkins
Connie E. Jenkins-Pye
Betty Lou Whittle Joanos
James E. Joanos
Bo Johnson
Garrett Johnson
Sen. Robert M. Johnson
Terry A. Johnson
Sandy Johnson
Jim Jones
J. Lester Kaney
Sally Karioth
Lynda Keever
Jim E. King, Jr.
Jim E. Kirk, Jr.
Maury Kolchakian
Jeff Kottkamp
Christopher L. Kraft
Jerry Kutz
George Langford
Lawton Langford
Ryals Lee, Jr.
Dale W. Lick
Marilyn Lick
E. G. "Lites" Lightsey
David Lyons
Craig Lynch
Charlotte Maguire
Michael C. Mallardi
Douglas Mannheimer
John Marks
J. Stanley Marshall
Shirley Marshall
Mike Martin
Melquiades Martinez
Sarah Lewis Marxsen
Walter Massey
Jack McCoy
Susan McHenry
Donna McHugh
John McKay
Jane Meigs
James H. Melton
Andy Miller
James L. Miller
David D. Mobley, Jr.
Devoe Moore
Guy Moore
Shirley Moore
W. Russell Morcom
Mabel Jean Morrison
Frank Murphy
Mary Lou Norwood
Joe Nosari
Max Oligario
Joe O'Shea
Joel Padgett
Barbara J. Palmer
Patsy Palmer
Mary Pankowski
Les Pantin, Jr.
William M. Parker
Judy Pate
Mike Pate
Steve Pattison
Durrell Peaden, Jr.
Bob Perrone
Thomas F. Petway, III
L. Gregg Phifer
Sean Pittman
James E. Pitts
Ricky Polston
Melvin L. Pope, Jr.
Mina Jo Powell
Bill Proctor
Sherry Quarello
Sandra Rackley
Sherrill Ragans
Jay Rayburn
Steve Reilly
Burt Reynolds
Laurel Richardson
Ron Richmond
James A. Risignio
John Rivers (B.S. '89)
John Roberge
Avery Roberts
Myron Rolle
Wilma Rosenbloom
Wayne Rubinas
Leo Sandon
Winston Scott
Sue Semrau
William Sexton
Bernard F. Sliger
Greta Sliger
Ray Solomon
Billy Smith
C. David Smith
James C. Smith
Patricia J. Smith
Paula P. Smith
Godfrey Smith
Ron Smith
William G. Smith, Jr.
Jesse Solomon
Delores Spearman
Guy Spearman
Beverly B. Spencer
Gordon Sprague
Gus A. Stavros
Gene Stearns
Betty Steffens
Brian Swain
Mary Ann Stiles
Melvin Stith
Don Stone
Janet Stoner
June F. Strauss
Larry O. Strom
Alan C. Sundberg
William A. Tanner
Hans W. Tews
Norman Thagard
John Thrasher
Jean Thrasher
Rosa Lee Tomberlin
Cynthia S. Tunnicliff
Nancy Turner
Pearl Tyner
Kenza vanAssenderp
Don Veller
Kathleen A. Villacorta
Thomas A. Waits
Gene Walden
Gary Walsingham
Charlie Ward
Thomas A. Warren
Don Weidner
Dave Westberry
T. K. Wetherell
Ginger Wetherell
Jesse Wexler
Dorothy Whittle
Thomas L. Williams, III
Gary Wilson
Stephen S. Winters
Thomas M. Woodruff
Thomas G. Wright
Max Zahn
Mark Zeigler