The Emeritus Alumni Society is a constituency organization of the FSU Alumni Association that was organized to encourage the continuing interest and participation of alumni who have reached emeritus status, e.g., those who graduated from the university 50 or more years ago.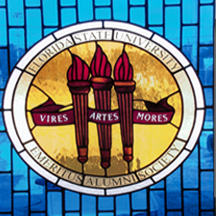 All alumni of Florida State University who have reached emeritus status constitute members of the Emeritus Alumni Society. At the 50th anniversary of each succeeding class, the class members are automatically admitted to the society.
The Emeritus Alumni Society has four objectives:
To arrange a yearly reunion for all Emeritus Alumni Society members and to encourage members to attend, renew old friendships, and strengthen their ties with the university;
To devise ways and means of encouraging the giving of gifts and bequests to the university;
To encourage the collection and preservation of significant books, records, letters, pictures, and other memorabilia thatreflect the traditions of Florida State;
To consider vital problems of the university and to provide an opportunity for faculty members and others to discuss contemporary issues or new developments in their area of specialty and the effect of those issues on society at large.
For more information about the Emeritus Alumni Society, contact the FSU Alumni Association at alumni@fsu.edu or 850.644.2761.
---
The Florida State University Emeritus Alumni Society is now accepting nominations for the Commitment to Excellence Award, The Conradi Lifetime Achievement Award, and the Dean Eyman Distinctive Service Award.
Please submit this nomination form by Thursday, March 19.
The nomination form may be completed on the computer and emailed to lalligood@fsu.edu, or printed and mailed to:
FSU Alumni Association
Attn: Emeritus Awards Committee
1030 West Tennessee Street
Tallahassee, Florida 32304-7719
---
Find your Class on Facebook!